September 26, 2012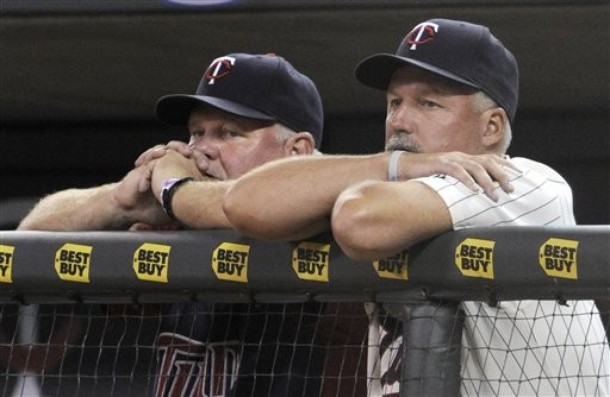 Rick Anderson took over for Dick Such as the Twins' pitching coach when Ron Gardenhire replaced Tom Kelly as manager in 2002 and since then the staff has issued the fewest walks in baseball, leading the league in walk rate six times. However, one common misconception about Twins pitching under Anderson is that their fantastic control has always come attached to terrible strikeout rates.
In reality Anderson's early pitching staffs were often able to combine excellent control with solid strikeout rates, and in fact Twins pitchers led the league in strikeouts as recently as 2006. That was Johan Santana's second-to-last season in Minnesota and his third straight year leading the league in strikeouts, and the Twins also got a ton of missed bats from Francisco Liriano before the 22-year-old rookie blew out his elbow.
They were joined in the 2006 rotation by Brad Radke and Scott Baker, who produced above-average strikeout rates, and the late-inning bullpen trio of Joe Nathan, Jesse Crain, and Juan Rincon combined for 220 strikeouts in 219 innings. Overall the pitching staff had a league-high 1,164 strikeouts and a league-low 356 walks in 1,439 innings, and not surprisingly they also had the AL's second-best ERA.
That season marked the fifth time in five years under Anderson that Twins pitchers had an above-average strikeout total and the next year they extended that streak to six consecutive seasons by ranking fourth in the league. Suddenly that all changed in 2008 as the staff's strikeout total plummeted to 10th in the league without Santana or Radke around, and Twins pitchers haven't had an above-average strikeout rate since.
They ranked 10th among the league's 14 teams in 2008, 2009, and 2010 before finishing dead last among all 30 major-league teams last season, producing just 940 strikeouts when every other team had at least 1,000. As bad as that was their strikeout rate has amazingly fallen even further this year, going from 6.0 to 5.9 per nine innings as they once again rank dead last among all 30 major-league teams. And it's not even close.
Twins pitchers have 890 strikeouts in 154 games, which is 14 percent fewer than any other team and 23 percent below the MLB average. Once upon a time Anderson-led staffs threw strikes and missed bats, boasting several starters and relievers with good raw stuff and strong whiff rates. And now? Well, they still throw strikes with a better-than-average walk rate ... and the AL's fewest strikeouts, second-most homers allowed, and second-highest ERA.
Santana was MLB's best, most dominant starting pitcher for Anderson's first six seasons as pitching coach, posting a 2.92 ERA with the most strikeouts and highest strikeout rate in all of baseball. During that same time Nathan racked up a remarkable 11.3 strikeouts per nine innings to go with a 1.94 ERA and five other Twins relievers who saw regular action had at least 7.5 strikeouts per nine innings.
When you have the best starting pitcher in baseball racking up league-leading strikeout totals, one of the best closers in baseball piling up whiffs at an even higher rate, and multiple setup men capable of missing bats then surrounding them with low-strikeout control artists is a sound strategy. But when you no longer have those elite, high-strikeout pitchers to anchor the staff the same strategy fails.
Santana going from unknown Rule 5 pick to MLB's best pitcher is one of the more remarkable journeys in modern history and Nathan emerging as MLB's best non-Mariano Rivera reliever is similarly astounding, so counting on Anderson and the Twins to duplicate those feats would be silly. Beyond that, considering the Twins' longtime aversion to acquiring hard-throwing pitchers it's unclear how much blame to assign Anderson as opposed to the front office.
With that said, it's very clear that something needs to change. They've failed to develop a front-line starter since Santana left five years ago and there are few power arms in the farm system aside from some 2012 draftees. Talk of succeeding by pitching to contact--or throwing strikes and playing defense--is a nice story with some truth behind it, but that approach doesn't work so well without elite bat-missers like Santana and Nathan leading the way.
In the absence of that front-line talent the Twins have essentially built entire staffs out of the guys who're supposed to be the surrounding pieces. In the five seasons since Santana's departure 37 different Twins pitchers have thrown more than 25 innings and three of them--Nathan, Liriano, and newcomer Casey Fien--have topped 8.0 strikeouts per nine innings. Of those 37 pitchers 27 had a strikeout rate below 7.0 and eight had a strikeout rate below 5.0.
How much stems from Anderson's well-established preferred pitching mold and teaching methods versus the front office simply not targeting hard-throwing, high-strikeout arms is up for debate, but whatever the case it needs to change and they need to adapt. In addition to having the fewest strikeouts and highest ERA in the AL since the beginning of last season Twins pitchers also have the league's lowest average fastball velocity at 90.9 miles per hour.
At the opposite end of the pitching spectrum are the Nationals, who this season lead the NL in both ERA and average fastball velocity while totaling a remarkable 42 percent more strikeouts than the Twins. Not surprisingly the Nationals have MLB's best record despite an offense that has scored 692 runs compared to 676 runs for the Twins. And when asked why he built a staff of hard-throwing strikeout pitchers, general manager Mike Rizzo replied:
We used to have sinker, pitch-to-contact guys. That's who you get when you're not elite.
Injuries to highly paid veterans like Baker, Carl Pavano, and Matt Capps took a big toll on this year's staff and injuries to prospects like Kyle Gibson and Alex Wimmers sapped the Twins of reinforcements, but none of those guys are hard-throwing, high-strikeout arms anyway. In fact, the last pitcher they've developed who fits that description is Matt Garza ... and the Twins traded him away for Delmon Young in 2007 at age 23 and after 24 career starts.
At this point even Crash Davis himself would advise the Twins to go looking for a few fascists.