October 31, 2012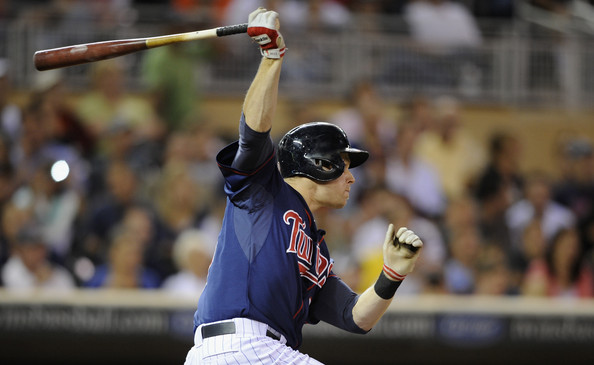 Justin Morneau was a shell of his former self in 2011, hitting .227/.285/.333 while missing 93 games with an assortment of injuries that included continued symptoms related to his mid-2010 concussion, but he was mostly healthy and relatively productive in 2012. Morneau played 134 games after totaling 150 games in the previous two seasons and showed glimpses of being the offensive force whose career was derailed by a knee to the head on July 7, 2010.
After a modest first half that was focused on staying healthy Morneau hit .317/.356/.506 in 42 games from the All-Star break through the end of August, but then he faded in September by hitting .236/.351/.316 in 27 games before being shut down for the final weekend in Toronto. There was no specific injury cited, but Morneau talked often about being unable to lift weights because it bothered his surgically repaired right wrist and he simply seemed worn down.
Coming into the season everyone involved would have gladly signed off on Morneau logging 570 plate appearances and hitting .267/.333/.440, especially since he avoided any major concussion-related setbacks. However, in addition to the concussion threatening his career Morneau has also had surgeries on his wrist, back, knee, and foot within the past two years and at age 31 it's natural to wonder how much of a toll that's taken on him physically.
Compared to his 2008-2010, pre-concussion numbers Morneau's overall production was down 15 percent, including 25 percent less power, 28 percent fewer walks, and 27 percent more strikeouts. Morneau chased pitches outside the strike zone 28 percent more often, swung through more pitches than ever before, and hit just .232/.271/.298 with an ugly 45-to-10 strikeout-to-walk ratio in 214 plate appearances versus left-handed pitching.
Among the 30 first basemen and designated hitters with at least 500 plate appearances he ranked 18th in batting average, 15th in on-base percentage, 19th in slugging percentage, and 18th in OPS. Perhaps being another year removed from the concussion and having a full offseason to rest will enable Morneau to build on his 2012 production, but even setting aside his many health issues he's at an age when declines are expected.
Morneau also has just one season remaining on his contract and it's hard to see him fitting into the Twins' plans beyond 2013. When reports surfaced that the Dodgers were showing interest in Morneau at the trade deadline and may have been willing to give up prospects in addition to taking on his entire contract that seemed like a good opportunity for the Twins to shed his $14 million salary for 2013 and acquire some young talent.
Instead the Twins decided to keep Morneau and the Dodgers traded for Adrian Gonzalez, ruling them out as a potential future trade fit as well. Whether other teams were ever willing to assume Morneau's contract and part with prospects is unclear, but even wiping his $14 million salary off the books would have value for the Twins as they try to rebuild the starting rotation and his departure would clear a path for Chris Parmelee to get regular playing time.
In other words, if Morneau is no longer an elite hitter and is unlikely to be on the team beyond 2013 would the Twins be better off getting some value for him now and moving on? To me that beats paying him $14 million for one more season and then letting him walk for nothing as a free agent, although if he puts together a strong, healthy first half in 2013 his trade value could potentially be just as high or higher than it was in July.
Trading one of the best players in team history is never easy, particularly considering what Morneau has gone through, but in the larger picture he's a good but not great first baseman with tons of health-related question marks signed to a one-year, $14 million contract. Letting him play out that deal and hit the open market might be the least-painful option in the short term, but it would also likely be a missed opportunity to better allocate that money.
Other "offseason outlook" write-ups: Josh Willingham, Trevor Plouffe, Joe Mauer, Ryan Doumit