October 30, 2013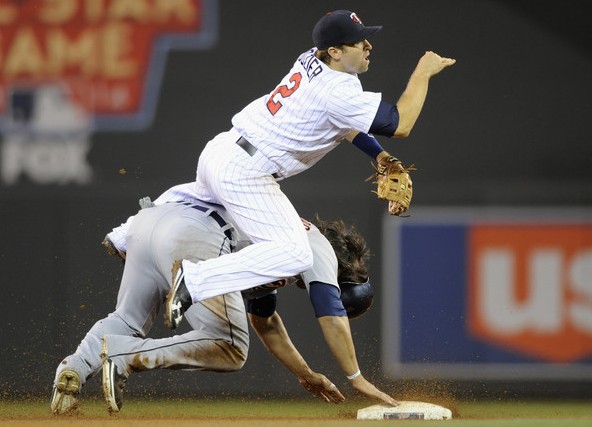 Over-hyped as a prospect locally after putting up good numbers at Single-A and Double-A in 2011 as a 24-year-old, Brian Dozier reached the majors in early 2012 and flopped both offensively and defensively. He hit just .234/.271/.332 in 84 games with an ugly 58-to-16 strikeout-to-walk ratio, showing none of the strong strike-zone control he displayed in the minors, and possessed neither the range nor arm strength required to be a big-league shortstop.
Dozier was so bad that the Twins demoted him back to Triple-A in mid-August and then opted not to recall him from Rochester when rosters expanded on September 1, putting his future in doubt. Still in the Twins' plans in part because they lacked other infield options, he shifted from shortstop to second base this season and was handed the Opening Day job, but hit just .214/.259/.299 with a similarly ugly 35-to-9 strikeout-to-walk ratio in 41 games through the end of May.
And then something clicked. Dozier got hot in early June and spent the rest of the season looking nothing like his former self, hitting .255/.331/.458 with 16 homers, 30 doubles, and 42 walks in 106 games over the final four months. During that four-month stretch he had a .789 OPS, which would have ranked sixth among all MLB second basemen overall this season. Or, to put Dozier's improvement another way, look at how his first 125 games compare to his last 106 games:
DOZIER         PA     AVG     OBP     SLG     HR    XBH    BB    SO
First 125     508    .228    .267    .321      8     25    25    93
Last 106      455    .255    .333    .458     16     48    42    85
Dozier more than doubled his Isolated Power from .093 to .203 and nearly doubled his walk rate from 4.9 to 9.2 percent. He continued to strike out a lot and posted a poor batting average, but the gains in power and plate discipline were very encouraging. For the season as a whole he hit .244/.312/.414, which was exactly average for an MLB hitter. That may not seem like a big deal, but no Twins second baseman has been an average or better hitter since Todd Walker in 1998.
Whereas it took two months to get going offensively, Dozier looked like a natural at second base right away. Highlight plays and the huge improvement compared to his time at shortstop may have led to fans and media members slightly overstating how good Dozier was defensively, but the eyes and the numbers definitely agree that he was solid. Ultimate Zone Rating viewed him as an average second baseman and Defensive Runs Saved pegged him nine runs above average.
Dozier hitting a grand total of 16 homers in 1,613 plate appearances as a minor leaguer makes me skeptical that he can maintain the type of power he showed during the final four months, but middle infielders don't need to be 20-homer threats to be assets offensively. MLB second basemen combined to hit .260/.320/.385 over the past two years, which is certainly within reach for Dozier even if he comes back to earth a bit. Add in good defense and that's a nice all-around player.
Given his track record, age, and skill set there probably isn't a ton of upside left in Dozier, but he was the Twins' second-best position player in 2013 and obviously has the starting job locked up for 2014. He could face competition soon from prospect Eddie Rosario, but for now it's not really an issue because Rosario just turned 22 years old, has played only a half-season above Single-A, and may not even wind up sticking at second base defensively. Still, next year is big for Dozier.
---
This week's blog content is sponsored by Twins Daily's new "2014 Offseason Handbook" featuring everything you need to prepare for the Twins' winter moves for just $6.95. Please support them for supporting AG.com.