October 24, 2012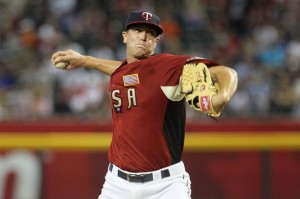 • It turns out the coaching shakeup wasn't as extreme as first believed, as the reconfigured staff includes Joe Vavra and Scott Ullger sticking around in new roles. Vavra goes from hitting coach to third base coach and Ullger goes from bench coach to first base coach. Ullger is running out of jobs he can be moved to, going from hitting coach to third base coach to bench coach to first base coach, which is the role he filled upon joining Tom Kelly's staff in 1994.
Vavra and Ullger remaining on Ron Gardenhire's staff and Rick Anderson keeping his job as pitching coach means the shakeup led to just three new coaches: Tom Brunansky replaces Vavra as hitting coach, Bobby Cuellar replaces Rick Stelmaszek as bullpen coach, and Terry Steinbach replaces Ullger as bench coach. Brunansky and Cuellar were the Triple-A hitting and pitching coaches, while Steinbach has been an assistant coach for Wayzata high school.
Cuellar is an intriguing addition because he has a lengthy track record in the minors that includes being credited with teaching Johan Santana his incredible changeup and also gives the Twins a much-needed Spanish-speaking coach. Brunansky was promoted from Double-A to Triple-A this year and has drawn some rave reviews for his work with young hitters, so it will be interesting to see how his approach differs from Vavra's, especially with Vavra still around.
Cuellar and Brunansky were expected additions, but Steinbach seemingly came out of nowhere after the Twins decided against taking Paul Molitor up on his offer to join the staff. Steinbach is a Minnesota native who starred for the Gophers and spent the last three seasons of his 14-year career with the Twins, but he's never coached professionally beyond being a spring training instructor. In addition to bench coach duties he'll work specifically with catchers.
It's not often that you see both a hitting coach and a bench coach demoted to base coaches, but it fits with the Twins' overall reluctance to make sweeping changes. Even when they shake things up they still can't quite say goodbye to longtime staffers and in the end Stelmaszek, first base coach Jerry White, third base coach Steve Liddle are the only members of the 2012 staff who won't be on the 2013 staff.
• There was a major change in the front office, as Jim Rantz announced his retirement after an astounding 52 years in the organization as a player, scout, and executive. Rantz was born in St. Paul, pitched for the Gophers, and actually predates the team's move to Minnesota, signing with the Washington Senators in 1960. He never made the majors, but pitched five years in the minors and went on to become one of the most important people in Twins history.
For the past 27 years Rantz has been the Twins' minor league director, overseeing the draft and development of prospects that has consistently played such a key role in any success the organization has found during that time. He's specifically credited with picking Kirby Puckett third overall in the 1982 draft and repeatedly received awards from his peers in the scouting community. Rantz's right-hand man, Brad Steil, has been named the interim replacement.
• Kyle Gibson is turning heads with his performance in the Arizona Fall League, combining great results with better velocity than he showed prior to Tommy John elbow surgery last year. So far we're only talking about a total of 13 innings, so the sample size is barely worth mentioning, but Gibson has a 0.69 ERA and 19-to-2 strikeout-to-walk ratio while inducing nearly three ground balls for every fly ball. Keith Law of ESPN.com filed this scouting report:
Gibson was very impressive Tuesday in his second start of the fall, working from 92-94, driving the ball down in the zone, and showing a plus slider at 83-86 that he would throw in any count, in or out of the zone, and would even back-foot to a left-handed hitter when the guy might be looking for a changeup away. He did show a true changeup, but was mostly fastball-slider and looked like a big leaguer, and one with a higher ceiling than he showed as an amateur when he had a pretty-but-slow curveball as his primary breaking ball.
Gibson wouldn't be the first pitcher to come back from Tommy John surgery throwing harder than before, but that certainly hasn't been the norm for Twins pitchers over the years and too often the opposite has been true. He still has a long way to go, but so far so good.
• On this week's "Gleeman and The Geek" episode we did a tutorial on transaction, roster, and service time issues and one of them was the circumstances in which "Super Two" players get an extra year of arbitration eligibility. Based on MLB Trade Rumors' calculations Twins reliever Alex Burnett missed qualifying for "Super Two" status by four days, so he'll make the minimum salary in 2013 rather than potentially doubling that amount via the arbitration process.
• In preparation for the offseason teams are clearing 40-man roster space by waiving players and because of their high waiver wire priority the Twins may be able to snag someone useful. Their own housecleaning should come soon and marginal players on the 40-man roster include Luis Perdomo, Esmerling Vasquez, Matt Carson, Jeff Manship, P.J. Walters, Deolis Guerra, Cole DeVries, Samuel Deduno, Carlos Gutierrez, Kyle Waldrop, and Drew Butera.
• Just a reminder in the wake of his ALCS MVP: Delmon Young has hit .268/.296/.422 in 191 regular season games for the Tigers, was moved to designated hitter on a team that has Miguel Cabrera and Prince Fielder in the field, hit .240/.270/.320 in "high leverage" situations this year to rank dead last among 143 qualified hitters in Win Probability Added, ranked 139 out of 143 in Wins Above Replacement, and hit .235/.278/.235 in the ALDS. Shit happens.
• I wrote the foreword for the "2013 Offseason Handbook" published by Twins Daily, which includes an incredible amount of good, unique content written by John Bonnes, Seth Stohs, Nick Nelson, and Parker Hageman, plus a lengthy interview with Terry Ryan. I'm not part of the Twins Daily crew, so my recommendation is based purely on merit: For just $6.95 you can get a great product and support writers who provide tons of free Twins content year-round.
• There's no real correlation between playing ability and coaching ability, but I ranked Brunansky as the 28th-best player in Twins history.
• I'll start breaking down potential free agent options, trade targets, and other offseason topics once the World Series is over, but in the meantime this week's episode of "Gleeman and The Geek" includes a lengthy preview of the Twins' payroll situation and winter plans along with a position-by-position look at free agency.