November 13, 2012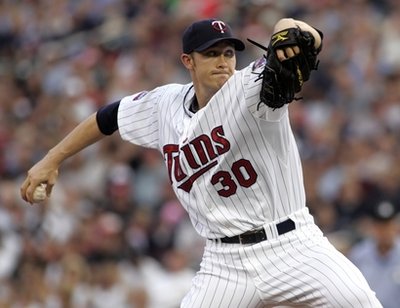 Two weeks ago the Twins declined their $9.25 million option on Scott Baker for next season while making it clear that they were interested in possibly re-signing him for a lesser salary, but today Baker signed a one-year deal with the Cubs. He gets $5.5 million in guaranteed money, plus another $1.5 million in potential incentives after missing all of this year following Tommy John elbow surgery in mid-April.
Baker is no sure thing to be ready by Opening Day, but even if he's healthy for 20-25 starts $5.5 million is a sound investment. Last offseason, for instance, the Twins spent $3 million on Jason Marquis, and this winter several back-of-the-rotation starters will likely get multi-year deals for more money. Baker's lack of durability and tendency to serve up majestic homers made him a natural target for criticism, but he's consistently been a solid mid-rotation starter.
He logged 135 innings with a 3.14 ERA and 123-to-32 strikeout-to-walk ratio in 2011 and since joining the rotation full time in 2007 he has a 3.98 ERA and 676/194 K/BB ratio in 821 innings. Among the 144 starters with at least 500 innings during that time Baker ranks 12th in K/BB ratio, 50th in xFIP, and 52nd in ERA. Only nine pitchers in Twins history have more starts with a better adjusted ERA+ and his K/BB ratio is the second-best behind Johan Santana.
It's unclear how close the two sides were on money, but Joe Christensen of the Minneapolis Star Tribune reports that the Twins wanted any deal with Baker to include a team option 2014 while he wanted the ability to become a free agent again next offseason if 2013 went well. Those stances make sense for both sides and ultimately it all depends on how he comes back from the surgery, but $5.5 million would have been a reasonable risk to take.