November 30, 2012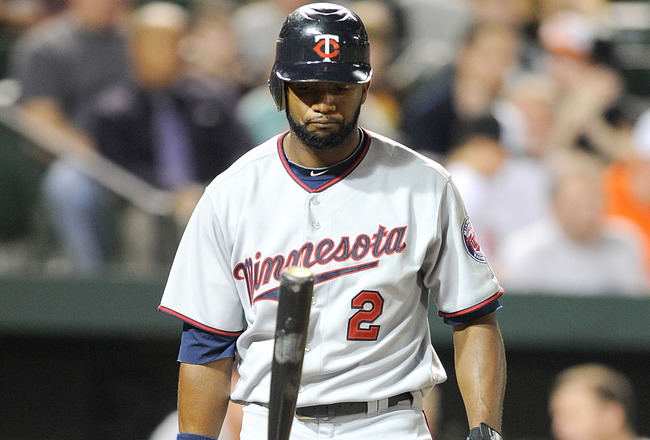 Reports of the Nationals trying to get Denard Span from the Twins started in mid-2011. Back then the rumored deal involved one of Washington's late-inning relievers, either Drew Storen or Tyler Clippard, coming to Minnesota. When it ultimately never happened speculation about the reasons why included Span's post-concussion health status and the Twins' request for a mid-level prospect also being part of their haul.
Seventeen months later the two sides agreed to a trade that sends Span to Washington in exchange for 22-year-old prospect Alex Meyer, a 6-foot-9 right-hander the Nationals picked out of the University of Kentucky in the first round of the 2011 draft right around the time rumors of their interest in Span began swirling. Meyer was the 23rd overall pick, seven spots ahead of where the Twins selected University of North Carolina infielder Levi Michael.
Meyer signed for $2 million and made his pro debut this year at low Single-A, moving up to high Single-A in the second half. Overall between the two levels he threw 129 innings with a 2.86 ERA and 139-to-45 strikeout-to-walk ratio, holding opponents to a .211 batting average and just six homers while inducing 52 percent ground balls. Debuting with such strong numbers is particularly encouraging because Meyer's raw stuff has never been in question.
Meyer works in the mid-90s with his fastball, topping out close to triple-digits, and Baseball America's season review of the South Atlantic League's top prospects praised his "wipeout slider in the mid-80s" and noted that his changeup "could become an average third pitch." Most prospect lists aren't published yet, but Baseball America staffers I talked to are confident he'll be in their top 75 and the one prominent list that's out, MLB.com, rated him No. 50 overall.
Keith Law of ESPN describes Meyer as a "potential frontline starter," writing that "his slider is filthy, a bona fide out pitch" and "his changeup has improved to the point where it's probably a future-average pitch." Law's annual prospect list isn't out yet, but he was kind enough to give me a sneak peak and said Meyer figures to be in the 50-75 range. Law also told me Meyer is in the class of the college arms the Twins passed on with the No. 2 pick to take Byron Buxton.
Ideally if the Twins were trading Span for pitching help it would have been for an established big leaguer or at least an MLB-ready prospect, but they were never going to get someone like James Shields for Span without including significantly more value in the deal and MLB-ready pitching prospects with big-time upside are rarely available in trades for non-stars. To acquire a pitcher with top-of-the-rotation upside for Span you likely also have to acquire uncertainty.
Meyer is a huge, hard-throwing pitcher 18 months removed from being a consensus top-20 player in a very deep draft class and performed well in his debut, striking out 139 batters in 129 innings with better than anticipated control. Simply by virtue of being a 22-year-old pitching prospect he's nowhere near a sure thing, but if the Twins' plan was to turn Span into high-upside young pitching they accomplished that about as well as could be expected.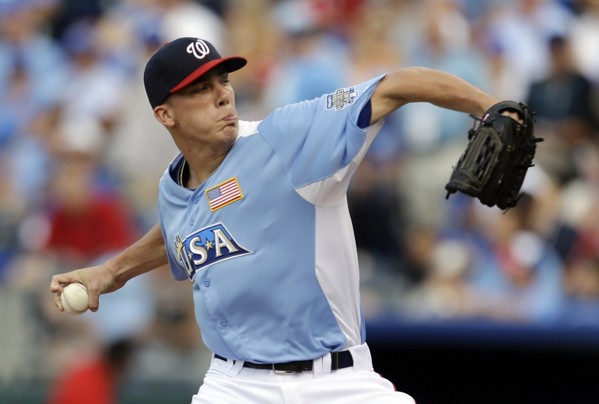 Whether that plan was the right one is another issue, of course. Once upon a time Span was a first-round pick himself, going 20th overall in 2002 out of high school. As he climbed the minor-league ladder his upside began to deteriorate and after hitting .267/.323/.355 at Triple-A in 2007 he looked more likely to be a fourth outfielder than a quality regular. That all changed the next season, as Span hit .340 at Triple-A before a fantastic rookie showing with the Twins.
He hit .294/.387/.432 in 93 games as a rookie and followed that up by hitting .311/.392/.415 in 145 games in 2009. His production dropped off in 2010, as Span hit .264/.331/.348 in 153 games, and his strong start in 2011 was ruined by a concussion that sidelined him for most of four months and left him extremely ineffective when he tried to play. Span entered this year as a huge question mark, but responded with a productive, mostly healthy season.
In all Span hit .284 with a .357 on-base percentage and .389 slugging percentage in 589 games for the Twins, emerging as a prototypical leadoff man with patience, strike zone control, and speed. Among all center fielders with at least 1,500 plate appearances from 2008-2012 only Andrew McCutchen, Josh Hamilton, and Dexter Fowler had a higher on-base percentage than Span and his defensive numbers were consistently well above average.
Span is far from perfect--he lacks power and arm strength, and misleadingly good stolen base totals hide that he's regularly among the MLB leaders in being picked off--but players at up-the-middle positions with .357 on-base percentages and above-average defense are very difficult to find. And, as was usually the case with Span, those players tend to be underrated by people focusing on offense over defense and production without positional context.
He's also 28 years old and under team control for three more seasons at a total cost of $20 million, so in addition to being one of the better all-around center fielders he's one of the biggest bargains. Of course, that's all part of what made Span one of the Twins' few desirable trade pieces and perhaps their most desirable. He's the type of player teams build around, but unfortunately in the Twins' situation he's also the type of player needed to facilitate a rebuild.
Outfield depth throughout the organization made it easier to trade Span, as the Twins have Ben Revere ready to step in as the everyday center fielder, Chris Parmelee ready for a shot somewhere, and prospects like Aaron Hicks, Oswaldo Arcia, Joe Benson, and Eddie Rosario waiting in the wings. There's reason to be skeptical of Revere's bat and Parmelee's glove, but the Twins dealt from an area of strength to address a massive weakness.
I'd much rather have traded Justin Morneau or Josh Willingham or even Revere, but none of those players would have been in as much demand as Span and if the Twins' goal was to swap him for a young, high-upside starting pitcher they accomplished it. Meyer immediately becomes the Twins' top pitching prospect, which admittedly isn't saying much, but he's also one of the 30 or so best pitching prospects in baseball.
A lot can go wrong here if Revere fails to develop better on-base skills and/or Meyer fails to develop, period. And the only reason trading Span makes any sense to begin with is that the Twins are so lacking in pitching talent and so shaky in general coming off 195 losses in two seasons, but there's no magic wand that can be waved to make those problems vanish. They dug themselves this hole and Span-for-Meyer is a reasonable step on their climb out of it.