December 11, 2012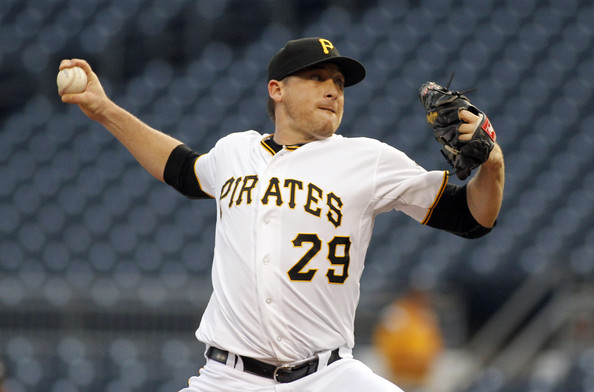 Last month in breaking down all of this offseason's available free agent pitching options I grouped Kevin Correia in the back-of-the-rotation starter category, writing that his "once-decent strikeout rate plummeted to 4.6 per nine innings [since 2011] for the lowest rate in baseball among right-handed starters" and "he doesn't miss bats, doesn't induce a ton of ground balls, and doesn't have great control."
Last night the Twins signed Correia to a two-year, $10 million contract.
Correia is a reasonable enough fifth starter and for 2013 at least the Twins basically just need a few guys to soak up some mediocre innings, but a two-year commitment at $5 million per season seems awfully silly. Correia is 32 years old and has spent his entire career in the National League, posting a 4.60 ERA in 169 starts. That includes a 4.82 ERA in 80 starts over the past three years, during which time the average NL starter had a 4.01 ERA.
Of the 91 pitchers to throw at least 400 innings as starters since 2010 he ranks 88th in ERA, 76th in xFIP, 81st in strikeout rate, and 80th in strikeout-to-walk ratio. Twice this year he was demoted to the bullpen by the Pirates, whose rotation ranked 11th among NL teams in ERA. And he isn't even durable. Correia has topped 175 innings once in his career, back in 2009, and in the three seasons since then he threw 145, 154, and 171 innings.
Free agent pitching is always expensive and this offseason is certainly no exception, but that's no excuse to pay a premium for a 32-year-old fifth starter coming off back-to-back seasons with a strikeout rate below 5.0 per nine innings. Better pitchers than Correia have already signed one-year deals, with more to come as the winter moves along, and if the Twins were handing out bloated two-year deals some semblance of upside should've been a prerequisite.
Ultimately it probably won't matter much for 2013, because the Twins likely weren't going to contend anyway, but it might matter in 2014 when Correia is still around making $5 million. And most of all it suggests that the Twins haven't learned as much from their mistakes as hoped and haven't kicked their addiction to low-velocity, low-strikeout, low-upside pitchers. Correia is a prototypical Twins pitcher and that ceased being a compliment years ago.
This week's content is sponsored by DiamondCentric's new "Game Six" shirt, commemorating one of the most exciting moments in Minnesota sports history.