January 11, 2013
• Now that I know Official Fantasy Girl of AG.com Mila Kunis can cook I'm strongly considering being attracted to her.
• Joe Christensen and Phil Miller have officially switched Minneapolis Star Tribune beats, with Christensen moving to Gophers football and Miller taking over the Twins.
• Lindsay Lohan hasn't started making porn movies (yet), but she has started making movies with pornstars.
• Life imitates an Alanis Morissette song.
• Going behind the scenes of HardballTalk reveals an important discussion between co-workers.
• I probably listen to more podcasts than anyone in the world, so I don't say this lightly: Jeff Garlin talking to Larry David for an hour might be my favorite podcast ever.
• Last week's missed connection was a false alarm, but this one has to be me, right?
• On this week's episode we asked listeners to submit some designs for a potential "Gleeman and The Geek" t-shirt and so far I've received three of them. You can see one here and one here, and here's the third one just because I think it's the most amusing: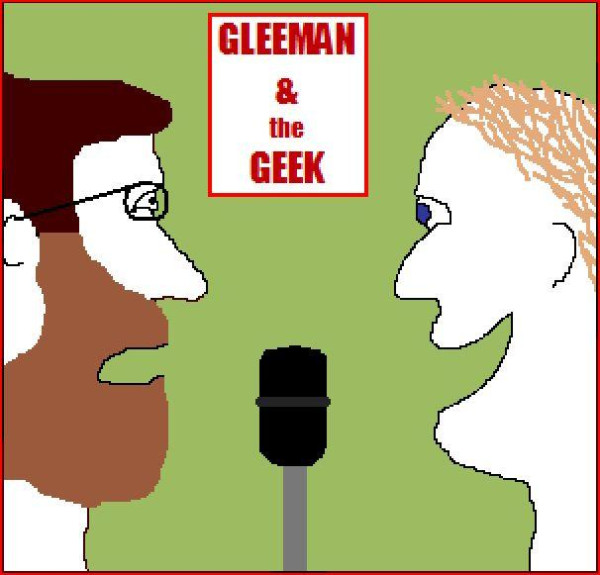 In a lot of ways that might be the most accurate portrayal of two people ever, but for now at least we'll keep looking. I'm offering $50 and a free t-shirt to the creator of any design we use, so if you want to put your skills to work please e-mail me.
• There's a lot of really good comedy coming to Minnesota soon. Nick Offerman will be at Mill City Nights on February 18, Tom Segura will be at Acme Comedy Company on February 23, and Bill Burr will be at the State Theatre on March 23. My dad has had a "poker club" for around 50 years and I'm thinking about starting a "going to comedy shows" club.
• Speaking of Offerman, even as a big "West Wing" fan I didn't remember his time on the show.
• Mystic Lake is also opening up a new comedy club in addition to the big showroom where I saw Artie Lange, Dave Attell, Jim Norton, and Amy Schumer a couple months ago. I'm sensing an oncoming battle between my love of stand-up comedy and my love of not leaving the house.
• In terms of this week's best oral histories, it was a tie between Nick Punto sliding into first base and the history of "Good Will Hunting." Punto would have won if he ran through the bag.
• I watched the fascinating, well done, and weird documentary/mystery "The Imposter," which tells the incredible story of a 13-year-old from Texas who went missing in 1994 and was found four years later in Spain, reuniting with his family. Or so it seemed. An artfully layered narrative of interviews, news accounts, and dramatic recreations shows nothing was as it appeared, from the disappearance to the return to the family's reaction. Highly recommended.
• And in a story with some eery similarities to "The Imposter" a 5-year-old abducted from Indiana in 1994 was found this week living (and married) in Minnesota.
• Jonathan Abrams of Grantland has quickly become one of my favorite long-form writers and his latest gem is about the intertwined careers of Rasheed Wallace and Jerry Stackhouse.
• Save the date: Twins Daily is planning a post-Twins Fest get-together on January 26 at Hubert's across from the Metrodome. I might be there doing some podcasting and I'll definitely be there doing some drinking.
• For some reason Louis Amundson botching the layup in the middle of a blowout loss makes this Ricky Rubio pass even more ridiculous.
Through his first seven games back Rubio has 25 points and 35 assists.
• Jon Heyman being Jon Heyman. And again. And again. And again.
• Numerous incidents of drunk driving, spousal abuse, and various other crimes go unpunished by MLB every season, but they continue to suspend minor leaguers for smoking pot.
• What should the Twins do with Brian Duensing?
• "Gleeman and The Geek" listeners who enjoy when we're interrupted by a drunk person will be delighted by this week's episode, which also included Parker Hageman of Twins Daily joining me for a lengthy discussion of the Twins' involvement in sabermetrics.
• On a related note, I highly recommend the buffalo chicken panino at Panino Brothers in Eden Prairie. It was so good that I barely regretted going off my strict calorie limit and only forced myself to go twice as long as usual on the elliptical machine afterward.
• This tweet is more or less Twitter in a nutshell, complete with the inevitable your/you're error and so much more.
• Thinking someone is great looking is a powerful thing. For instance, I paid to watch Emily Blunt in "Salmon Fishing In The Yemen." And it wasn't bad!
• Michael Keaton on "WTF" with Marc Maron was so damn good.
• Couper Moorhead of NBA.com wrote an interesting article showing how teams are adapting defensively to the increased focus on corner three-pointers.
• Some of this week's weird and random search engine queries that brought people here:
- "Craig Calcaterra's skinny Jewish friend"
- "Van Morrison divorce"
- "Lazy 19-year-old living at home"
- "Troy Aikman's kids"
- "Aubrey Plaza ties up guy"
- "Jim Thome sex life"
- "What does one pound feel like?"
- "Chuck Knoblauch fat"
- "Mixed wrestling Alison Brie"
- "Terry Kunze college stats"
- "Jason Kubel's sister"
• Finally, this week's AG.com-approved music video is Grace Potter (sans The Nocturnals) singing an acoustic version of "Stars":
Interested in supporting AG.com by becoming a "sponsor of the week"? Click here for details.