February 5, 2013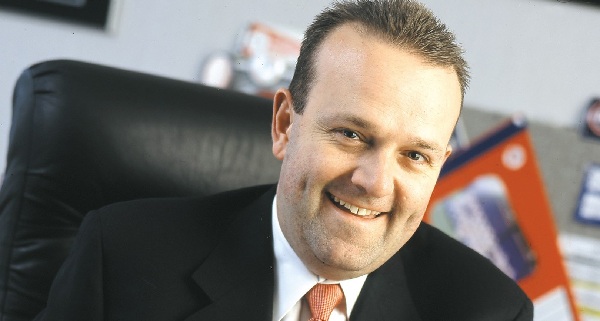 Twins president Dave St. Peter was recently our guest on "Gleeman and The Geek" for a lengthy, unedited interview about a wide variety of on- and off-field topics. We talked to St. Peter for more than 35 minutes, so I'd encourage everyone to listen to the entire episode for the full context of our questions and his responses, but here's a transcript with a sampling of his direct quotes on various subjects.
On the Twins decreasing their payroll significantly for the second straight season:
There's a lot of focus on payroll. I tend to focus more on where we end up, versus where we start. ... I can assure you that Terry Ryan has all sorts of flexibility relative to where our payroll number is. But we also understand that I don't know if he views it coming into this offseason that we were, say, one or maybe even two players away. We're trying to do this right, we're trying to do this the only way we know how to do it, which is build this thing through our farm system over the long term. ... We don't focus a lot on payroll. That's something you guys in the media and all the fans focus on. We try to focus on what gives us the best chance to win.
On why the Twins don't use the payroll space to sign players to one-year deals:
I can just tell you that there's plenty of payroll flexibility. We don't view payroll as the problem. It takes two. It's easy to say "spend $15 million on guys on one-year deals." When you're sitting in that GM chair it's a little different in terms of getting that agent to agree to that one-year deal. ... Particular from a free agent who's going to assess how close we are to really winning. You might identify a player who's a high-profile guy, but you've got to understand he also has to want to come play in Minnesota, play at Target Field. ... I can tell you Terry Ryan has had a lot of discussions with a lot of free agents, a lot of guys you have championed that we sign. Don't think that we don't necessarily agree with you, but it takes two to get those deals done.
On whether it's been hard to get free agents to come to Minnesota for non-monetary reasons:
No. It's dollars and years. It's dollars and years. And at the end of the day, a player might have Option A and Option B, depending where they're from. He may be able to take less in Option A, but at the end of the day it's ultimately going to come down to dollars and years.
On the many free agent starters who signed one-year deals with other teams:
We've had a rich history here, certainly during Terry's tenure, of trying to make good baseball decisions. And we certainly have a belief in what a guy's worth. I have to trust, with all due respect, I have to trust our evaluators. I think they've done a great job. We're trying to get better. And ultimately your assessment of a player, there might be a reason why a guy got a one-year deal versus a multi-year deal that perhaps we're more privy to than maybe the public is. Whether it's health, whether it's makeup, whether a player specifically wanted to play in a certain market or a certain ballpark or with a certain manager or a certain teammate.
On the rapidly growing gap in local television revenue:
I think TV revenue has always played somewhat of a role, certainly since the explosion of cable and satellite television back in the early 80s. We all know about the disparities in payroll that we've dealt with in our game and that's largely been driven by baseball's economic model, which certainly is much more based on local television and cable dollars being the driving force versus the national. I think on some level Minnesota is going to be Minnesota. There's going to be some limitations on what we can reasonably expect out of our local partnership with a FOX Sports North relative to what the Los Angeles Dodgers can expect. ... I think right now we have a market deal. Will that be the case five years from now or 10 years from now? I don't know.
On the impact of revenue sharing within the new collective bargaining agreement:
The good news from a baseball perspective is now today we have a pretty robust revenue-sharing plan, so now the Dodgers, if you read, they're going to go out and sign a record-breaking deal. They're going to give up a certain percentage of that into the revenue-sharing pool, which in essence benefits every team in the game, not just the Dodgers. ... That's played a huge role in having much more competitive balance in the game. Could there be more revenue sharing? Yeah, I'd love to see it, but it's interesting in the National Football League, where it's all about national television revenue, you have many owners fighting for less revenue sharing.
On the Twins' unsuccessful attempt to launch their own channel, Victory Sports, in 2004:
I think it was the right idea, it was probably the wrong time. But at the same time I would tell you that without that launch, or failed launch, of Victory I don't know that we would be where we are today relative to the television revenue that we're garnering from our partnership with FOX. I don't look back on that with a lot of regrets, but it certainly was a concept that was pretty controversial in the market at the time. I think what we were trying to do was control our own destiny, so to speak, in terms of television.
On the Twins switching radio stations from 1500-ESPN to the Pohlad-owned KTWIN-96.3:
I think radio tends to be a little more pure in the sense that, yeah there's a revenue component to it, but it's never going to be the single biggest driver in terms of a team's broadcast revenues. For us it was more of an opportunity that we have a sister company that's a radio station, an FM radio station, and we felt as though we could do a better job of servicing fans in the Twin Cities metropolitan area with not only the game sounding better, but hopefully covering more area, penetrating more buildings.
On the 81 percent renewal rate for season tickets:
I'd say your average renewal rate is probably 75-80 percent. I can tell you it's extremely good for a team coming off of two consecutive 90-plus loss seasons. It continues to confirm that this is frankly a dynamite baseball market and one that certainly has great passion.
On the future of Twins Fest once the Metrodome is no longer an option:
I'm hopeful that perhaps the new football stadium, which will be able to be configured for baseball, perhaps could be the long-term home for Twins Fest despite the fact that we don't have any history there. I think it'll lend itself well to the event. But short term, as we move from the Metrodome, we'll probably have to change the event pretty dramatically for a couple years. ... It probably becomes a little bit smaller, it probably becomes a little bit different in terms of the way we price tickets. And I'm not really thrilled about that, but I just think that's going to be the reality of it.
On his expectations for the team in 2013:
I think we expect to get better. Everybody talks about how we look on paper versus everybody else and I can tell you from my experience in this game is that's a very dangerous assessment. ... At the end of the day I'd like to think that you're going to see a baseball team that's very competitive, we hope to obviously be in a position where we can contend, but first things first I think we've got to restore some of the fundamentals and we've got to get off to a better start. I think that's been a significant issue for us, particularly last year, the year before. We've got to play better early and we understand that. Our everyday nine lineup, we frankly think is good enough. We think we'll score enough runs. We think our bullpen will be fine. But ultimately it's going to come down to who's on that mound in terms of the starters and there's going to be a lot of focus on that in spring training.
There's a whole lot more where that came from--the above quotes represent maybe one-third of the total interview--so check out the full episode.
---
This week's blog content is sponsored by Rotoworld's annual "Fantasy Baseball Draft Guide," which is available in both magazine and online versions. Please support them for supporting AG.com.