April 4, 2013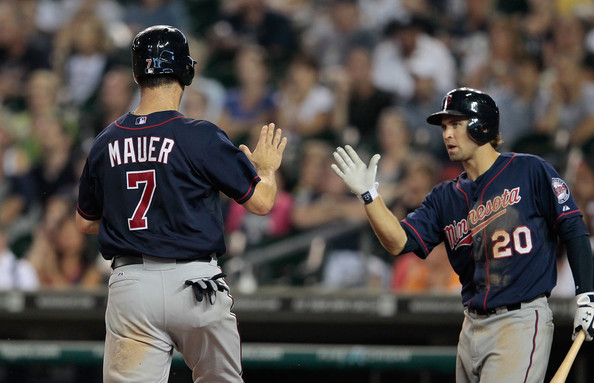 There's been lots of talk about who should bat second in the Twins' lineup. Many simulations and studies show that teams tend to score more when the best overall hitter bats second, but for most of MLB history the best hitter has batted third or fourth and the second spot has been home to lesser hitters with above-average speed and contact skills. Not surprisingly Ron Gardenhire prefers the speed-and-contact route, telling Mike Berardino of the St. Paul Pioneer Press:
I've always had the thought a No. 2 guy has to be able to take pitches a little bit. He has to be able to protect the guy on base and be an on-base-percentage guy also so your 3-4-5 guys are getting opportunities. Bunt. Get 'em over. Be able to shoot the ball the other way with a man on second. All those things. Basically, handle the bat. That's a No. 2 guy.
Not mentioned by Gardenhire is that he also has a very strong preference for second basemen and shortstops in the second spot. You wouldn't think a player's defensive position should factor into where he fits best in the batting order, but whether Gardenhire specifically wants middle infielders or middle infielders are simply the players who usually fit his "handle the bat" description they've dominated the No. 2 spot since he took over as manager. Starts in the No. 2 spot, 2002-2012:
Cristian Guzman       254
Nick Punto            228
Alexi Casilla         203
Orlando Hudson        126
Ben Revere             86
Jason Bartlett         83
Luis Rivas             77
All four players to start at least 100 games in the No. 2 spot were switch-hitting middle infielders with little power. Six of the seven players to start at least 75 games in the No. 2 spot were middle infielders with little power and the seventh, Ben Revere, was a speedy, no-power center fielder. In all 17 players started at least 30 games in the No. 2 spot and all but four of them (Revere, Joe Mauer, Jacque Jones, Doug Mientkiewicz) were middle infielders.
Gardenhire has used middle infielders in the second spot regardless of on-base skills and overall hitting ability, and not surprisingly the results haven't been good. None of the seven players with at least 75 starts in the No. 2 spot had a .350 on-base percentage there and only Revere, Jason Bartlett, and Orlando Hudson were above .330. Cristian Guzman, who started most often in the No. 2 spot, had a terrible .283 OBP there, and Luis Rivas was even worse at .276.
Looking beyond on-base percentage, the Twins' overall production out of the No. 2 spot has been consistently awful under Gardenhire. During his first 11 seasons as manager here's how the Twins ranked in OPS from the No. 2 spot in the 14-team American League: 13th, 13th, 14th, 14th, 12th, 13th, 8th, 12th, 11th, 13th, 12th. Not once in 11 seasons did they place higher than eighth in OPS from the second spot and they were 12th or worse nine times.
Berardino's article notes that Jack Goin, the Twins' manager of baseball research, has suggested that Mauer should bat second. Goin is the team's stat-head and no doubt has seen the research showing that the No. 2 spot should be filled by the best hitter. Mauer fits that description, with the added benefit of having more on-base skills than power, making him ideal there. As of last week Gardenhire seemed uncertain about the idea, saying:
People say Joe Mauer should hit second or whatever, but do we really want "man on second base and Joe Mauer coming up," and he's shooting it over the other way? I don't know about that. That's not his game. Just hitting is his game, but he could do it. ...

Once we start, I'll make that final decision. I'll sit down with my staff and our stat guy and see what that computer spits out, and then we'll go from there. If it's coughing, then I'll do it my way.
For the past 11 seasons "I'll do it my way" led to ranking among the worst teams in the league at getting production out of the second spot, as Gardenhire chose "handle the bat" middle infielders for a role that logs the second-most plate appearances in the batting order and sets the table for the lineup's power hitters. Sure enough it looked like Brian Dozier, a second baseman with little power and a .280 OBP between the minors and majors last year, would bat No. 2 this year.
All the statistical analysis in the world doesn't mean a whole lot if the actual decision-makers don't incorporate it into their decision-making, but whatever Goin and "that computer" said must have worked on Gardenhire because Mauer batted second in the first two games. Of course, it's worth noting that Gardenhire also batted Mauer second on Opening Day in 2008, but gave up on the idea after a week and turned to light-hitting middle infielders Alexi Casilla and Nick Punto.
In fact, Gardenhire has batted Mauer second a total of 73 times in nine seasons and Mauer has fared well in the role, hitting .316/.373/.512, but within weeks the manager has always moved the best hitter back into the third spot and inserted a light-hitting middle infielder into the second spot. We'll see if it sticks this time around. If it does Goin deserves credit for making a convincing argument and Gardenhire deserves credit for listening and adapting. Better late than never.
Most of the focus on batting orders tends to be about the interactive nature of a lineup, such as a leadoff man getting on base in front of big bats or a cleanup hitter "protecting" a No. 3 hitter, but the bigger impact tends to come from the allocation of plate appearances. Last year, for instance, the No. 1 spot in the Twins' lineup batted 758 times, whereas the No. 9 spot batted 619 times. Moving up or down one spot in the lineup adds or subtracts 15-20 plate appearances.
In this case by dropping Dozier from No. 2 to No. 8 they'd take away 100 plate appearances from one of the lineup's worst hitters. And by moving Mauer from No. 3 to No. 2 and sliding everyone else behind him up one spot as well they'd give an extra 15-20 plate appearances to each the lineup's best hitters. Whether you want to call that sabermetrics or common sense, more of the best hitters and less of the worst hitters is a pretty smart approach.
---
This week's blog content is sponsored by Territory Train, which takes the heavy lifting out of planning and executing Twins road trips. Please support them for supporting AG.com.