April 17, 2013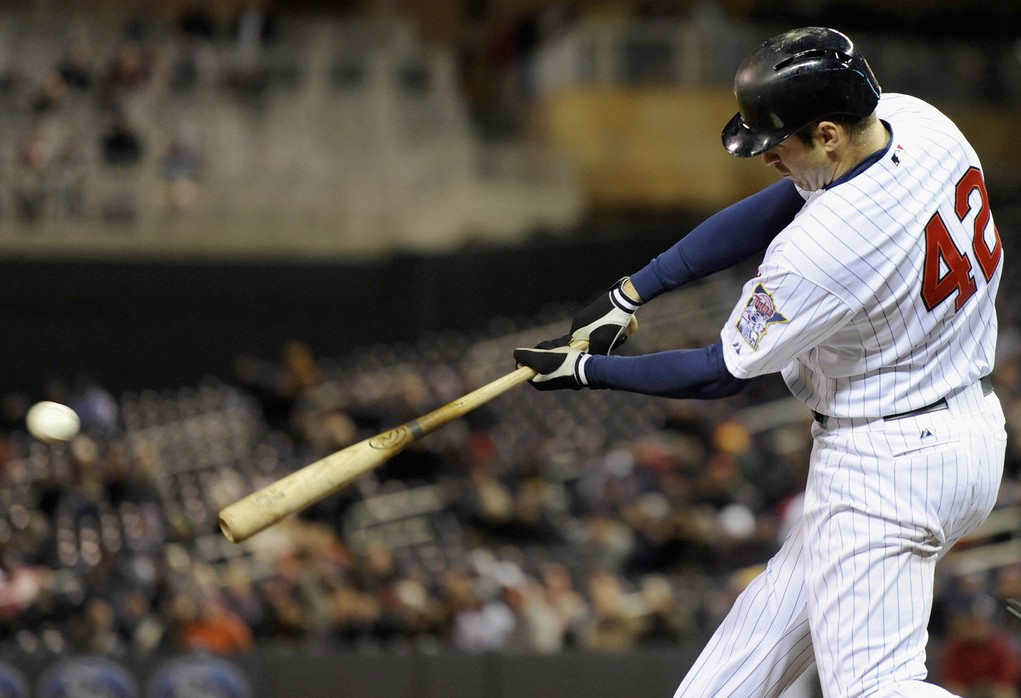 • Monday night Joe Mauer went 4-for-5 with a homer and a double for his 20th career four-hit game and then he followed that up Tuesday night by going 4-for-5 for his 21st career four-hit game, which ranks fourth in Twins history and third in Twins history through age 30:
OVERALL                      THROUGH AGE 30
Kirby Puckett      47        Kirby Puckett      33
Rod Carew          42        Rod Carew          29
Tony Oliva         28        Joe Mauer          21
Joe Mauer          21        Tony Oliva         15
Chuck Knoblauch    15        Chuck Knoblauch    15
You certainly wouldn't know it based on this week, but strictly in terms of racking up hits Mauer is at a small disadvantage because he draws so many walks, especially compared to a free-swinger like Kirby Puckett. Here's the Twins' leaderboard for games getting on base at least four times:
OVERALL                      THROUGH AGE 30
Rod Carew         117        Rod Carew          84
Kirby Puckett      94        Joe Mauer          79
Harmon Killebrew   92        Chuck Knoblauch    76
Joe Mauer          79        Kirby Puckett      59
Chuck Knoblauch    76        Kent Hrbek         59
"Four-hit game" rolls off the tongue a lot smoother than "four-times-on-base game" but as always walks are a good thing too. Either way, Mauer is ridiculous right now.
• Three of Mauer's four hits Monday night came with two strikes, which prompted manager Ron Gardenhire to comment:
One of the best hitters I've ever seen with two strikes. It's incredible how he can go deep into a count and never panic, never have any fear, have a nice swing and barrel it just about every time.
Thanks to Baseball-Reference.com recently adding splits data to the already amazing Play Index here are the active leaders in batting average and OPS with two strikes:
TWO-STRIKE AVG                 TWO-STRIKE OPS
Todd Helton        .263        Albert Pujols      .789
Juan Pierre        .261        Todd Helton        .784
Ichiro Suzuki      .260        David Ortiz        .698
Albert Pujols      .258        Ryan Braun         .697
Joe Mauer          .256        Miguel Cabrera     .696
                               ...
                               Joe Mauer          .668
As you might expect, guys with low strikeout rates have the best two-strike batting average and guys who're simply great all-around hitters have the best two-strike OPS. Mauer ranks fifth in batting average and 17th in OPS with two strikes.
• Last night Gardenhire moved Aaron Hicks out of the leadoff spot for the first time, which got me thinking about the history of Twins leadoff hitters. First, here's a list of the most starts in the leadoff spot in Twins history:
Cesar Tovar        742
Chuck Knoblauch    695
Denard Span        549
Zoilo Versalles    547
Dan Gladden        478
Kirby Puckett      417
Jacque Jones       320
Shannon Stewart    313
Lenny Green        263
Hosken Powell      225
Zoilo Versalles and Dan Gladden are two of the five most-used leadoff hitters in Twins history despite posting on-base percentages of .299 and .318 in the role. Jacque Jones and Hosken Powell weren't a whole lot better at .329 and .327, although at least Jones also slugged .472 for the highest mark by a Twins leadoff man. In all 25 hitters have started at least 100 games in the leadoff spot for the Twins and here are the leaders in on-base percentage:
Chuck Knoblauch    .399
Steve Braun        .386
Lyman Bostock      .362
Otis Nixon         .360
Shane Mack         .359
Shannon Stewart    .358
Luis Castillo      .357
Denard Span        .354
Lenny Green        .350
Larry Hisle        .348
As part of my "Top 40 Minnesota Twins" series I compared Steve Braun to Chuck Knoblauch and called him one of the most underrated players in team history. Braun played in a low-offense era, so his OBP was even better than it looks. The worst OBP by a Twins leadoff man with at least 100 starts belongs to Carlos Gomez at .280, which won't surprise anyone. Hicks has led off 10 times so far, which ties him for 69th in Twins history with Pedro Munoz and Mark Davidson.
• Hicks tied the all-time record for most strikeouts in a hitter's first 10 career games:
Aaron Hicks       2013     20
Brett Jackson     2012     20
Matt Williams     1987     19
Russell Branyan   1999     18
Ray Durham        1995     18
There's no real positive way to spin 20 strikeouts in 10 games--particularly when combined with just two hits--but Matt Williams and Ray Durham went on to have very good, long careers and Russell Branyan was a productive slugger for quite a while. And just short of cracking the above top-five is Giancarlo Stanton, who had 17 strikeouts in his first 10 games in 2010 and is now one of the elite hitters in baseball.
• Just a few weeks ago Terry Ryan said this about Hicks as the Opening Day center fielder:
The guy has earned it. I find it almost humorous that people are talking about service time, starting the clock. We didn't trade Span and Revere to stall the next guy. ... I can't ever feel guilt about stopping a guy that deserves to be there because I know if I put myself in that man's shoes, I would be severely disappointed.

Are we trying to win, or what are we doing? Can you imagine if we sent somebody out that did what the kid did, and I had to look at Willingham and Morneau and Perkins and Mauer and those guys that are trying to win, and I'm going to stop that guy? I just don't believe in that. I hear this stuff. Not here.
"Earning" something by playing well for 20 spring training games can be a funny thing, although perhaps not as "humorous" as Ryan found the service time discussion.
• Oswaldo Arcia's first taste of the big leagues lasted all of one game before Wilkin Ramirez returned from paternity leave, but he managed to get his first hit, make his first error, and have Mike Trout rob him of his first extra-base hit. And now with Darin Mastroianni going on the disabled list Arcia is coming back up after a 24-hour demotion to Triple-A. Arcia debuted about three weeks before his 22nd birthday, making him the 10th-youngest Twins player since 1991:
Joe Mauer           20.352
Cristian Guzman     21.016
Luis Rivas          21.017
Johan Santana       21.021
Rich Becker         21.221
Pat Mahomes         21.247
A.J. Pierzynski     21.253
David Ortiz         21.288
Francisco Liriano   21.314
Oswaldo Arcia       21.341
Javier Valentin     21.359
I believe the technical term for that list is "mixed bag." Jim Manning was the youngest player in Twins history, debuting in 1962 at 18 years and 268 days. He pitched seven innings that season and never played in the majors again. As for Arcia, it may take a trade or an injury but the odds seem pretty strong that he'll be a regular in the Twins' lineup for good by August. I rated him as the Twins' third-best prospect coming into the season, one spot ahead of Hicks.
• It's possible that the Twins demoted Liam Hendriks to Triple-A primarily because the various off days mean they won't need a fifth starter for a while and liked Pedro Hernandez more as a bullpen option during that time, but clearly their faith in Hendriks isn't very high right now. Faith in a pitcher with an ERA near 6.00 tends to be minimal and I've never been especially high on Hendriks as a prospect, but writing him off after 22 career starts would be a mistake.
Compare the following three Twins pitchers through 22 career starts:
                 IP      ERA     SO9     BB9     HR9
Pitcher X       118     5.63     5.4     2.5     1.4
Pitcher Y       137     5.40     3.8     2.2     1.6
Pitcher Z       121     5.20     6.5     2.1     1.5
One set of those lines is Hendriks and the others are Brad Radke and Scott Baker, who also frequently got dinged early on for not throwing hard and giving up too many homers. I'm certainly not suggesting he's the next Radke or even the next Baker, but if there's any benefit to being a bad team with a poor rotation it should be having few qualms about giving a 24-year-old like Hendriks an extended opportunity to sink or swim in the majors.
• Back in January team president Dave St. Peter was our guest on "Gleeman and The Geek" and we asked him if the Twins' recent struggles played a part in the inability to sign some free agent pitchers they targeted. St. Peter denied that was the case, repeatedly saying that "dollars and years" were the main factor:
No. It's dollars and years. It's dollars and years. And at the end of the day, a player might have Option A and Option B, depending where they're from. He may be able to take less in Option A, but at the end of the day it's ultimately going to come down to dollars and years.
I found that interesting at the time, because it seemingly differed from some previous things said by other members of the organization. Fast forward to last week, when Jesse Lund of Twinkie Town interviewed assistant general manager Rob Antony and got a much different answer to a question about the inability to sign targeted pitchers:
We made very competitive offers to a couple pitchers, and maybe even better offers than what players signed for. You get into a situation when you're coming off of two 90-plus loss seasons, some pitchers, and to their credit they are looking to land in a place where they'll get a chance to win, and some teams can just offer that and a player will look at it and believe it more so than when we say "Hey, we're trying to win, too." ...

So we tried to get some guys. We went after some free agents who basically didn't have a lot of interest in coming here, just because they thought that at this point in their career they wanted to win and they thought they could get the money and win somewhere else better than ... be in a better situation than they would be here.
That's about as far from "dollars and years" as you can get.
• Glen Perkins continued his recent media tour by talking to my favorite interviewer, David Brown of Yahoo! Sports. It's great, because how could it not be? For example:
DB: How are you personally coping without Denard Span? I don't think I'd be doing too well.

GP: This is the first year since 2004 that we won't be teammates. It's weird. I unfollowed him on Twitter. I guess that's my coping mechanism.
Perkins actually unfollowed Denard Span right after the trade in January, later refollowed him, and then unfollowed him again. I know this because Span pointed it out each time on Twitter.
• On a related note, Span had no idea what a double-switch was until this week despite playing two dozen interleague games under NL rules while with the Twins. And also, you know, being a professional baseball player.
• Ben Lindbergh of Baseball Prospectus did some really interesting research about catchers and framing high and low pitches, with Mauer playing a prominent role in the analysis.
• Chris Jaffe of The Hardball Times tells the story of the time Bert Blyleven charged the mound.
• For a lot more about Hicks, Hendriks, and Arcia, plus the Twins' premature press release, check out this week's "Gleeman and The Geek" episode.
---
This week's blog content is sponsored by DiamondCentric's new GAME SIX shirt, commemorating one of the best moments in Minnesota sports history. Please support them for supporting AG.com.