May 23, 2013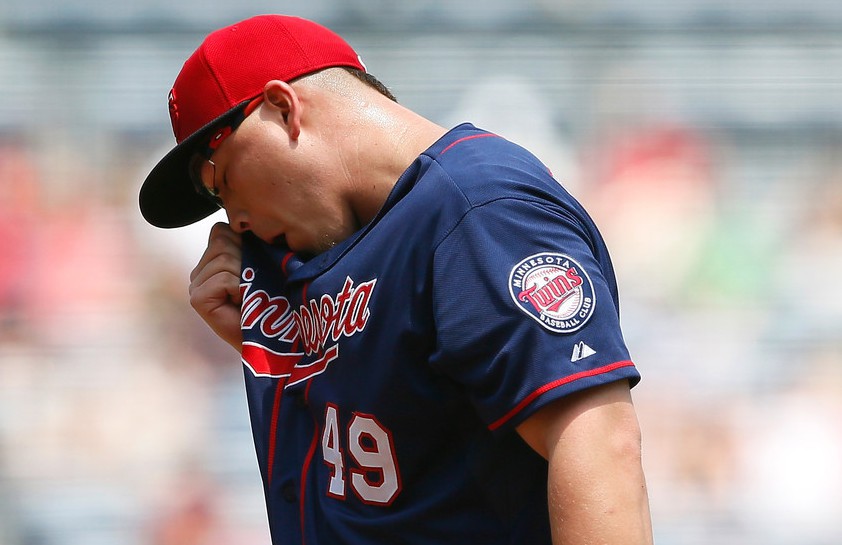 Vance Worley got knocked around for eight runs while failing to make it out of the fourth inning against the Braves yesterday and immediately after the game the Twins demoted him to Triple-A. Worley went from Opening Day starter to minor leaguer in two months by starting 10 games with a 7.21 ERA and allowing 43 total runs in 48.2 innings. When a pitcher struggles that much it's often due to terrible control, but Worley walked just 1.5 batters per start.
Instead he struggled because hitters simply teed off on his 89-mile-per-hour fastball and sub par off-speed stuff, clubbing Worley for an MLB-high .381 batting average and .574 slugging percentage. To put that in some context, the last MLB player to hit .381 or higher and slug .574 or higher in a season was George Brett in 1980. And before that it was Ted Williams in 1957. In other words, Worley turned every hitter he faced into a Hall of Famer.
No one expected Worley to be a top-of-the-rotation starter when the Twins acquired him from the Phillies along with prospect Trevor May for Ben Revere and he got the Opening Day nod by default, but with a 3.50 ERA in 278 innings through age 24 he certainly seemed capable of slotting into the middle of the rotation for several years. And that may still prove true if Worley can get back on track at Triple-A, but his ability to generate swinging strikes is in doubt.
Worley averaged 7.7 strikeouts per nine innings for the Phillies, which was above average for NL starters, but a huge percentage of them came on called third strikes. Striking hitters out looking is definitely a skill, but it's awful tough to sustain at the degree to which Worley relied on it. And sure enough this year batters swung at Worley's strikes nearly 20 percent more often and he's the only MLB starter with a swinging strike rate below 4.5 percent.
If you can't get hitters to swing and miss at pitches and they stop taking pitches in the strike zone enough to rack up called third strikes ... well, what happens is your strikeout rate drops from 7.7 per nine innings to 4.6 per nine innings and everyone looks like a Brett/Williams clone. There was also some bad luck mixed in, including a batting average on balls in play above .400, but however you slice it Worley pitched terribly and raised worrisome questions.
Of course, he's hardly alone. Worley's demotion came just two days after the Twins shipped Pedro Hernandez back to Triple-A for posting a 6.67 ERA with a grand total of 10 strikeouts in six starts and for all of the front office's talk of improved starting pitching being the focus of the offseason the rotation has somehow managed to be even worse than last year's mess. Take a look at how the 2012 and 2013 rotations compare:
YEAR    IP/G      ERA    SO/9    BB/9    HR/9      GB%     OAVG
2012     5.4     5.40     5.5     2.9     1.4     45.3     .287
2013     5.2     5.69     4.2     2.2     1.3     45.4     .330
Last season Twins starters averaged 5.4 innings per start with a 5.40 ERA. This season Twins starters have averaged 5.2 innings per start with a 5.69 ERA. And not only are they giving up more runs in fewer innings, the already abysmal strikeout rate is down from 5.5 to 4.2 per nine innings and the opponents' batting average is up from .287 to .330. And even the rotation's supposed strength, inducing ground balls, hasn't led to an actual increase in ground balls.
Numbers that hideous usually mean things can't help but improve, but then again that seemed likely to be true after last year's debacle and yet here we are. More than a quarter of the way through the season Twins starters have recorded 16 outs per game while allowing nearly six runs per nine innings and opponents have hit .330 off them. I'd hate to see how unspeakably bad the rotation would be if improving it hadn't been the supposed focus of the offseason.
---
This week's blog content is sponsored by Ticket King, a local ticket broker that doesn't charge check-out fees, offers in-store pickup, and specializes in Twins tickets. Please support them for supporting AG.com.