May 31, 2013
• For most of my life I dreamed of being a columnist for the Minneapolis Star Tribune. I gave up on that ever happening a while back, but this might be the next-best thing: Star Tribune metro reporter Ben Johnson wrote a lengthy article about me and my weird career path and AG.com reaching 10 million visitors. I haven't seen a copy of the physical newspaper yet, but the article got top billing in the "West Metro" section of the website: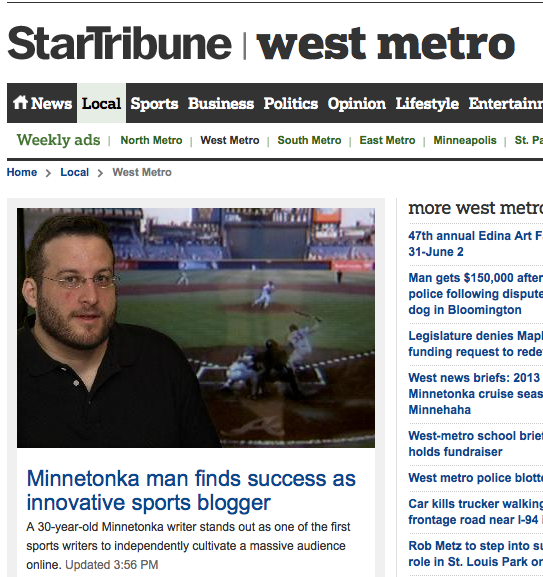 Thanks to Johnson for being such a pleasure to deal with and to various people for saying nice things about me. My mom and grandma are very happy. Give it a read.
• I'm mostly just happy that the photographer didn't ask me to pose like this.
• Matt Harvey never even gave me a chance.
• Glen Perkins' highly effective "make every Twins fan fall in love with him" tour continues with an amusing collection of quotes in the St. Paul Pioneer Press.
• I've been using Twitter wrong this whole time. Also, who won Miss Minnesota this year?
• Rays prospect Joshua Sale provides more evidence of the strong correlation linking being an asshole and not knowing the difference between "your" and "you're."
• I have a few openings in my "Hardball Dynasty" league on WhatIfSports and the new season begins next week. If you're interested in joining, please read this first.
• As someone who really got hooked on poker from watching ESPN's coverage of the World Series of Poker in 2003, Grantland's oral history of Chris Moneymaker and company was a great read.
• If you're curious about who the Twins will select with the No. 4 overall pick in next week's draft, I profiled all the potential targets from Mark Appel to Reese McGuire.
• And on this week's "Gleeman and The Geek" episode we went even more in depth talking with special guest Jeremy Nygaard about the upcoming draft and also tried to figure out the Twins' reasoning behind all the recent roster moves.
• Who wore it better? Zubaz edition, starring me and another St. Paul boy born in 1983: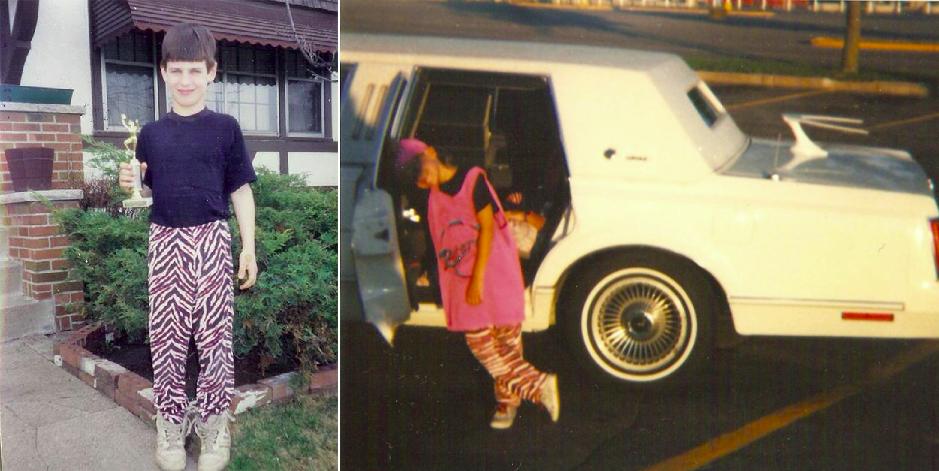 My limo was bigger than Joe Mauer's trophy, if nothing else.
• Nick Swarsdon on "Norm MacDonald Live" has to be one of the five funniest interviews ever by someone wearing a Timberwolves hat.
• It took a while, but Carlos Gomez has become one of the best players in baseball at age 27.
• My weekly appearance on Paul Allen's show was derailed by talk of what exactly goes on in my bedroom and then things went downhill from there.
• Speaking of PA, he randomly sat behind Parker Hageman at Wednesday night's Twins-Brewers game and they both got on television reacting to Chris Parmelee's great catch. Of course, if you look at the video from another angle Hageman tried to pull a Steve Bartman and failed.
• Once upon a time reading "some college, no degree is not going to cut it" would've scared me.
• Curtis Granderson is donating $5 million to his alma mater, which is about 10 percent of his lifetime earnings. In related news, every six months someone from the University of Minnesota calls me looking for money, I offer to donate in exchange for a diploma, and they hang up.
• I like that my HardballTalk blogmate Craig Calcaterra is now a leading source for pictures of dudes in their underwear.
• This week's Carson Cistulli-Dayn Perry chat/business meeting included Cistulli revealing that he's "both a talented and enthusiastic dancer" with "legitimate moves" and Perry explaining that he "would out-dead lift the shit out of Rob Neyer."
• Yu Darvish has nearly as many strikeouts as the Twins' entire starting rotation.
• I'm sure there's an official video for "Get Lucky" by Daft Punk, but I'll choose to believe this is it:
That's co-produced by Minnesota native, stand-up comedian, and Twitter rascal Joe Mande.
• MinnPost is a non-profit organization and as part of their fundraising efforts you can hang out with me (and John Bonnes) in a Target Field suite and watch the Twins-Tigers game on June 15.
• Chris Colabello wore the wrong uniform Tuesday night and no one noticed until after the game.
• SABR posted details of all the research presentations scheduled for this year's convention, which is July 31 to August 4 in Philadelphia. I've gone to every convention since 2004.
• Why did the Twins send down Oswaldo Arcia and when are they going to call up Kyle Gibson?
• Comedian/writer Morgan Murphy was a really enjoyable guest on Jay Mohr's podcast because she talked about my three favorite things: Sports, comedy, and depression.
• "Sound City" is one of the best music documentaries I've ever seen and it's available on Amazon for just 99 cents this week. Do yourself a favor and watch it.
• If you're interested in becoming an AG.com sponsor, next week's spot hasn't been reserved yet and you can read all the details here.
• Some of this week's weird and random search engine queries that brought people here:
- "Is Kevin Slowey for real?"
- "Elisabeth Moss feet obsession"
- "Robby Incmikoski is how old?"
- "Caleb Thielbar's mom"
- "Jon Bones KFAN"
- "Ryan Doumit shirtless"
- "Was Gary Gaetti any good for the Twins?"
- "Craig Calcaterra fan fiction"
- "Who are the FSN Girls dating?"
- "Meatsauce work KFAN pizza"
• Finally, this week's AG.com-approved music video is "Dreams" by The Game:
---
This week's blog content is sponsored by Ticket King, a local ticket broker that doesn't charge check-out fees, offers in-store pickup, and specializes in Twins tickets. Please support them for supporting AG.com.