July 3, 2013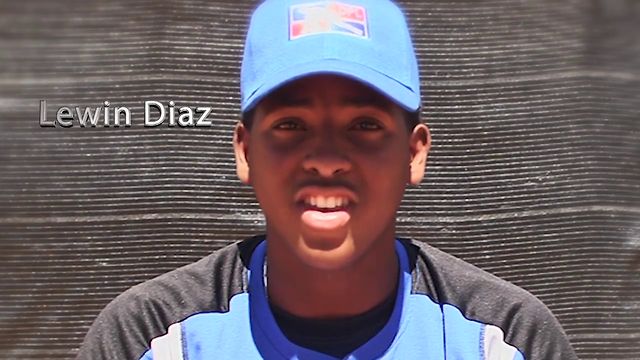 In recent years the MLB draft has gotten significantly more attention as media members and fans have increased their focus on prospects, but the international signing period continues to lag far behind. My assumption is that the dearth of readily available information about 16-year-olds from foreign countries plays the biggest role in the lack of attention, because certainly in terms of the long-term impact on teams international signings are every bit as important as draft picks.
This year's international market opened yesterday and the Twins' biggest splash was spending $1.4 million on 16-year-old Lewin Diaz, a 6-foot-4 first baseman from the Dominican Republic. Ben Badler of Baseball America, whose coverage of foreign prospects is the most informed and thorough anywhere, ranked Diaz as the 15th-best international player available and wrote long before signing day that "the Twins appear to be higher on Diaz than any other team."
Badler writes that "his value is all in his bat" and his "big, lumbering body ... could end up along the lines of David Ortiz physically." Having an Ortiz build doesn't mean having an Ortiz bat, but Badler reports that Diaz has "good bat speed and flashes some of the best raw power in Latin America during batting practice." However, he also notes that Diaz "doesn't bring the same loft power against live pitching" and "will have to make adjustments for his power to play in games."
Jesse Sanchez of MLB.com ranked Diaz as the 10th-best international prospect, writing that "scouts love the big left-handed hitter's stroke at the plate and his body reminds many scouts of Ryan Howard." When a baby-faced 16-year-old is compared physically to Ortiz and Howard he's going to be a massive adult some day, so not surprisingly Diaz has sub par speed and projects as a first baseman. In other words, the Twins are betting on him developing huge power.
DPLBaseball.com has video of Diaz doing outfield drills and taking batting practice:
Along with spending big on Diaz the Twins also dropped $550,000 on another 16-year-old from the Dominican Republic, third baseman Roni Tapia. He didn't crack the top-30 list on Baseball America or MLB.com, but Badler correctly pegged the Twins' interest in the 6-foot-3, 175-pound Tapia and calls him "an average runner who generates easy power from the right side" while also noting that "defense is a challenge for Tapia, so a position change is likely."
DPLBaseball.com has video of Tapia fielding grounders at third base and taking batting practice:
When it comes to drafting position players the Twins have long targeted athleticism and speed at the expense of power potential, but their recent approach to international signings has been much different. Four years ago they made a record-breaking $3.15 million bet on a 16-year-old slugger from the Dominican Republic named Miguel Sano and now they've committed another $2 million to a pair of 16-year-old Dominicans with bat-driven upside in Diaz and Tapia.
Sano was considered one of the best 16-year-old international prospects ever and it's taken him four years just to reach Double-A, so it'll be a while before any kind of judgment can be passed on the Diaz and Tapia signings. In the meantime, though, it's nice to see the Twins straying from their overall comfort zone in an effort to add some much-needed power to an organization that has lacked it for a couple decades now.
---
This week's blog content is sponsored by Ticket King, a local ticket broker that doesn't charge check-out fees, offers in-store pickup, and specializes in Twins tickets. Please support them for supporting AG.com.