July 24, 2013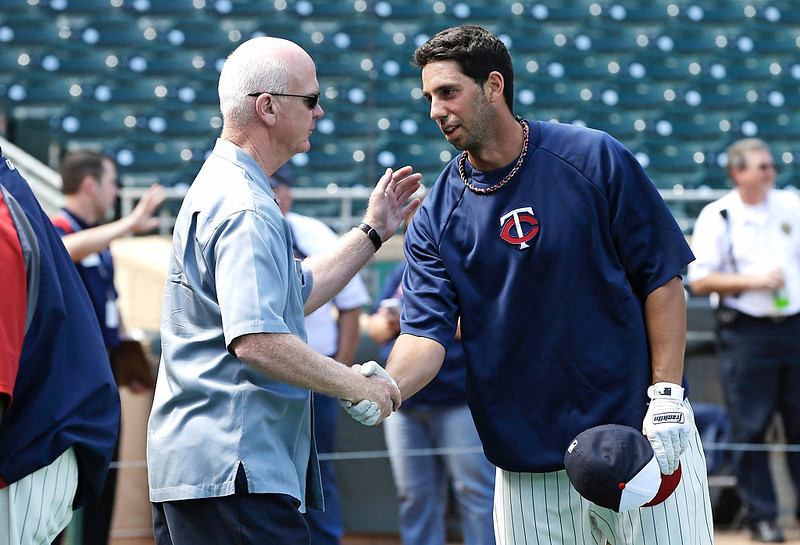 Chris Colabello's first taste of the majors was brief, but now he's back with the Twins for what figures to be the 29-year-old's first and perhaps only extended chance. Undrafted out of college, Colabello spent seven years playing independent ball in the Canadian-American Association and then signed with the Twins after winning MVP honors in 2011. He was assigned to Double-A last season and was good but not great, hitting .284/.358/.478 with 19 homers in 134 games.
Colabello moved up to Triple-A this season and absolutely destroyed the International League, hitting .354/.432/.652 with 24 homers, 24 doubles, and 43 walks in 85 games. At the time of his call-up Colabello led the league in batting average, slugging percentage, OPS, homers, extra-base hits, and RBIs. Here's where Colabello ranks among all Rochester hitters with at least 150 plate appearances since the Twins moved their Triple-A affiliate there in 2003:
                   YEAR      PA      OPS
Chris Parmelee     2012     282    1.102
CHRIS COLABELLO    2013     375    1.084
Trevor Plouffe     2011     220    1.019
Justin Morneau     2004     326     .992
Jason Kubel        2004     390     .958
Brian Buscher      2008     214     .915
Denard Span        2008     184     .915
Randy Ruiz         2008     456     .902
In terms of upside and prospect status Colabello is closer to Randy Ruiz and Brian Buscher than Justin Morneau and Jason Kubel or even Chris Parmelee and Trevor Plouffe, but in terms of production he stands out as much as anyone on that list. Looking beyond Rochester to the entire pitcher-friendly International League, here are all the hitters to top a 1.000 OPS in 300 or more plate appearances during the past 10 years:
                   YEAR      PA      OPS
CHRIS COLABELLO    2013     375    1.084
Dan Johnson        2010     426    1.053
Marcus Thames      2005     314    1.106
Roberto Petagine   2005     336    1.088
There's some selection bias at play, because most of the time when a hitter posts an OPS above 1.000 at Triple-A they get called up to the majors before reaching 300 plate appearances. But the three guys to join Colabello in the 300/1.000 club fit a similar description as journeymen looking for a chance. Dan Johnson and Marcus Thames both had nice runs in the majors as solid role players and Roberto Petagine was one of the original stat-head favorites back to the 1990s.
Every season unheralded hitters who're too old to be prospects crush minor-league pitching and very few of them go on to do anything in the majors, often for good reason. Colabello may prove to be just another name on that long list of so-called Quadruple-A players, but I'm a big believer in non-contending teams like the Twins giving opportunities to previously ignored players who've performed extraordinarily well in the minors.
Most of the time those guys simply die on the vine without getting a shot, with Anthony Slama being the most recent Twins example, but once in a while they get a chance and take advantage like Pat Neshek or Lew Ford. No one ever mistook Neshek and Ford for superstars and even in the most optimistic scenario that's true for Colabello as well, but his following in their footsteps by becoming a valuable major leaguer would be a big help to the Twins.
There's really no significant downside, because Colabello struggling wouldn't set him apart on a roster full of hitters who aren't hitting this season. And if his Triple-A success translates to the big leagues even a little bit then the Twins will have found a useful, cheap right-handed bat who can provide the lefty-heavy lineup with a solid platoon option against left-handed pitching or take on a bigger role at first base and designated hitter.
All of which is no sure thing, of course. Colabello spent seven seasons playing in an independent league because no one with the ability to give him an opportunity thought he was worthy and while his Triple-A production is spectacular it's still just 85 games. He also struck out a lot and has an odd batting stance, standing very far away from the plate in an effort to drive outside pitches, which adds another layer of skepticism to Colabello's numbers.
Colabello is never going to be confused for an in-his-prime Morneau, but the question is whether he can provide similar production to the post-2010 version of Morneau and do so at a fraction of the cost. During the past three seasons Morneau has hit .259/.321/.402 in 293 games while being paid $15 million per year, so it's not a particularly high bar for a minimum-salaried Colabello to clear. Hopefully the Twins give him enough of a chance to see what they have.
---
This week's blog content is sponsored by the Twins Daily light rail pub crawl/Twins game, where you can join Aaron Gleeman, John Bonnes, Parker Hageman, Nick Nelson, and Seth Stohs for a day of bar-hopping and baseball on September 14. Space is limited, so book your spot.