August 7, 2013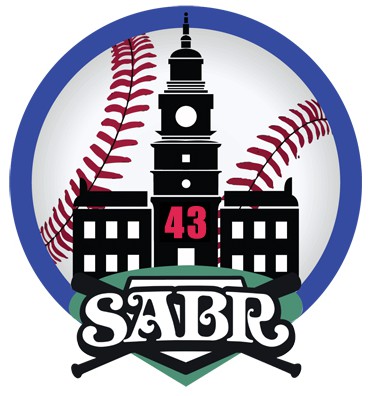 Last year's Society for American Baseball Research convention was in Minnesota, but while a home game for my annual baseball-and-booze fest might sound appealing it fell a little bit short of my past convention experiences. I go to SABR conventions as an excuse to see my longtime friends from Baseball Primer (now Baseball Think Factory) and my slightly-less-longtime friends from previous conventions, but I also go to see new ballparks and close down bars in different cities.
Last week's trip to Philadelphia for this year's convention hit all the right notes and solidified why I've now attended 10 consecutive conventions since nervously going for the first time in Cincinnati as a 21-year-old in 2004. Within minutes of checking into the downtown Marriott on Wednesday afternoon I was in the hotel bar sitting next to two friends--Joe Dimino and Matt Rauseo--whom I met in Cincinnati after "meeting" on Baseball Primer years earlier.
And within seconds we picked up where we always leave off, drinking too much, talking baseball too loudly, and goofing on each other ... well, it's probably the right amount. I imagine it's like a high school reunion, except with people you actually look forward to seeing. Over the course of a decade many of us have spent 40 days of our lives together basically acting like idiots. It's my favorite week of the year.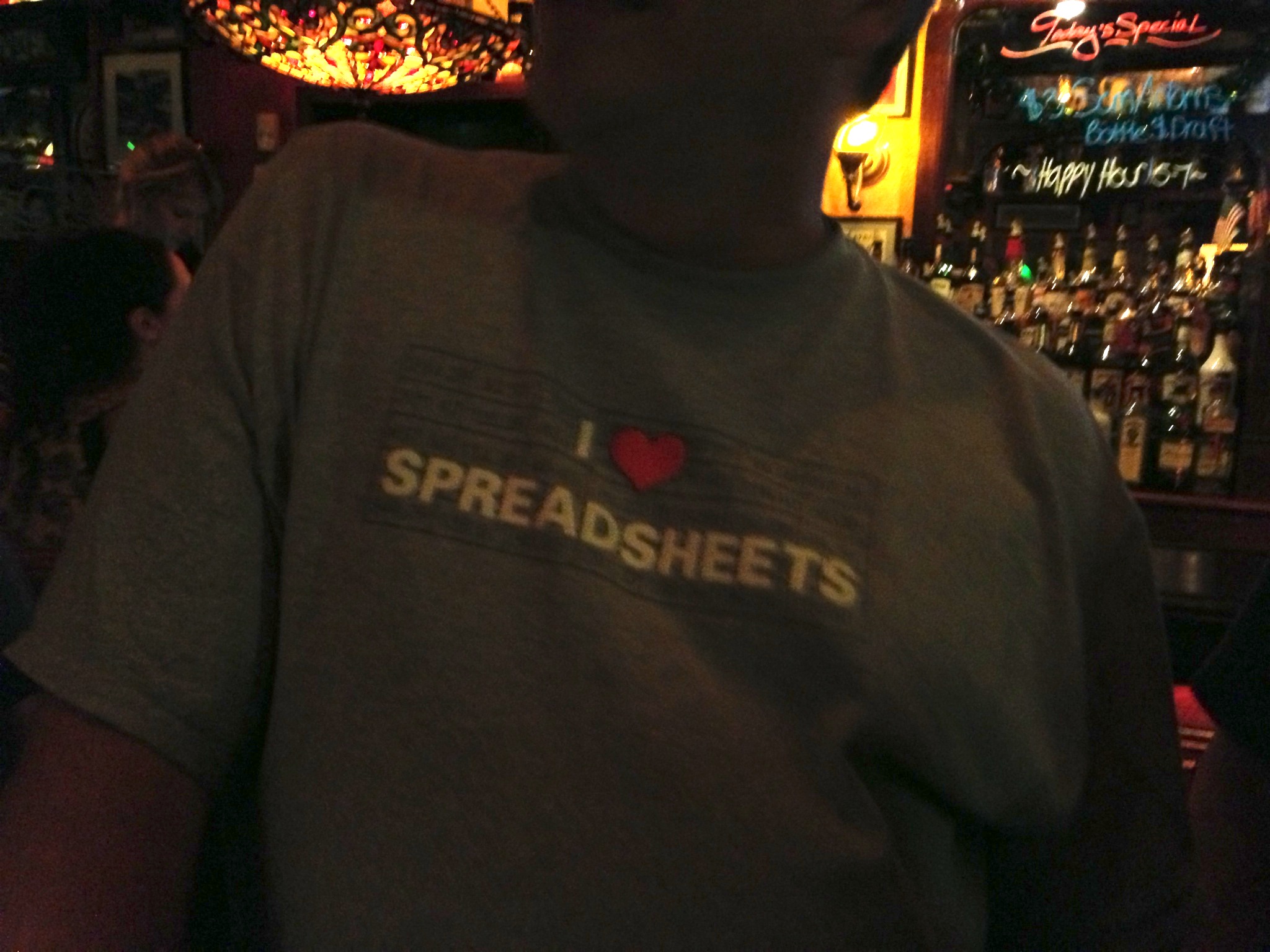 (Dial models the perfect wardrobe for a SABR convention.)
We were soon joined by BTF regulars Chris Dial, Anthony Giacalone, and Mike Webber, each of whom I met at the 2004 convention and each of whom rank among my favorite people. After multiple beers we added a few more to the group, including former Hardball Times writer Larry Mahnken, Baseball-Reference.com god Sean Forman, Penn Relays director Dave Johnson, and Minnesota blogger turned Philadelphian Stephen Silver, whom I met locally way back in 2003.
For dinner we decided on The Farmer's Cabinet, a hipster-y, saloon-style restaurant/bar heavy on craft beer, locally sourced food, and waiters with ironic mustaches. We devoured a bunch of good meat and wine before heading to Moriarty's Pub, where (I learned later) my "Gleeman and The Geek" co-host John Bonnes and his Philadelphian wife once hosted their groom's dinner. Much like I imagine the Bonnes crew did that day, we tried to drink the place out of Guinness.
Moriarty's Pub has a narrow, long setup and our group was cramped around the bar, mostly standing. An attractive 20-something woman who appeared to be on a date got up from one of the two seats we weren't occupying, turned to me, and said forcefully: "No, you can't have that seat. I'm just going to take a piss." I replied something along the lines of "oh, okay, no problem" to which she responded with an arm punch: "Don't lie, I saw you eying it!"

(My view at the Phillies-Braves game Friday night.)
She was right, of course, and that early interaction was representative of my experience with Philadelphians in general during the five-day trip. Aggressive, sometimes hostile, and almost always ultimately friendly and fun. With the added bonus of a very weird, distinct accent that made both men and women sound like mechanics who'd just climbed out from under a car with oil stains on their jumpsuit. It's city full of Jon Wurster doing his Philly Boy Roy character.
We left Moriarty's at 2:00 a.m. and stumbled back to the Marriott as Dimino made sure everyone within a five-block radius knew he'd be interested in consuming a cheesesteak. Once we got inside the hotel we found a small group of SABR members doing baseball trivia in the lobby, which extended the evening by an hour and led to the trivia organizer repeatedly suggesting to Dimino that he should "maybe think before you speak" as the answer attempts got sillier and sillier.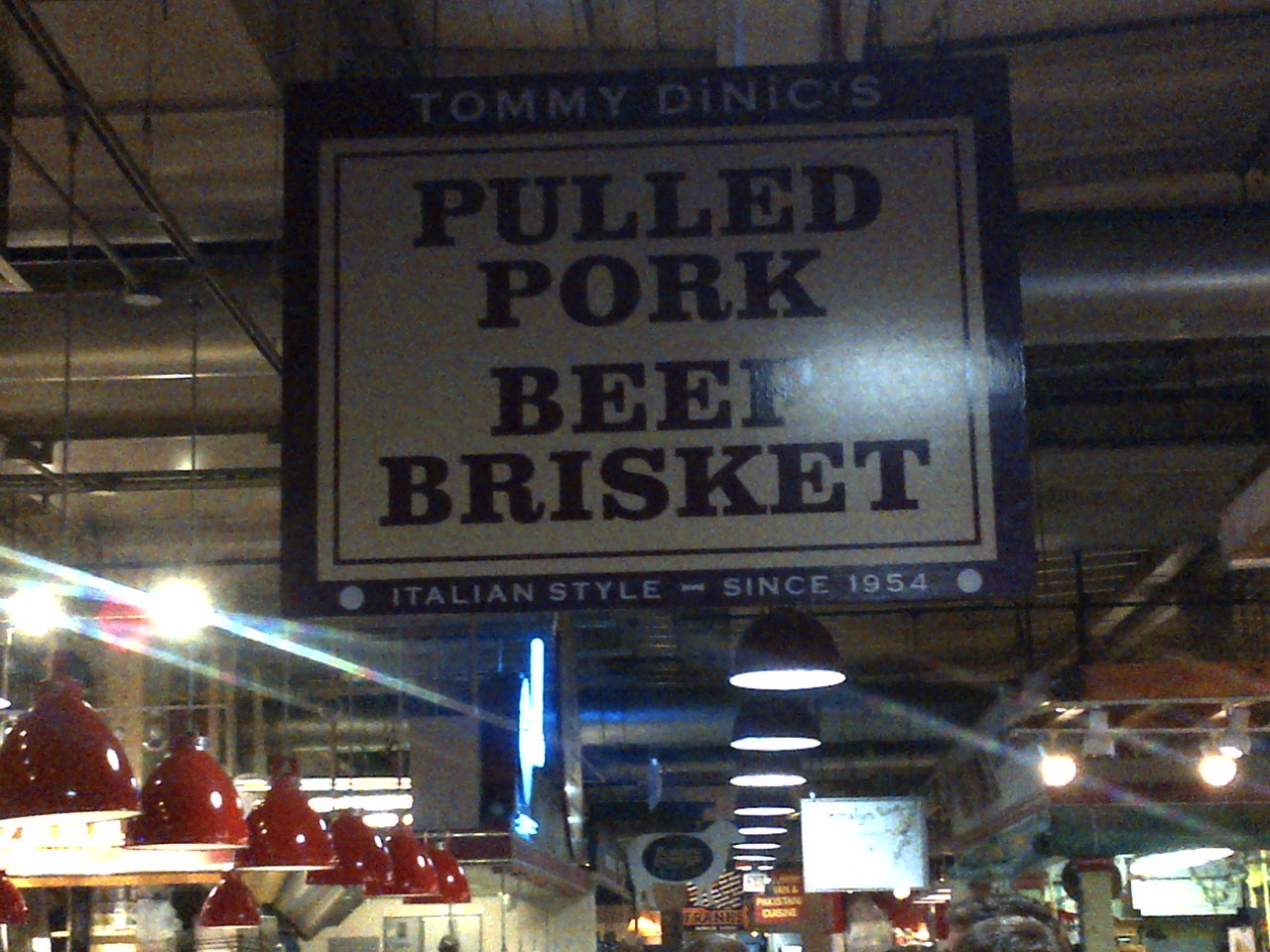 (Shot from one of the longest and quickest-moving lines I've ever been in.)
I woke up bright and early the next afternoon, just in time for lunch with Forman, Dimino, Webber, Rauseo, and Fan Graphs writer David Temple at Reading Terminal Market, which is a cross between a farmer's market and the world's greatest food court. I ended up eating lunch there three days in a row, including back-to-back trips to the jam-packed DiNic's for the roast pork sandwich that was named the best sandwich in the country by the Travel Channel.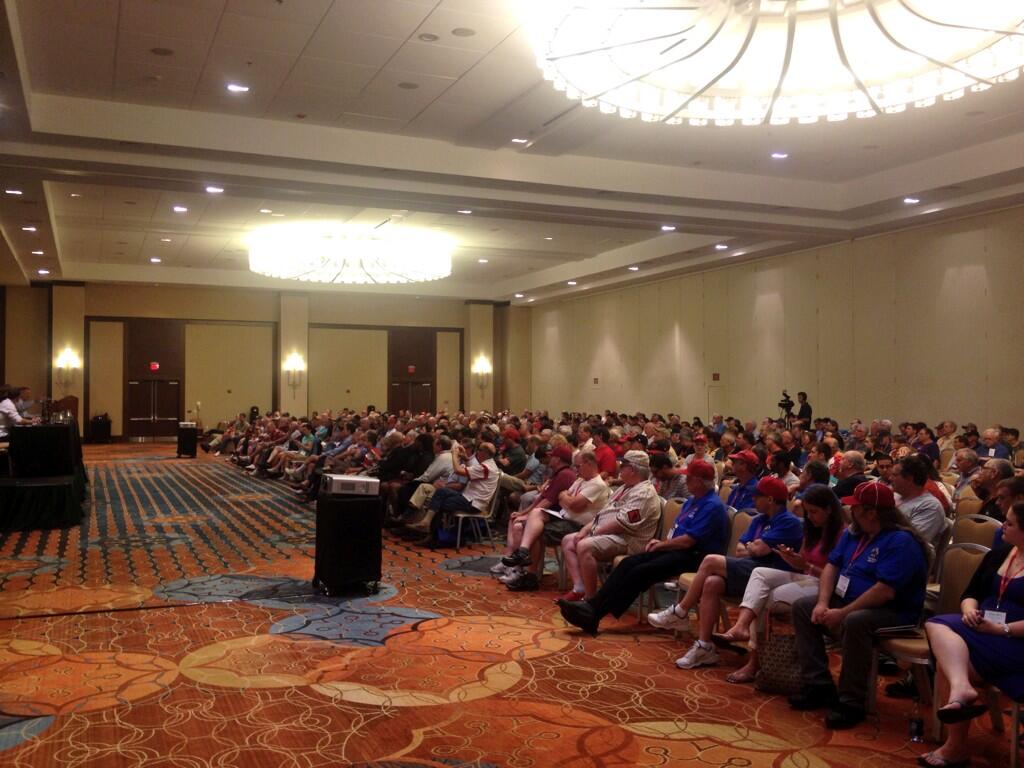 (The crowd for Thursday afternoon's Phillies player panel.)
While eating we brainstormed how to fix the usually boring Home Run Derby by adding a contest for inside-the-park homers starring speedsters like Ben Revere and Billy Hamilton, which is the sort of topic that lasts 30 seconds in most groups and 30 minutes at a SABR convention. Back at the hotel I went to a Phillies player panel featuring Brad Lidge, Gary Matthews, and Dickie Noles, which Lidge stole with funny, interesting stories while Matthews wore a cool hat.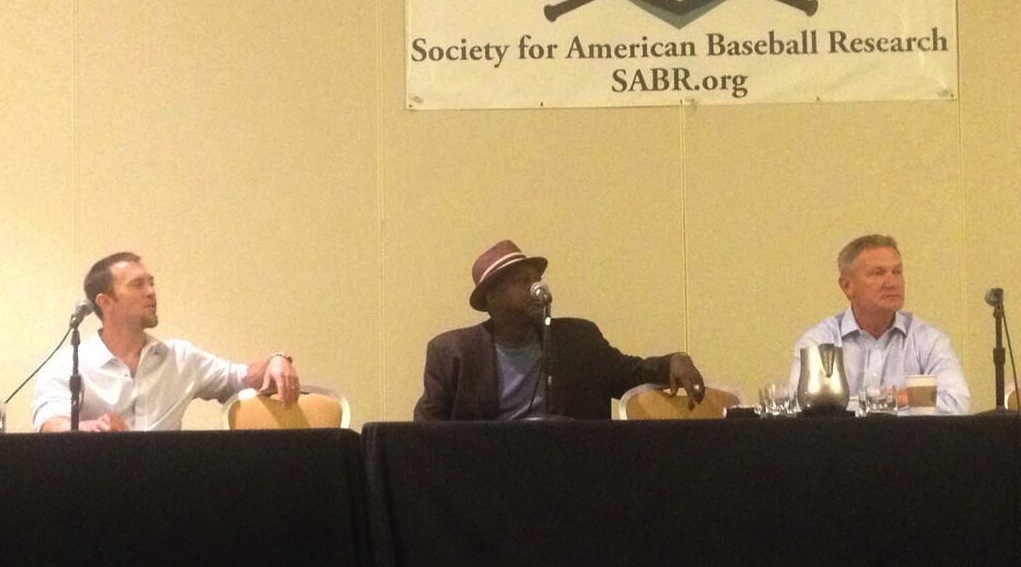 (From left to right: Lidge, Matthews, Matthews' hat, Noles.)
Liz Roscher of The Good Phight hosted a meet-up at The Fieldhouse, where the crowd included Colin Wyers of Baseball Prospectus, Bill Parker and Mike Bates of SB Nation, and a bunch of Phillies fans who didn't believe me when I tried to pass myself off as Bill Baer from Crashburn Alley (and HardballTalk). After lots of Yuengling about 10 of us headed to a hole-in-the-wall called Giwa for Korean barbecue, which was so good that I'm now in search of Minnesota equivalents.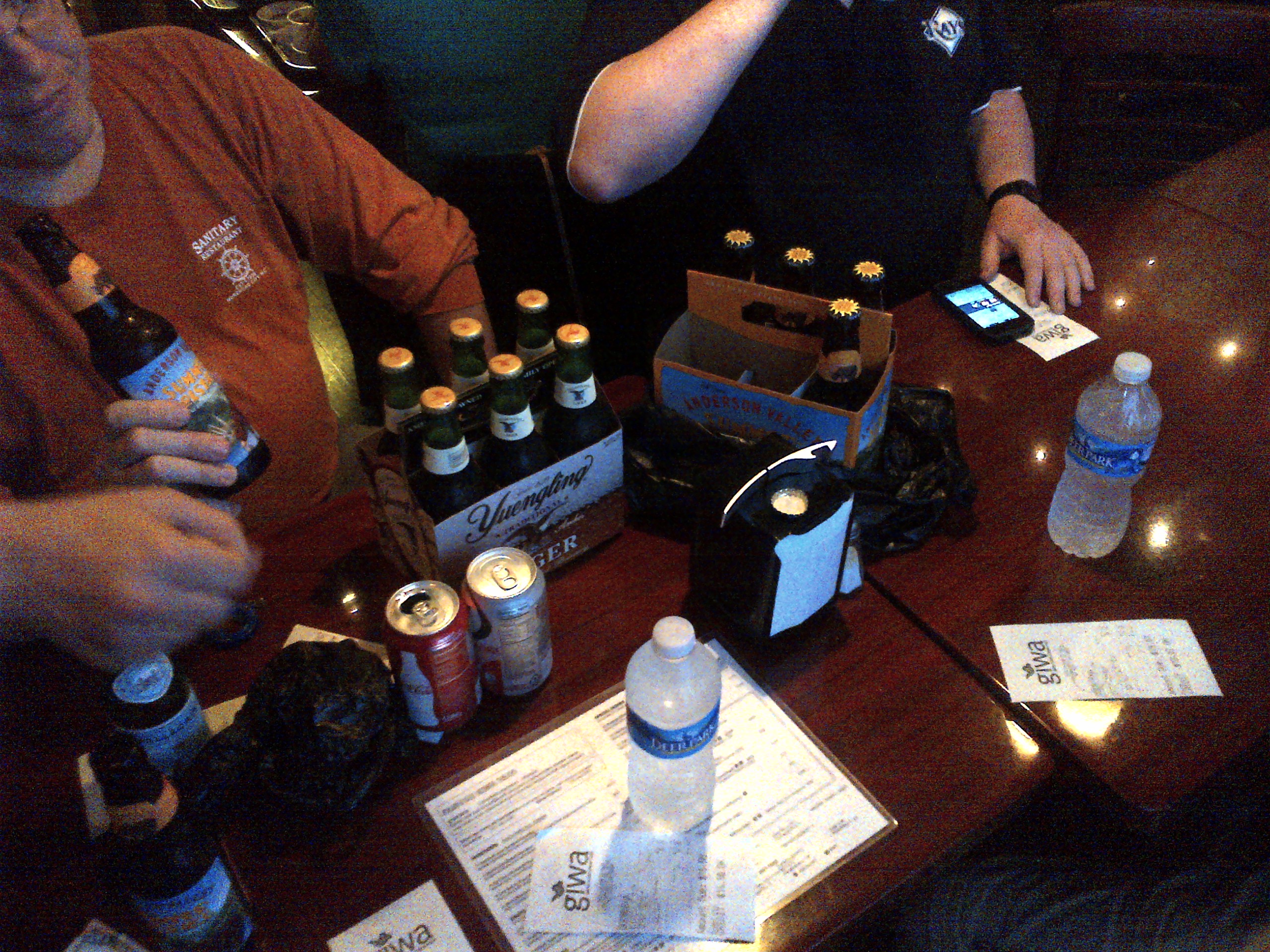 (Staying hydrated with BYOB while waiting for the food at Giwa.)
Stuffed with rice and meat, we waddled to McGillin's Olde Ale House, which is the oldest Irish bar in Philadelphia and was a great spot until open-mic night started and a guy with an acoustic guitar took the stage. That was our signal to exit and we went back to The Fieldhouse ... where the original group was now doing karaoke. You haven't lived until you've heard Bates sing "I Touch Myself" and then once you do hear it you're no longer into living.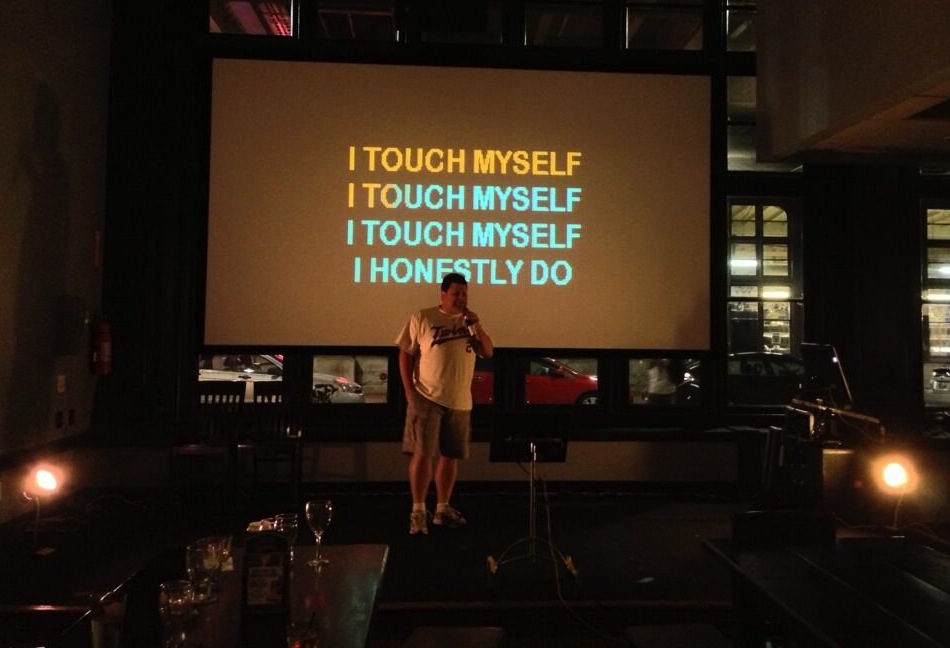 (Bates singing "I Touch Myself" while in a Denard Span shirsey.)
I switched from beer to Jack and Coke, which became my primary drink of the convention in part because the caffeine kept me up all night without the benefit of my usual late-afternoon nap. And also because, you know, whiskey. Having downed a sufficient number of those I exited the karaoke fest and staggered back to the hotel lobby, where I found living legend Carson Cistulli and Temple in the middle of recording an episode of Fan Graphs Audio and decided to crash it.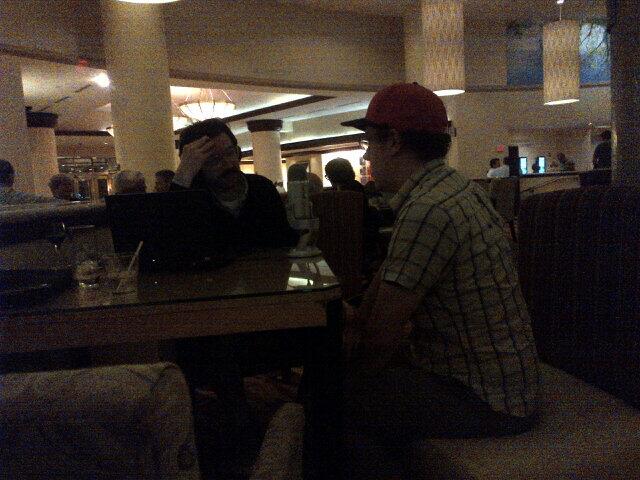 (Cistulli and Temple engaging in what is commonly referred to as Podcast Gold.)
From there I went back to The Fieldhouse for a third time, drank them out of Jack Daniels (they ran out, seriously), and closed the place down while joined by the usual crew plus two "Gleeman and The Geek" listeners who happened to be in Philadelphia. And then a handful of us retreated to Dial's room until 4:00 a.m. or so for more drinking and some very loud arguing about Dave Kingman, collusion, 500 homers, and the Hall of Fame. You know, standard stuff.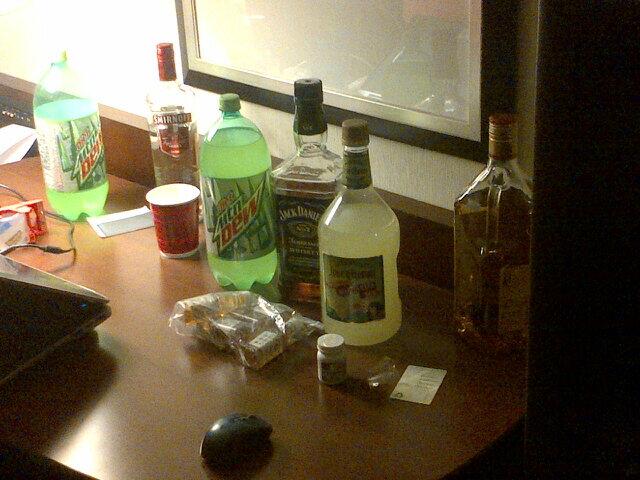 (Our bar once the actual bar kicked us out.)
I emerged from my coma at noon the next day and hit up DiNic's again for another sandwich with Rauseo, Giacalone, Dimino, and Dimino's buddy Clayton. After lunch we went to a Mitchell and Ness store with an incredible selection of vintage jerseys and a sound system pumping old-school hip hop. It was basically my favorite place on earth. With the afternoon killed, we took the subway to Citizen's Bank Park to see the Phillies-Braves game as part of SABR's group outing.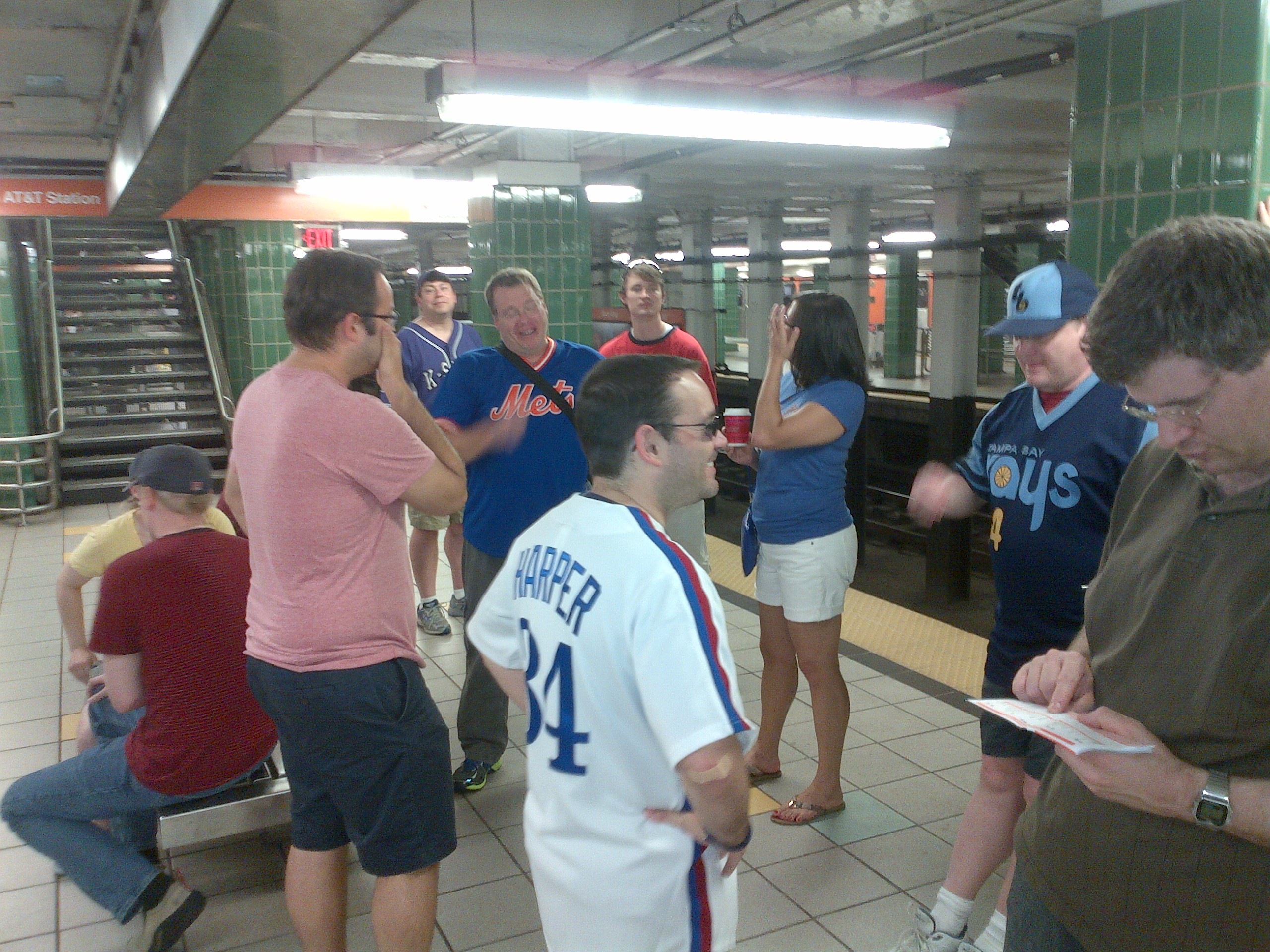 (How many SABR members does it take to ride the subway to a baseball game?)
SABR's section was 418 and my seat was in literally the third-to-last row in the entire ballpark, so before the first pitch was thrown some of us walked around the ballpark and ended up watching the entire game from the 100 level standing in the open concourse behind Delmon Young in right field. Young went 3-for-4 with a homer that landed about 15 feet away from me and we also saw Curt Schilling inducted into the Phillies Wall of Fame.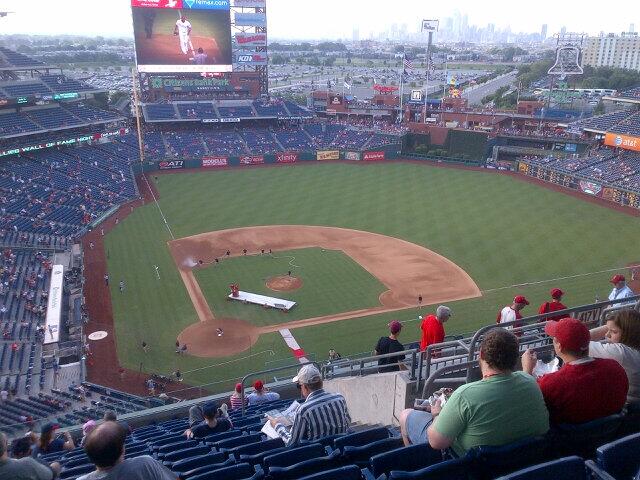 (The seats I was supposed to sit in for the Phillies-Braves game.)
Big names like Mike Schmidt, Steve Carlton, and Dick Allen were in attendance, John Kruk introduced Schilling for what was a shockingly brief speech, and Darren Daulton got a standing ovation from the crowd one week after being diagnosed with an inoperable brain tumor at age 51. Oh, and one random guy noticed my "Thome Is My Homey" shirt and introduced himself by simply saying: "F-ing Thome, right?!" Right.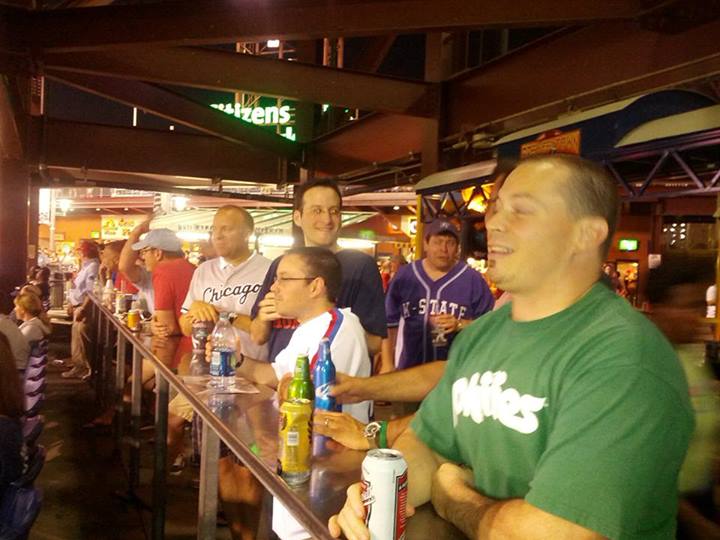 (My actual "seat" between a White Sox fan and the world's smallest human.)
Riding the subway back I sat next to a guy singing "It's Getting Hot In Here" at the top of his lungs and then my group of idiots got lost underground in what seemed like the opening scene of a "Judgment Night" sequel. After trying a few locked doors, I gave up and said: "Guys, we can make a life here." Once we escaped the group expanded to include Cistulli, Temple, and other luminaries, who closed down the hotel bar after a staffer told us he needed to vacuum the place.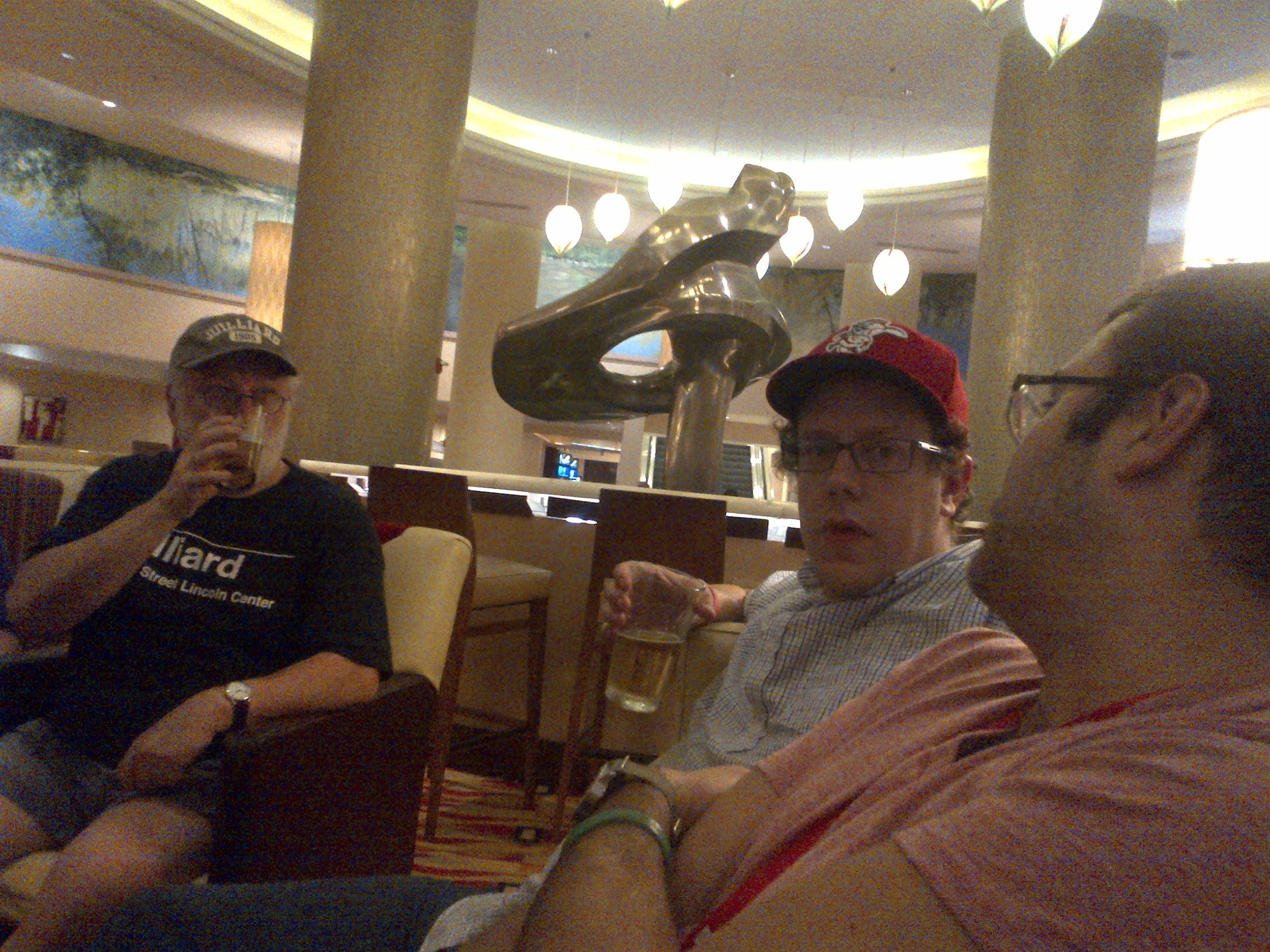 (Temple giving my camera a dirty look in the otherwise emptied-out hotel bar.)
Not satisfied Dial, Dimino, Rauseo, Temple, Johnson, and longtime SABR buddy Mike McCullough took the festivities to my room, where hotel security knocked on the door at 3:00. We scrambled to hide like cockroaches while one of us answered the door with a promise to keep quiet and then essentially resumed screaming about flipping the lineup with relief pitchers and the value of Tiger Woods' life compared to my life until 4:30 a.m. Amazingly, security never returned.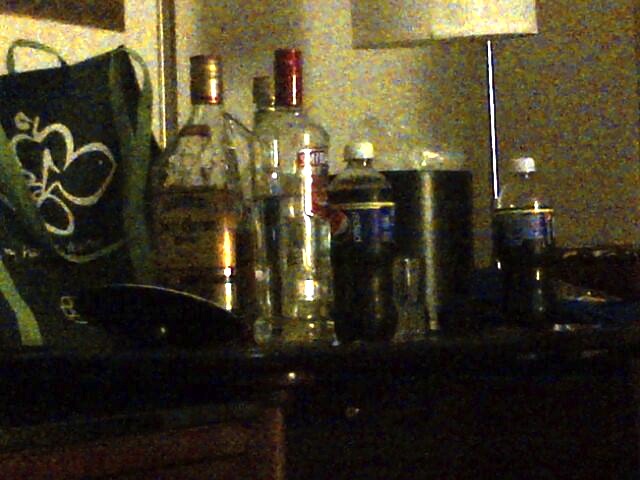 (Our bar once the actual bar kicked us out, the sequel.)
Up again at the crack of noon, I decided that making a longer, less-drunken appearance on Fan Graphs Audio might be fun and put out the Twitter bat-signal for Cistulli: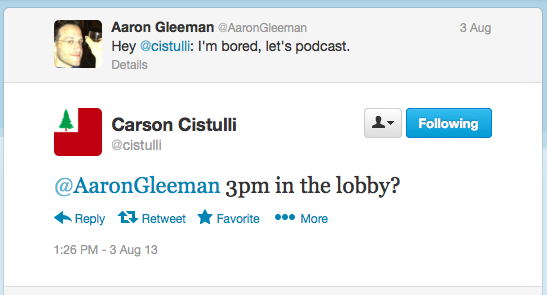 That's how things work in the high-stakes world of podcasting. We recorded an 84-minute episode that contained approximately 84 seconds of baseball talk, leaving a solid 82 minutes for our now-standard topics of comedy, mortality, religion, and the flaws of family members. Cistulli is one of my favorite people, online and in person, and as a devoted listener of his podcast it's always a lot of fun to be a guest. If you like me even a little bit, you should definitely listen.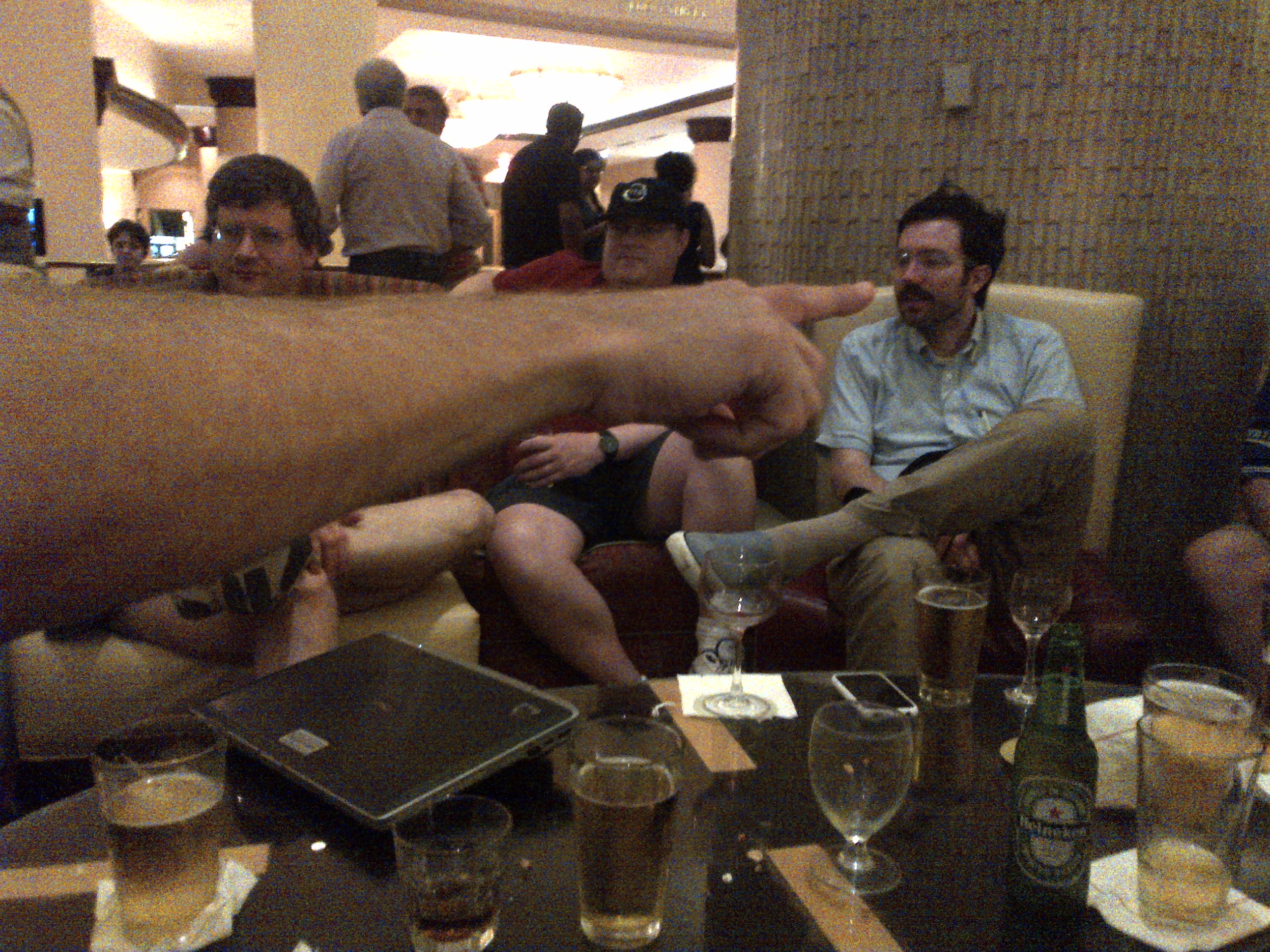 ("Witness, would you please point to the man who allowed Gleeman on his podcast twice?")
For our final night in Philadelphia a group of 10 walked to China Town for dinner at Sang Kee Peking Duck House, where the authentic Chinese food was balanced nicely by a big-screen television showing a replay of Wrestlemania. Back at the hotel our evening was made infinitely more entertaining by being joined in the lobby bar by a wedding party featuring a great-looking bride and a dozen great-looking bridesmaids.

(Baseball Think Factory's annual midnight chapter meeting.)
It was like watching one of those wild-life shows, except in this case the predators had absolutely no ability to catch their preferred prey. At one point a few of us spotted a guy from the wedding party schlubby enough to potentially pass for a SABR member talking up perhaps the least-attractive woman in the room. After their conversation she proceeded to follow him around while we offered running color commentary like a baseball broadcast. This went on for an hour.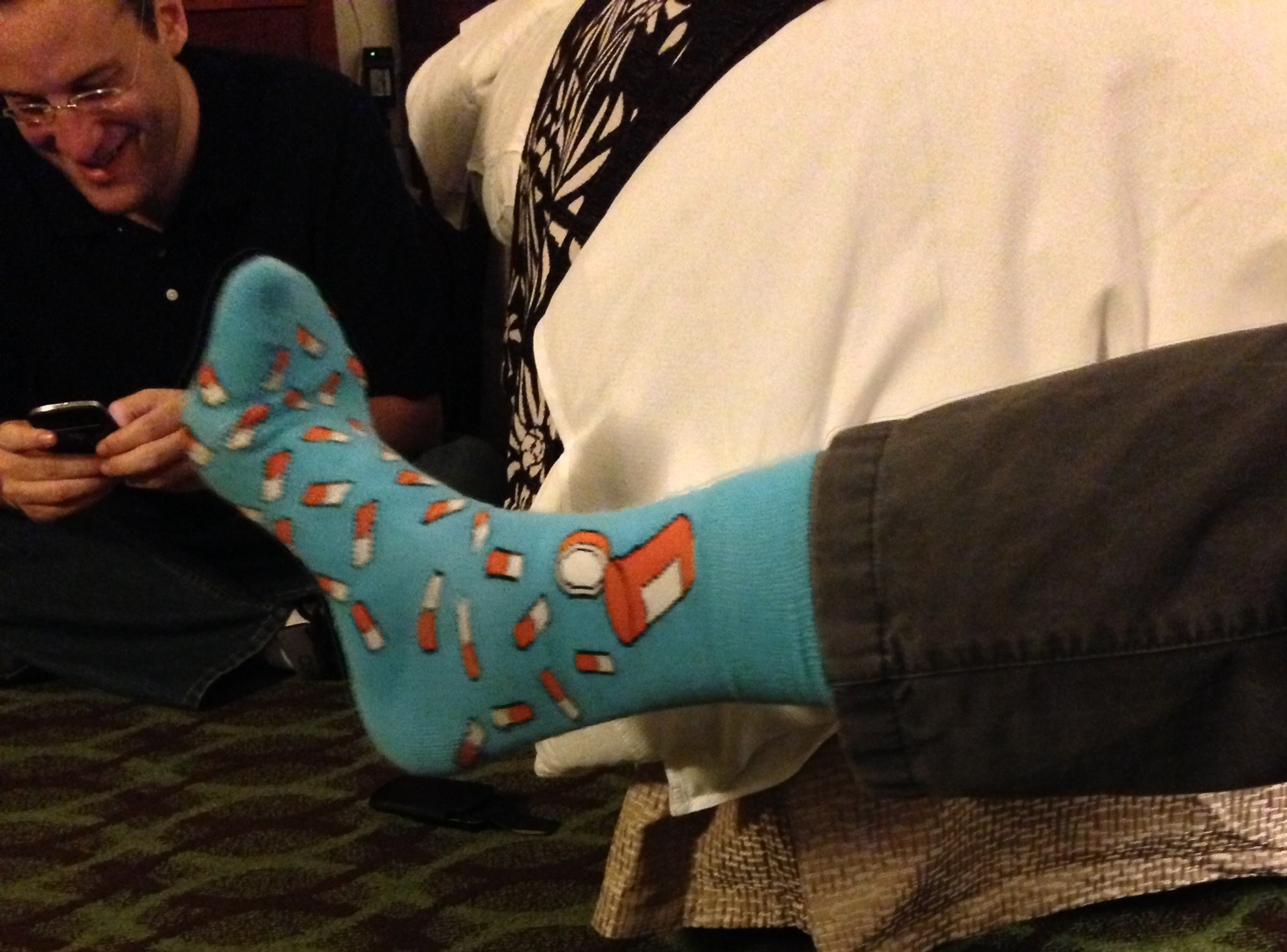 (Just a picture of me sitting on the floor of a hotel room, tweeting alongside Dial's socks.)
Unlike the previous night, when we got kicked out at 2:00 a.m. in favor of vacuuming, the combination of a SABR convention final night and a raucous wedding party ensured no hotel employees would be encouraging us to leave. When the bar had to stop serving at 1:30 a.m. our waitress came up with a good plan involving multiple buckets of beer on ice, which fueled our silliness for quite a while longer (and led to a gorgeous $301 bar bill).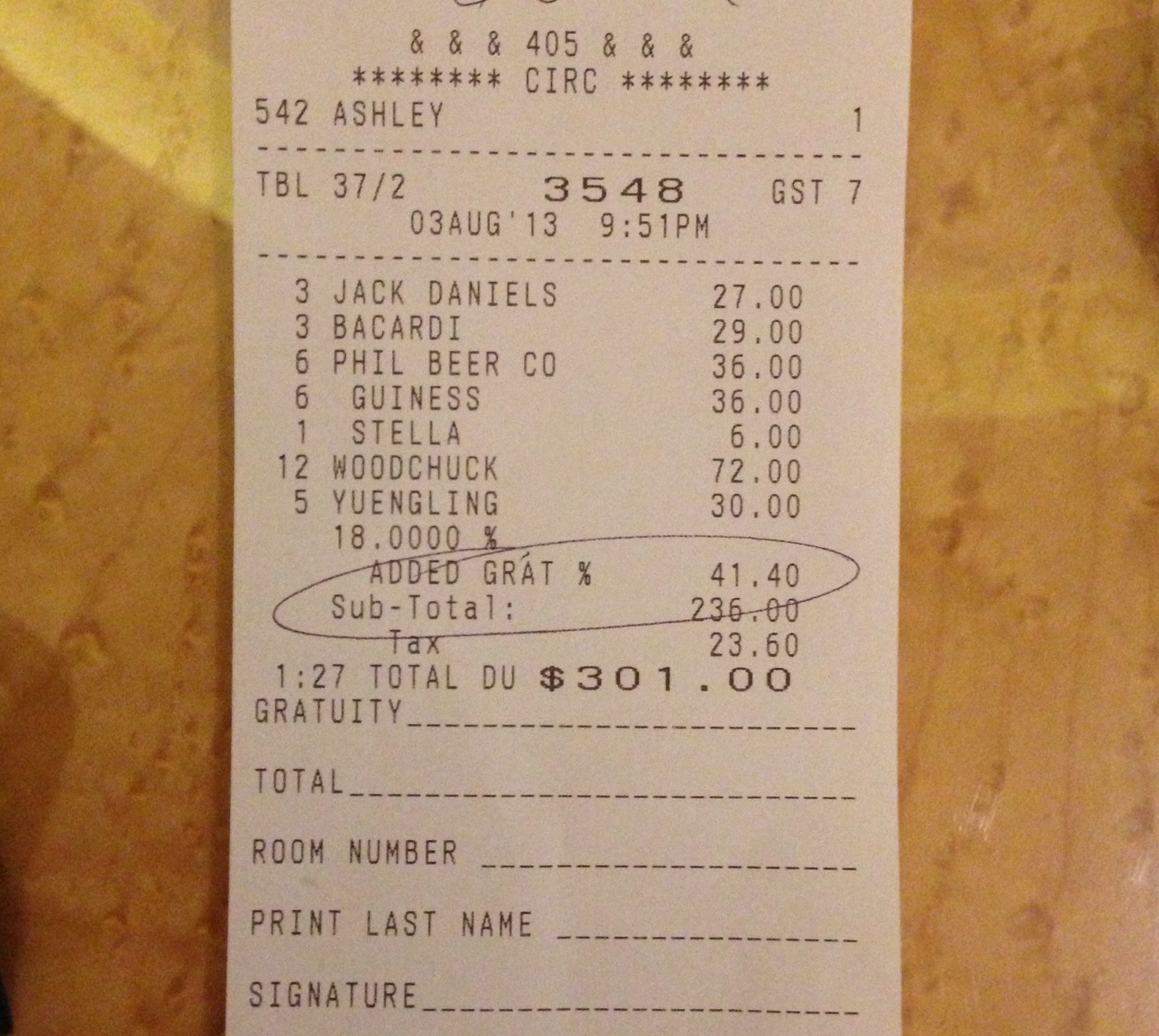 (This is what a smart waitress thinking on her feet looks like.)
With a 9:00 a.m. train ride to the airport looming I called it quits around 3:00 a.m., officially putting an end to my 10th consecutive SABR convention. Nothing has really changed since that first convention in 2004. I still hang around with most of the same knuckleheads, plus some newer knuckleheads we've added to the group over the years, although there's a little stronger sense of "aren't we a little too old to be doing this?" permeating everything these days. But damn is it fun.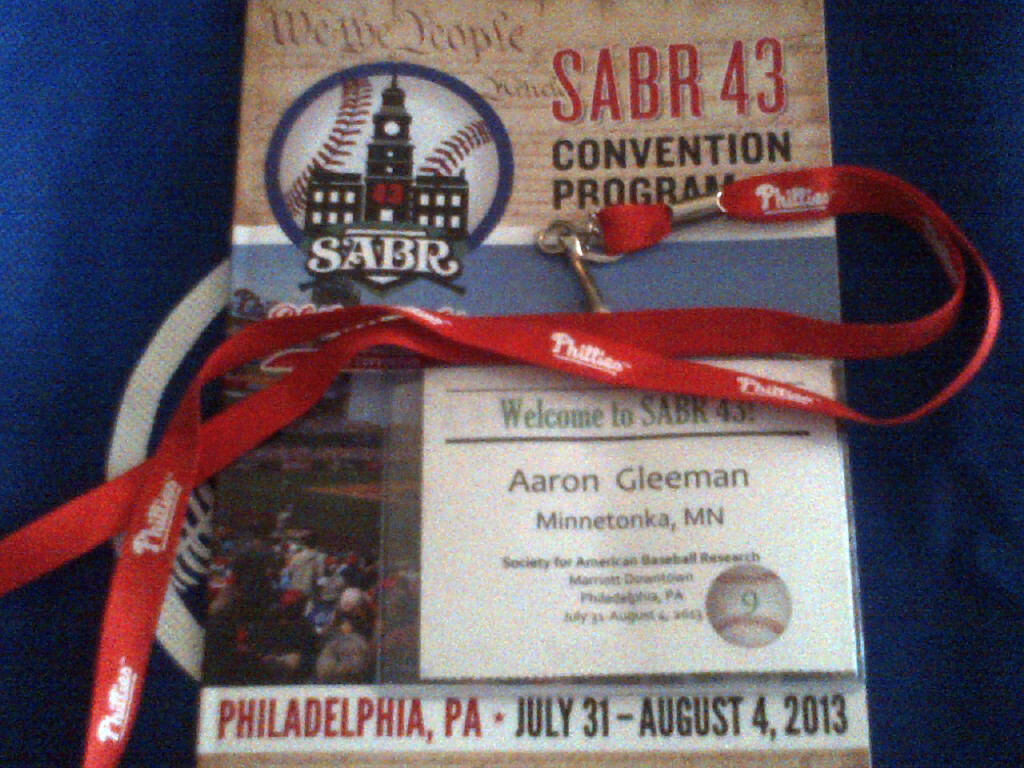 Next year's convention is in Houston and there's no way I'd miss it.
For more on my SABR convention experience, including what my voice sounded like after arriving home Sunday, check out this week's "Gleeman and The Geek" episode.
---
This week's blog content is sponsored by the Twins Daily light rail pub crawl/Twins game, where you can join Aaron Gleeman, John Bonnes, Parker Hageman, Nick Nelson, and Seth Stohs for a day of bar-hopping and baseball on September 14. Space is limited, so book your spot.