August 8, 2013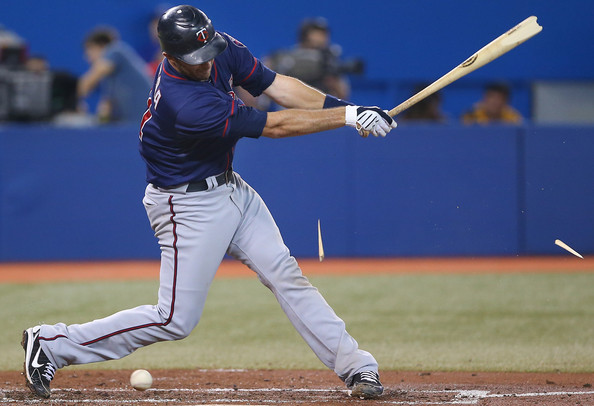 Catching up on the Twins happenings while I was in Philadelphia for the SABR convention ...
• Essentially giving away Drew Butera wasn't supposed to be the full extent of the Twins' trade deadline activity, but aside from Glen Perkins they simply didn't have much to offer. It's certainly surprising that they didn't move Justin Morneau, especially given various reports suggesting that multiple teams expressed at least some level of interest, but they weren't going to get more than a marginal prospect for a below average 32-year-old impending free agent anyway.
Morneau has shown improved power recently and it's still possible to find a taker for him between now and August 31, but the waiver system limits options and every game he plays is one fewer game another team can acquire. For the third year in a row the Twins failed to make a significant move to swap veterans for long-term help before the trade deadline, which is rare for a rebuilding team and in several cases stems from their inability to pull the trigger at the right time.
• Butera spent parts of four seasons with the Twins, lasting long enough to get a $700,000 salary for this year via arbitration, which is amazing considering he hit .215/.287/.324 at Double-A and .218/.268/.307 at Triple-A. Plenty of terrible-hitting catchers have solid MLB careers because of defense, but Butera was several steps below terrible-hitting. He hit .182 with a .494 OPS, which is the lowest by any position player with 500-plus plate appearances in the past 30 years:
                    PA      OPS
DREW BUTERA        534     .494
Angel Salazar      932     .500
Brandon Wood       751     .513
Tom Lawless        590     .521
Kevin Cash         714     .526
Comparing across eras can be difficult, but there's a strong argument to be made that Butera is the worst hitter of the past three decades and if nothing else he's the only hitter with 500-plus plate appearances and an OPS below .500 during that time. And based on his minor-league track record that .494 OPS might actually count as out-performing expectations. Not surprisingly the Dodgers sent Butera to Triple-A immediately after acquiring him from the Twins.
• It's tough to look at Aaron Hicks' rookie season and not conclude that the Twins botched things at just about every step along the way. Instead of furthering his development and suppressing his service time by having him open the year at Triple-A they all but handed Hicks the center field job before spring training and rushed him from Double-A to the majors. Based on his 2-for-48 slump to begin the season and subsequent struggles, it's clear that they misjudged his readiness.
In early July they had another opportunity to send Hicks to Triple-A following his disabled list stint for a hamstring injury, but instead abruptly ended his minor-league rehab assignment and rushed him back to the majors after Josh Willingham's knee surgery. He again struggled, giving him a .194 batting average and 84 strikeouts in 81 games overall, at which point they finally demoted Hicks to Triple-A four months into the season.
Being overmatched as a 23-year-old rookie jumping from Double-A is hardly a death sentence for Hicks' long-term potential, although not many struggles are that extreme and allowed to go on for that long. Ultimately he needs to figure out how to maintain a patient approach while also being aggressive within the strike zone, which has been a career-long issue. Because of the demotion he won't use a full year of service time, but this was probably the worst path to that destination.
• Andrew Albers joined Chris Colabello and Caleb Thielbar in going from independent ball to the Twins' roster and as if that wasn't already a good enough story the 27-year-old left-hander tossed 8.1 shutout innings against the Royals in his debut. Based on Game Score it was the best MLB debut in Twins history, topping Bert Blyleven's seven innings of one-run ball on June 5, 1970 and Anthony Swarzak's seven shutout innings on May 23, 2009.
Blyleven went on to become a Hall of Famer and Swarzak went on to become a long reliever, so a great debut certainly doesn't guarantee anything. With that said, Albers is definitely an intriguing player. His fastball tops out in the high-80s, which is particularly worrisome when combined with extreme fly-ball tendencies, but Albers is a strike-throwing machine and managed 7.3 strikeouts per nine innings between Double-A and Triple-A. He's still a long shot, but could be useful.
• Albers is getting his big chance because the Twins sent Scott Diamond to Triple-A, completing a dramatic decline for a pitcher many people were extremely excited about this time last season. Diamond's awful strikeout rate always suggested that most of the excitement was overblown and he missed even fewer bats this year along with more walks and fewer ground balls. There are 122 pitchers with at least 300 innings since 2011 and Diamond ranks dead last in strikeout rate.
To have sustained success while striking out 4.3 batters per nine innings a pitcher needs to have spectacular control and induce tons of ground balls. And even then Diamond's realistic upside at age 27 is a lot closer to a left-handed Nick Blackburn than any kind of long-term building block. In fact, comparing Diamond's numbers through three seasons to Blackburn's numbers through three seasons is eerily similar:
               ERA    SO/9    BB/9    HR/9     OAVG
Diamond       4.39     4.3     2.2     1.0     .292
Blackburn     4.14     4.4     1.8     1.1     .293
At least the Twins haven't signed Diamond to a long-term contract extension yet.
• Tim Wood, who was signed to a minor-league deal in November and then added to the 40-man roster two weeks later because the Twins suddenly felt worried about losing a 30-year-old Triple-A reliever in the Rule 5 draft, will miss the remainder of the season following shoulder surgery. He never threw a pitch this year in the minors or majors.
• Chris Parmelee has hit .301/.409/.466 with a 15-to-13 strikeout-to-walk ratio in 20 games at Triple-A since his demotion. Not as spectacular as his 2012 breakout there, but the guy can hit International League pitching.
• Kevin Correia has a 5.90 ERA and .329 opponents' batting average in 17 starts since May 1.
• Parker Hageman of Twins Daily interviewed Jared Burton and wrote an interesting article about the right-hander's fantastic changeup.
• For a lot more about the Twins' lack of trade deadline activity and Hicks' demotion, check out this week's "Gleeman and The Geek" episode.
---
This week's blog content is sponsored by the Twins Daily light rail pub crawl/Twins game, where you can join Aaron Gleeman, John Bonnes, Parker Hageman, Nick Nelson, and Seth Stohs for a day of bar-hopping and baseball on September 14. Space is limited, so book your spot.