August 14, 2013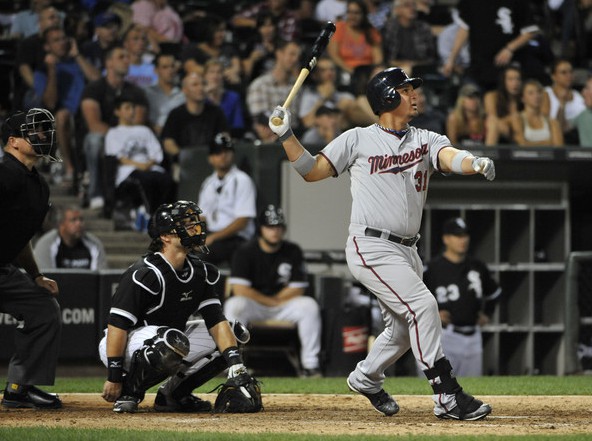 Oswaldo Arcia would have entered this year as the No. 1 prospect in most other farm systems and would have been the Twins' top prospect in most of the past 10 years, but instead he's largely been overshadowed by Miguel Sano and Byron Buxton (and for a while at least, Aaron Hicks too). None of which is to say that Arcia is on the same level as Sano or Buxton, but rather that perception and context often play big roles in the amount of hype attached to prospects.
Arcia climbed the minor-league ladder very quickly, particularly in the typically slow-paced Twins system, and now he's showing a ton of promise in the majors as a 22-year-old rookie. There have been plenty of bumps along the way, including strikeout-filled slumps and multiple demotions back to Triple-A, but for a 22-year-old to show this kind of power potential and overall hitting ability is incredibly encouraging.
This year at Triple-A he hit .313/.426/.594 with 10 homers and 22 walks in 38 games and dating back to the beginning of last year Arcia has played exactly 162 games in the minors while hitting .318/.396/.551 with 27 homers, 77 total extra-base hits, and 73 walks. And while posting those monster numbers Arcia was very young for every level of competition and never stuck around in one place for more than a couple months. He was young, he moved quickly, and he crushed.
His numbers in the majors aren't as jaw-dropping, but within the context of being a 22-year-old rookie they're every bit as impressive. Arcia has hit .264/.321/.452 with 10 homers and 25 total extra-base hits in 70 games, which makes him solidly above average in a year when MLB as a whole has hit .254/.317/.398. Here's how he ranks in slugging percentage, OPS, and adjusted OPS+ compared to the other 22-year-olds in Twins history with at least 250 plate appearances:
SLUGGING %                 OPS                        ADJUSTED OPS+
Kent Hrbek       .485      Kent Hrbek       .848      Kent Hrbek       128
OSWALDO ARCIA    .452      David Ortiz      .817      David Ortiz      111
David Ortiz      .446      Joe Mauer        .783      OSWALDO ARCIA    110
Tom Brunansky    .445      OSWALDO ARCIA    .773      Joe Mauer        107
Joe Mauer        .411      Tom Brunansky    .753      Tom Brunansky    103
In the entire history of the Twins only four 22-year-olds have been above-average hitters in 250 or more plate appearances. Arcia is on pace to become the fifth, which would mean joining Kent Hrbek, David Ortiz, Joe Mauer, and Tom Brunansky in some pretty nice company. Breaking his production down even further, Arcia's current Isolated Power of .188 would be second among all 22-year-old Twins, sandwiched between Brunansky at .218 and Hrbek at .184.
Looking to all of MLB, if Arcia maintains his current production he'd join this list of 22-year-olds from 2005-2012 to reach a 110 adjusted OPS+ and a .180 Isolated Power: Miguel Cabrera, David Wright, Grady Sizemore, Prince Fielder, Hanley Ramirez, Brian McCann, Chris Davis, Evan Longoria, Andrew McCutchen, Pablo Sandoval, Jason Heyward, B.J. Upton, Freddie Freeman, Giancarlo Stanton. Guys who hit like Arcia at 22 turn out pretty well.
There are still plenty of rough edges to be smoothed out too. Arcia has struck out 81 times in 70 games, which is the equivalent of 179 strikeouts prorated to 600 plate appearances. Studies have shown that high strikeout totals can actually be a positive thing for very young hitters because it often foreshadows significant power development down the road, but it's nearly impossible to post high batting averages whiffing in 30 percent of your trips to the plate.
Arcia whiffed a lot in the minors too, including 99 strikeouts in 454 plate appearances between Double-A and Triple-A. He managed to hit .323 in the high minors despite striking out nearly once per game, but that was due to a .380 batting average on balls in play that simply isn't sustainable in the majors. To put that in some context, no active big leaguer has a career batting average on balls in play above .365 and a .335 mark is in the top 30.
So despite his lofty batting averages in the minors it's hard to see Arcia challenging for batting titles in the majors barring a change in approach. Of course, with his power even a .285 batting average could be enough to make him one of the league's best hitters. More worrisome than the high strikeout total is Arcia's ugly strikeout-to-walk ratio, which stands at 81-to-18 through 70 games. Plenty of excellent hitters strike out a lot, but very few have strike-zone control that bad.
The good news is that walk rate and strike-zone control are weaknesses for many young hitters and also tend to improve with age and experience. And in this specific case Arcia drew a decent number of walks in the minors, especially factoring in his age and rapid promotions. He's certainly a free-swinger right now and Arcia seems unlikely to ever become a truly patient hitter, but if he can draw walks somewhere around a league-average rate he'll be just fine.
Arcia's long-term ceiling is very high, but in trying to be at least somewhat realistic projecting his future performance based on his current strengths and flaws a .285 hitter with 30-homer power and mediocre plate discipline seems reasonable. Jason Kubel spent five seasons as a regular for the Twins and hit .273 with an average of 22 homers, 55 walks, and 113 strikeouts per 600 plate appearances, so a rich man's Kubel might not be a bad target for now.
Kubel's upside became limited by his inability to do damage versus left-handed pitching, against whom he's hit just .244/.316/.420 for his career. That may also end up limiting Arcia, who has a 30-to-1 strikeout-to-walk ratio versus left-handers in the majors so far. Small sample size caveats apply, but Arcia showed extreme splits in the minors too. Over the past two years in the minors Arcia had a .961 OPS against righties and a .742 OPS against lefties.
Also like Kubel he figures to be a below-average defensive corner outfielder. His early defensive numbers are awful, with a collection of awkward plays to match, and even in a best-case scenario he seems destined to be a minus in the field. None of that will impact his ability to develop into a middle-of-the-order slugger offensively, but defense will certainly play a big part in Arcia's overall value and raises the bar for his offense on any potential path to all-around stardom.
Dreaming about the arrivals of Sano and Buxton is exciting, but in the meantime Arcia is already in Minnesota and already a quality middle-of-the-order bat having more success at age 22 than anyone in Twins history but Hrbek, Ortiz, and Mauer. He's the best Twins position player prospect to reach the majors since Mauer in 2005 and the best young power hitter the Twins have called up since Justin Morneau in 2003.
For a lot more about Arcia's rookie-year production and long-term potential, check out this week's "Gleeman and The Geek" episode.
---
Interested in sponsoring a week of AG.com and advertising your product, service, local business, or website directly to thousands of readers each day? Click here for details.