October 1, 2013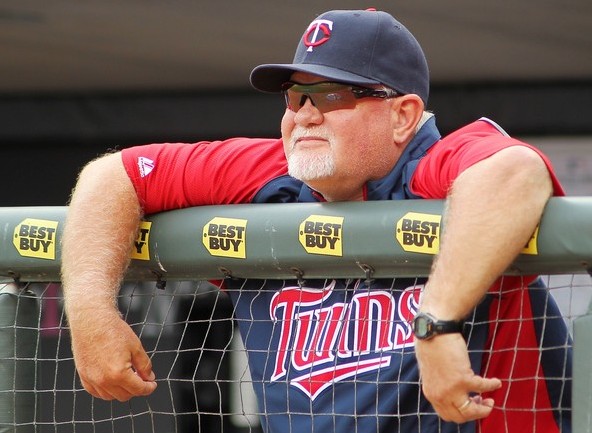 With his contract set to expire Ron Gardenhire made it clear during the season's final weekend that he wanted to remain with the Twins and they wasted little time making that happen, signing the manager to a two-year extension that also includes his entire coaching staff returning intact. Gardenhire joins his Twins predecessor Tom Kelly as one of just five managers of non-expansion teams since 1945 to remain on the job following three consecutive 90-loss seasons.
For all the advancements made in evaluating just about every possible aspect of baseball during the past decade managers remain largely a guessing game. Stuff like bullpen management, lineup construction, and small-ball tactics are among the key elements of a manager's job that are ripe for meaningful analysis, but there are so many parts of the job that go totally unseen by outsiders and are difficult to quantify by insiders that any overall evaluation is incomplete at best.
Because of that the writer-voted Manager of the Year award often goes to managers of surprising teams that out-perform preseason expectations and within a few years those same award-winning managers are regularly fired when the magic wears off. And even when a consistently successful, longtime manager wins Manager of the Year the follow-up season tends to show that regression to the mean is a whole lot stronger than our ability to judge managers.
Gardenhire is a perfect example of the fickle nature of evaluating managers. For the better part of a decade he was viewed by baseball's collective media as a top manager, finishing second or third in the Manager of the Year voting in 2002, 2003, 2004, 2006, 2008, and 2009. Finally in 2010 he was named Manager of the Year. The next season the Twins went 63-99, followed by 66-96 and 66-96. Did he forget how to manage between 2010 and 2011? Was he never that good?
I honestly think no one really knows, about Gardenhire or most other managers. So much of the job is about things few people can possibly evaluate and so much of the praise or criticism aimed at managers simply revolves around a team's record that the entire process is impossibly murky. I've never viewed Gardenhire as a particularly strong manager based on what I can analyze, but it's entirely possible that those things are overshadowed by what can't easily be analyzed.
I started this blog on August 1, 2002, exactly two-thirds of the way through Gardenhire's rookie season as manager. In the 11-plus seasons and 1,837 games since then I've criticized him plenty, believing there are choices he consistently makes regarding relatively fundamental strategy like platooning and batting orders and reliever usage that cost the Twins runs and games. There have also been players whose specific treatment from Gardenhire rubbed me the wrong way.
And yet his overall record is above .500 even after three consecutive terrible seasons, as recently as 2010 he was annually voted one of the elite managers in the league, and for the most part his players seem to like playing for him. All of which is why, despite frequent criticisms of Gardenhire and a general belief that he's mediocre overall I've never called for him to be fired and news that he'll be back for two more seasons doesn't generate a strong feeling either way.
I've always been much more interested in and concerned with the general manager and the front office than the manager and the coaching staff, and ultimately the Twins' fortunes in the short and long term hinge far more on Terry Ryan's performance than Gardenhire's performance. With that said, it's odd to see so many people who heaped praise on Gardenhire for winning when the front office provided good teams now quick to absolve him of all blame for losing with bad teams.
It's become popular to say that no manager could have kept the Twins from being a disaster for the past three seasons and that's certainly very possible, but that doesn't preclude Gardenhire from also having done a poor job. Nor does it mean he's the right choice to continue managing a team that figures to struggle again in 2014 and is counting on a foundation of young players to climb back to respectability. I'd love to offer a definitive opinion either way, but who knows?
I likely wouldn't have brought Gardenhire back, not because I think he suddenly lost whatever managing ability he had while winning six division titles but because 12 seasons in one place is an eternity in manager years and sometimes a new voice (or voices, to include pitching coach Rick Anderson) is needed. Gardenhire took the job as an enthusiastic, inexperienced 44-year-old and he keeps the job as a grizzled 55-year-old with the second-longest tenure of any manager.
My hope is that Ryan and the front office made the decision to re-sign Gardenhire based on his recent performance and the current clubhouse environment rather than out of loyalty or fear of change. This might be the only organization to even consider keeping a manager after 291 losses in three seasons and it's hard not to see in Gardenhire a man beaten down by all the losing, but as a team rebuilding around young talent the Twins need that 44-year-old version back.
For a lengthy discussion about the decision to bring back Gardenhire and whether Ryan will spend any money this offseason, check out this week's "Gleeman and The Geek" episode.
---
Interested in sponsoring a week of AG.com and advertising your product, service, local business, or website directly to thousands of readers each day? Click here for details.