November 12, 2013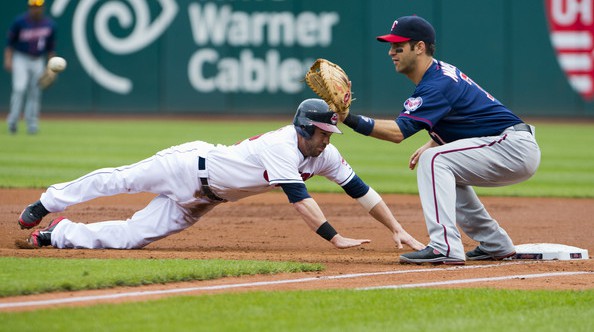 Since the moment Joe Mauer suffered a concussion from a foul tip to the mask on August 19 there was a very real possibility that his days behind the plate were numbered. He attempted to return to the Twins' lineup down the stretch only to experience dizziness, sensitivity to light, irritability, and other post-concussion symptoms and missed the final 40 games. And now Mauer and the Twins have decided a permanent position switch is necessary.
It's a damn shame, because Mauer has been the best catcher in baseball for the past decade, hitting .323/.405/.468 in 1,178 games while making six All-Star teams and winning three batting titles, three Gold Glove awards, five Silver Slugger awards, and one MVP. Among all the catchers in MLB history through age 30 he ranks sixth in Wins Above Replacement, behind only Johnny Bench, Gary Carter, Ivan Rodriguez, Joe Torre, and Ted Simmons.
This year Mauer batted .324/.404/.476 with 46 extra-base hits and 61 walks in 113 games before the concussion, basically duplicating his career numbers while leading all MLB catchers in batting average, on-base percentage, and OPS. He also threw out a league-leading 43 percent of stolen base attempts. Here's how Mauer's career numbers look among all active catchers with at least 1,000 plate appearances:
BATTING AVERAGE            ON-BASE PERCENTAGE         SLUGGING PERCENTAGE
JOE MAUER         .323     JOE MAUER         .405     Buster Posey      .486
Buster Posey      .308     Buster Posey      .377     Brian McCann      .473
Yadier Molina     .284     Carlos Santana    .367     JOE MAUER         .468
A.J. Pierzynski   .283     John Jaso         .364     Carlos Santana    .446
Jonathan Lucroy   .279     Ryan Hanigan      .359     David Ross        .441
Mauer has the best batting average by 15 points over Buster Posey and at least 39 points over everyone else. Mauer has the best on-base percentage by 28 points over Posey and at least 38 points over everyone else. And he ranks third in slugging percentage behind Posey and Brian McCann. However, if you take his 2012-2013 numbers and make the same comparison to first basemen (and designated hitters) Mauer slides down the rankings a bit:
BATTING AVERAGE            ON-BASE PERCENTAGE         SLUGGING PERCENTAGE
JOE MAUER         .321     Joey Votto        .450     David Ortiz       .582
Joey Votto        .317     JOE MAUER         .410     Chris Davis       .571
David Ortiz       .312     David Ortiz       .403     Edwin Encarnacion .546
Allen Craig       .311     Prince Fielder    .387     Paul Goldschmidt  .523
Billy Butler      .301     Paul Goldschmidt  .382     Joey Votto        .520
                                                      ...
                                                      JOE MAUER         .460
If you compare Mauer to first basemen he dips behind Joey Votto as the king of OBP and falls all the way to 20th in slugging percentage. However, his overall production (as measured by adjusted OPS+) would've ranked sixth among all first basemen in 2012-2013 behind Votto, David Ortiz, Edwin Encarnacion, Chris Davis, and Paul Goldschmidt. Mauer will clearly be a top-ten first baseman and could easily move into the top five without the physical demands of catching.
With that said, it will be very hard for Mauer to provide more all-around value at first base than he did at catcher because he's shifting from one end of the defensive spectrum to the other. As a catcher Mauer was arguably the best at his position and no worse than the top three, producing 20-25 percent more offense than an average player. As a first baseman he'll likely have zero claim to being the best at his position and produce 10-15 percent more offense than an average player.
Unfortunately a brain injury makes any debate about all-around value sort of silly. Mauer is 30 years old with five years remaining on his contract and the Twins need him healthy and in the lineup. Moving to first base certainly won't make him immune to injuries, but it will make him less likely to get hurt and specifically less likely to rejoin the incredibly long list of catchers to spend time on the disabled list for a concussion in recent years. Catching is a rough, rough gig.
Under normal circumstances it might make sense to say that Mauer should stay at catcher unless or until the injury reoccurs, at which point a position switch could be made for good. However, with a brain injury that could mean it's too late, both to save Mauer's value as a baseball player and to avoid significant long-term health problems off the field. This isn't an elbow or a knee we're talking about and too often that distinction seems to be overlooked.
In the short term this may not even have a particularly big impact on the Twins, in part because their in-house options at first base (Chris Parmelee, Chris Colabello) aren't exactly can't-miss prospects and in part because Josmil Pinto's emergence gives them a 25-year-old potential replacement at catcher with upside. He'll need to show that his defense is passable enough to play regularly behind the plate, but the Twins were going to find a spot for Pinto's bat somewhere.
In the long term switching Mauer from catcher to first base removes a spot in the lineup for the Twins to stash a big bat with a poor glove--which is always part of the dynamic that tends to make good-hitting catchers underrated in general--but that may not become a full-fledged logjam for a couple more seasons and by that point Mauer would have been old enough that moving away from catcher may have been needed regardless of injuries.
Mauer moving to third base could have represented a potential middle ground positionally, but with Miguel Sano nearly MLB-ready and the Twins seemingly convinced he'll stick at third base for at least a little while it wasn't really much of an option. It's disappointing to see Mauer forced to move away from a position he dominated for a decade, especially when his performance hadn't declined at all, but brain injuries aren't something you can really negotiate around.
If he can stay healthier and up his production even a little bit by getting out from behind the plate and Pinto can turn himself into a reasonably capable defender in addition to being an asset with the bat the Mauer position switch might not even be a huge negative. Those are some pretty large ifs, of course, but I'll take my chances on them rather than holding my breath every time Mauer took a foul tip off the mask or stood tall for a plate collision. It's sad, but it's the right move.
---
Interested in sponsoring a week of AG.com and advertising your product, service, local business, or website directly to thousands of readers each day? Click here for details.