January 31, 2014
• I was chosen as/rigged the voting to be a finalist for Vita.mn's "crush contest" and got invited to a photo shoot/party Wednesday night, so now there are more pictures of me on the internet. This one is my favorite because it perfectly shows the effect I have on women: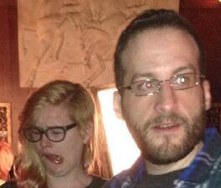 There's a lot more where that came from.
• Jon Bois' season-ending edition of "Breaking Madden" is pure genius.
• Someone mapped out the location of every place mentioned in Tom Waits songs.
• I was an in-studio guest on KFAN for the first time in a couple months and Paul Allen basically staged an intervention. Depending on your point of view, it was radio gold or a train wreck.
• The Onion is giving me some good ideas: "New Dating Website Helps Plus-Size Jewish Plane Crash Survivors Find Love."
• I thought about moving into one of the new "luxury apartments" in Uptown, but for better or worse various friends talked me out of becoming that type of person.
• I have a couple openings in my "Hardball Dynasty" league on WhatIfSports and the new season begins next week. If you're interested in joining, please read this first.
• This is just a great picture of Sid Hartman and Glen Perkins.
• This week's "Gleeman and The Geek" episode was recorded live in front of a 300-person crowd at Twins Daily's inaugural "Winter Meltdown" event, with special guests Twins president Dave St. Peter, my mom's favorite handsome athlete Scott Erickson, and Miguel Sano documentary filmmaker Jon Paley. I love the look on St. Peter's face as I ask him some dumb question: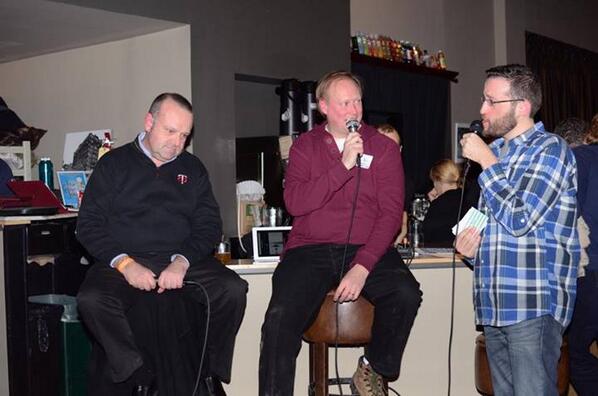 Me posing with Erickson is pretty good too.
• As a huge DMX fan and a frequent party bus passenger, this was amazing.
• Good collection of the Twin Cities' best late-night breakfast spots, including some of my favorites like Rye Deli and Hell's Kitchen.
• Anna Kendrick is the best.
• Elijah Aaron's cover of "No Scrubs" is as entertaining as the song could be without Chilli.
• Whole lotta Minnesotans flying to Colorado to get their legal pot on, but the true pros drive.
• As the world's biggest J. Cole fan his birthday gift from Jay Z made me smile.
• Chipper Jones is a superhero.
• My idol Rob Neyer is leaving SB Nation for FOXSports.com.
• Craig Calcaterra let his 10-year-old daughter write a guest post for HardballTalk.
• For the same money, would the Twins have been better off with Matt Garza or Ricky Nolasco?
• My favorite scene in television history:
Susie Greene is a saint.
• I wrote the Twins essay in this year's "Baseball Prospectus" book, which is now available.
• I'm glad the Twins finally put Chuck Knoblauch in the team Hall of Fame. He's one of the 10 best players in Twins history.
• "Metrodome Lashes Out at Twins in Final Interview."
• Old friend Scott Baker signed with the Mariners.
• Tina Fey was delightful on "Comedians In Cars Getting Coffee" with Jerry Seinfeld.
• I don't even like this song, but Kendrick Lamar screaming "tater tots!" is my new ringtone.
• John Mulaney's stand-up special "New In Town" is one of the best hours of comedy I've ever seen and now it's on Netflix.
• Some of this week's weird and random search engine queries that brought people here:
- "Dick Bremer net worth"
- "How much does Louis C.K. weigh?"
- "St. Louis fried rice"
- "How long can you survive without food?"
- "Aaron Gleeman height"
- "Geraldo Rivera vs. Frank Stallone"
- "Robin Thicke socks"
- "Sid Hartman old"
• Finally, this week's AG.com-approved music video is "Bad Self Portraits" by Lake Street Dive: