February 14, 2014
• I loved Jason Isbell's concert at First Avenue last weekend and Chris Riemenschneider of the Minneapolis Star Tribune did a great job capturing the overall vibe in his review.
• My jobs have forced me to be involved in hundreds of mock drafts over the years, so the idea of someone intentionally ruining them is absolutely hilarious to me.
• Headline of the week: "Minnesota woman accused of stealing camo lingerie from Fleet Farm."
• Paul "Meatsauce" Lambert from KFAN and Falen Bonsett from KDWB told the story/stories of how they fell in love and it's basically the sweetest thing ever.
• As a child of divorce I'm not capable of handling my two favorites, Ma$e and J. Cole, beefing.
• On this week's "Gleeman and The Geek" episode we broke down all of the Twins' spring training position battles, including Miguel Sano, and then John Bonnes mocked me for a bunch of stuff.
• I didn't win the Vita.mn "crush contest" and neither did my personal crush Ampersandria, but Jana Shortal is a worthy champion for whom I was proud to buy Rumple Minze shots.
• This was the official write-up/photo they chose for my candidacy: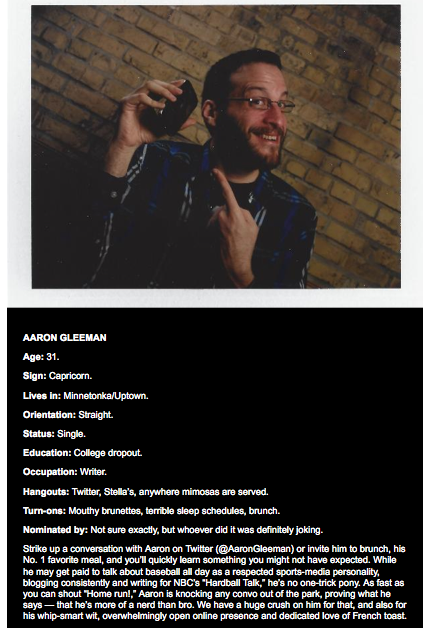 Tough to figure out why I didn't win, obviously.
• My mom finally met Paul Allen and now she has a crush on him.
• Athletes in the Olympic Village are using Tinder, which sounds like the premise of a porn movie.
• I do a similar thing to Kate Hansen's routine to prepare for blogging each morning.
• If you've ever wondered what it would sound like if I hastily left a bar around 11:00 p.m. to be interviewed about the Twins on Baseball Prospectus' podcast, this is your lucky day!
• I also joined the degenerates on "The Sportive" for a profanity-filled podcast about silliness.
• Jay Z and Beyonce win the synchronized shade-throwing gold medal.
• Speaking of which: Surfbort.
• I'd probably need to be married for a decade before sharing my Netflix password with someone.
• I guess Kate Mara is decent looking if you're into that type of thing.
• The Onion: "Coworkers Currently Gchatting About You."
• Superheroes have never done much for me and I've always wondered how so many guys got so obsessed with them. This video might answer that question:
As a little kid I had that same reaction the first time I saw Jarvis Brown pinch-run for the Twins.
• Reds closer Aroldis Chapman seems like a lot of fun:
Finally, a few minutes before 4 p.m., the curtains lift and Chapman descends the spiral staircase to the pool deck. He wears sandals, sunglasses and a tank top obscured by heavy gold chains. He lights a Marlboro Red cigarette and flops down onto an all-weather mattress near the pool.

"Why so late like this?" Maria Caridad asks. "Why all this sleeping?"

"There's nothing else to do," he says.
I'm another 40 miles per hour on my fastball away from being Chapman, basically.
• On a related note, we'll be joining forces to fight against this ridiculousness.
• Remember that incredibly embarrassing video of Twins Daily blogger Parker Hageman of a TLC reality show from 10 years ago? Well, he tried to explain himself (and his robe).
• Here's a glimpse into what it looks like when I'm straight up balling at Stella's.
• Netflix recommendation: "Strongman" is one of the most brutally honest, sweet, and ultimately depressing documentaries I've ever seen.
• Some of this week's weird and random search engine queries that brought people here:
- "TLC Second Chance"
- "Best soccer cover for tweeter"
- "Maria Bello porn lookalike"
- "Tila Tequila high school"
- "Bearded Minnesota Twins"
- "Aaron Gl"
- "Aaaron Gleeman"
- "Aaron Gleman"
- "Aaron Gleamon"
- "Aaron Gleemam"
• Finally, this week's AG.com-approved music video is "Cover Me Up" by Isbell: