June 11, 2014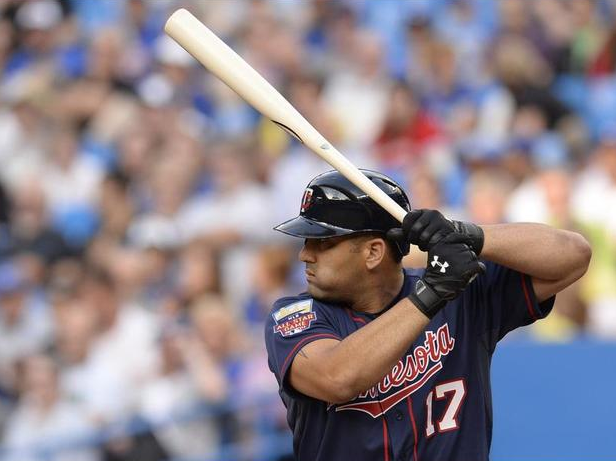 In one of the more out-of-nowhere moves in franchise history the Twins signed Kendrys Morales to a one-year, $7.6 million contract after he turned down a $14.1 million qualifying offer from the Mariners in November and sat out the first two months of the season waiting for a multi-year deal that never materialized. Draft pick compensation attached to signing Morales vanished Thursday and Saturday he chose the Twins over several other interested teams.
Morales was an unexpected addition in part because sub-.500 teams coming off three consecutive 95-loss seasons typically don't make midseason acquisitions for veteran players on one-year deals and in part because the Twins weren't lacking in designated hitters (and first basemen/outfielders who should be designated hitters). Why sign a 31-year-old for the final four months of another sub-.500 season and why not just give the DH playing time to 25-year-old rookie Josmil Pinto?
Morales will certainly help the Twins in their quest to avoid another losing season and even if they can't escape finishing below .500 again simply improving the team from, say, 73 wins to 75 wins would be welcomed by the fan base after all this losing. Beyond that, the money spent on Morales is essentially a non-factor because both last year and this year the Twins reportedly had around $20 million in unspent payroll room. Spending it on Morales beats not spending it at all.
Which is why the only obvious downside to this move is what it means for Pinto's playing time and development. Morales is going to be the everyday designated hitter, so Pinto won't play unless he starts at catcher over Kurt Suzuki and it's hard to envision Ron Gardenhire doing that more than 2-3 times per week. Pinto has a chance to be a big part of the Twins' long-term plans and even in the short term he's pretty damn good, so limiting his playing time is misguided.
Sending him back to Triple-A is a possibility and would equal more consistent playing time, but Pinto is 25 years old with a career .265/.349/.464 line as a big leaguer, so development-wise a lengthy stint in Rochester crushing International League pitching is also far from ideal. Morales improves the 2014 team and does so at basically zero cost because the money was just sitting around anyway, but for 2015 and beyond Pinto's development is significantly more important.
As for how much Morales improves the 2014 team, that's an interesting question. He was on the way to elite hitter status in 2009/2010, batting .302/.353/.548 with 45 homers in 203 games, but breaking his ankle celebrating a walk-off grand slam ended his 2010 season and complications in the recovery process sidelined him for all of 2011. He returned in 2012 and hit well for the Angels before duplicating that performance in 2012 for the Mariners, but Morales wasn't quite the same.
He remains a good hitter, batting .275/.329/.457 with 45 homers in 290 games between 2012 and 2013, but both his raw numbers and context-adjusted stats are a step below his 2009/2010 work. Of course, the fact that Morales isn't as dangerous as his pre-injury self doesn't mean he won't be a sizable upgrade for the Twins. He's posted an adjusted OPS+ of 121 since coming back in 2012. Here's how that compares to various current Twins hitters since 2012:
Joe Mauer            132
Josh Willingham      127
Josmil Pinto         124
KENDRYS MORALES      121
Oswaldo Arcia        104
Trevor Plouffe       100
Jason Kubel           98
Brian Dozier          96
Kurt Suzuki           80
Chris Parmelee        79
Based on those numbers and Joe Mauer's current struggles it's possible that Morales would be the Twins' best hitter, except after sitting out the first two months of the season it's also possible that the hitter the Twins are getting for the next four months won't be quite the same as the 2012/2013 version shown above. Or at least Morales may not be that hitter right away, depending on how much rust he needs to shake off and how long that takes.
Pinto's career on-base percentage, slugging percentage, OPS, and adjusted OPS+ are all higher than Morales' marks since returning in 2012 and it's reasonable to wonder if Morales will struggle to match his own 2012/2013 numbers after the layoff. It's also reasonable to question if Pinto is as good as he's shown thus far considering his track record in the majors is just 64 total games and he's slumped recently.
Betting on Morales being more productive than Pinto for four months makes sense, but how much more productive? Enough of a difference that stalling Pinto's development is worthwhile when no matter how well Morales performs the Twins aren't likely to contend for anything beyond a .500 record? It's also worth noting that Gardenhire stubbornly refused to give Pinto regular starts at DH anyway due to his maddening backup catcher-related phobias, so perhaps it's a moot point.
Morales' arrival also means the Twins no longer have the DH spot to use for giving players quasi days off and for temporarily changing defensive alignments. Josh Willingham and Oswaldo Arcia are locked into the outfield corners and Trevor Plouffe is locked into third base no matter how poor they look defensively and, for example, Arcia can't spend a few games as the DH after tweaking his ankle recently.
To make room for Morales the Twins designated Jason Kubel for assignment. His comeback was a nice story after a strong first two weeks, but Kubel hit .177 with zero homers and 52 strikeouts in his last 38 games to look washed up at age 32. Kubel stopped hitting and was barely getting off the bench, leaving the Twins with a 24.5-man roster. That roster is now better with Morales, but how much better is in question and there's a Pinto-related cost beyond the $7.6 million.
---
This week's blog content is sponsored by R.F. Moeller Jeweler's repair department, which is recognized as the premier jewelry repair facility in the Twin Cities. Please support them for supporting AG.com.