July 2, 2014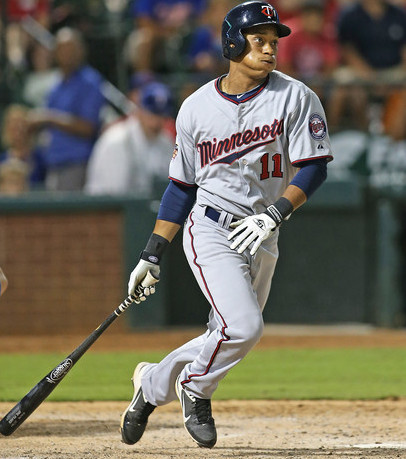 Jorge Polanco's first stint in the big leagues was a brief one and came in something resembling an emergency situation, as the Twins needed infield help and decided to promote a 20-year-old from Single-A rather than make changes to the 40-man roster for a more experienced call-up. In getting five at-bats before a return to the low minors Polanco became just the second Twins player in the Ron Gardenhire era of 2002-2014 to make his MLB debut before age 21.
Joe Mauer is the youngest player to debut under Gardenhire at 20 years and 352 days when he was the Opening Day catcher in 2004, followed by Polanco at 20 years and 356 days last week. Francisco Liriano is the youngest pitcher to debut under Gardenhire at 21 years and 314 days when he appeared as a reliever in September of 2005. In all, 14 players have made their MLB debuts for the Twins before age 23 under Gardenhire. Here's the complete list:
                   YEAR     AGE
Joe Mauer          2004     20.352
Jorge Polanco      2014     20.356
Francisco Liriano  2005     21.314
Oswaldo Arcia      2013     21.341
Justin Morneau     2003     22.026
Alexi Casilla      2006     22.043
Jason Kubel        2004     22.098
Ben Revere         2010     22.127
Rob Bowen          2003     22.189
J.D. Durbin        2004     22.197
Liam Hendriks      2011     22.208
Alex Burnett       2010     22.256
Matt Garza         2006     22.258
Wilson Ramos       2010     22.265
Sort of a mixed bag. Mauer, Liriano, Oswaldo Arcia, Justin Morneau, Jason Kubel, Matt Garza, and Wilson Ramos were all stud prospects on fairly natural, quick paths to the majors, but then there are non-prospects like Rob Bowen and marginal prospects like Alex Burnett who found themselves thrust into the majors to fill short-term roster needs. Polanco falls somewhere in between as a very good but not elite prospect promoted to the majors way ahead of schedule.
Much like Polanco, many of those 14 players listed above had short stints with the Twins as their MLB debuts and quickly headed back to the minors. In fact, even going beyond the debut-making Twins and looking instead at all Twins, the only players to receive regular playing time (more than 300 plate appearances) for the Twins before age 23 under Gardenhire are Mauer, Liriano, Arcia, Delmon Young, Carlos Gomez, and Luis Rivas.
So in 13 seasons under Gardenhire the Twins, who pride themselves on developing homegrown young talent, have given regular playing time to a grand total of six players before age 23. To put that in some context, consider that across baseball during that same period a total of 107 hitters and 130 pitchers logged at least 300 plate appearances before age 23, which works out to an average of 8.5 for each of the other 29 teams.
That shouldn't come as a shock, because the Twins are known for delaying the arrival of certain prospects and studies show that their overall promotion timetables are among baseball's slowest. Whether that's driven mostly by their chosen development philosophy or financial/service time considerations is up for debate--and Byron Buxton and Miguel Sano will hopefully put it to the test in 2015--but whatever the case they don't hand over the keys to many very young players.
All of which is why the decision to promote Polanco from Single-A to the majors for a days-long bench role at age 20 was uncharacteristic for the Twins and why he may not make it back to the big leagues as a regular for quite a while despite the rushed debut. He is, however, a very good prospect who ranked eighth on my annual list of Twins prospects coming into the season and whose stock has risen even further since then.
Polanco signed with the Twins out of the Dominican Republic as a 16-year-old in 2010 and if not for being in the same international prospect class that saw the Twins snag Sano for $3.15 million his $775,000 bonus would have garnered a lot more attention. He didn't hit much in his first two seasons, but Polanco broke out as an 18-year-old at rookie-level Elizabethton in 2012 and has been putting up impressive numbers since.
Polanco lacks power, but he's not completely without pop and currently projects as a potential top-of-the-order hitter thanks to a high contact rate, good batting averages, and increasingly solid patience at the plate. Last season at low Single-A he batted .308 with 47 extra-base hits and 42 walks versus 59 strikeouts in 115 games, and this season at high Single-A he's batted .292 with 21 extra-base hits and 36 walks versus 42 strikeouts in 74 games.
Defensively he split last season between shortstop and second base, but this season Polanco has played exclusively shortstop. His error total there hasn't been pretty and his odds of sticking at shortstop long term seem low, but it's a relatively positive sign that the Twins haven't moved him to second base full time yet. Or at least it's a relatively strong indication that he has a chance to be a very good defensive second baseman if he does move eventually.
It's worth noting that the Twins already have a very good all-around second baseman in Brian Dozier. In fact, during the past calendar year Dozier has been one of the three or four best second baseman in all of baseball, combining good defense with 20-homer power and 20-steal speed. But come, say, 2017, when Dozier is 30 years old and Polanco is 23 years old, the Twins might be ready for a change at the position.
---
For a lot more about Polanco's debut and his long-term outlook, plus talk of which other Twins prospects could be called up soon, check out this week's "Gleeman and The Geek" episode.