August 1, 2014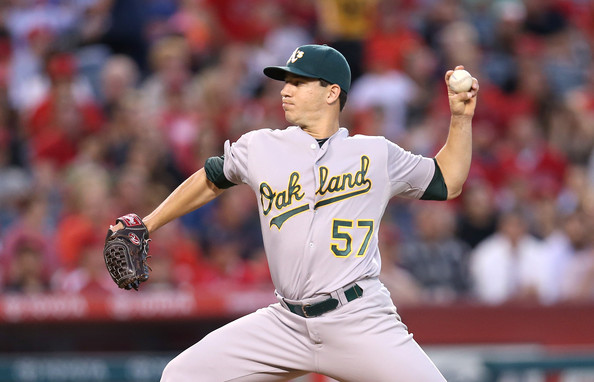 This year's otherwise hectic and blockbuster-filled trade deadline came and went yesterday afternoon without a big splash from the Twins, but they did make one trade and one non-trade by sending outfielder Sam Fuld to the A's for left-hander Tommy Milone and signing catcher Kurt Suzuki to a two-year, $12 million contract extension with a $6 million vesting option for 2017 rather than dealing the impending free agent.
Fuld was acquired from the A's for nothing via the waiver wire in April when the Twins were scrambling for outfield depth, so trading him back to Oakland for actual value now is a pleasant surprise. He played well for the Twins, hitting .274/.370/.354 with good speed and defense in 53 games, but Fuld hit just .230/.301/.326 during the previous three seasons and at age 32 he didn't have a spot in the Twins' future plans beyond possibly being a backup.
Milone was recently demoted to Triple-A, but that was due mostly to the A's sudden abundance of rotation depth and not anything related to his performance, which includes a 3.55 ERA in 16 starts for Oakland this season and a career ERA of 3.84 ERA in 469 innings as a big leaguer. However, those raw numbers are misleading because Milone has spent three years in a pitcher-friendly ballpark with a strong defense behind him.
Milone's secondary numbers suggest he's more of a 4.25 ERA pitcher than a 3.85 ERA pitcher and among the 154 pitchers with at least 150 innings since last season his average fastball velocity is the seventh-slowest at 86.9 miles per hour. He's also an extreme fly-ball pitcher, ranking 141st among those same 154 pitchers in ground-ball rate, which along with a modest strikeout rate of 6.5 per nine innings means his upside is very limited.
He's under team control through 2017, but will get relatively expensive via the arbitration process beginning this offseason and could eventually become a non-tender candidate due to the price increases. Younger, cheaper, and (slightly) better than Kevin Correia is not a description to be particularly enthused about, but it does carry some value when the actual Correia will soon no longer be on the Twins' roster.
They swapped a 32-year-old fourth or fifth outfielder for a 27-year-old fourth or fifth starter, and while that isn't going to turn a franchise around it's a sound, logical decision. Suzuki's extension is much less of a no-brainer, in part because it's tough to judge fully without knowing what the trade market looked like. If the Twins could have gotten a decent prospect for a 30-year-old impending free agent in the middle of a career-year, that certainly would have been my preference.
There were plenty of local and national reports linking Suzuki to various catcher-hungry teams for the past few weeks, but who knows what offers the Twins were actually choosing from. If the offers were limited to unappealing prospects, then there's certainly an argument to be made that keeping Suzuki beyond this season is preferable to simply letting him walk for nothing as a free agent in two months.
However, one reason why the offers for Suzuki may have been underwhelming is that other teams no doubt recognize how much he struggled for the previous four seasons before joining the Twins. Suzuki hit just .232/.290/.337 in 94 games last season and a combined .237/.294/.357 in 477 games from 2010-2013. Those are backup-caliber numbers and suggested he was breaking down physically, which is why Suzuki's career-year has been such a surprise.
He's hit .306/.369/.391 in 90 games with an equal 29/29 K/BB ratio after totaling 113 walks compared to 221 strikeouts from 2010-2013. He's also drawn a ton of praise for his "handling" of the pitching staff, although Twins pitchers have a 4.25 ERA with Suzuki behind the plate compared to their overall mark of 4.31 and his pitch-framing numbers are among the league's worst just as they have been for several seasons (and multiple different teams) in a row.
If you trust the pitch-framing numbers and/or Suzuki regresses back to his 2010-2013 form offensively then he's a sub par starting catcher signed through age 32 (and perhaps age 33, if he manages to get 485 plate appearances in 2016 to trigger the vesting option). If you trust the word of teammates and coaches and/or believe he's found a new level offensively then he's one of the best all-around catchers in the league.
My guess is that the truth will end up being somewhere in between and the investment is minimal enough to limit the risk. Six-million dollars per season is realistically not going to alter even the frugal Twins' plans in any meaningful way and if they've determined that 25-year-old Josmil Pinto is destined to be a designated hitter rather than a catcher/designated hitter than the organization is devoid of MLB-ready catchers following Joe Mauer's move to first base.
---
This week's blog content is sponsored by Uber, which is offering a free ride to first-time users who sign up with the promo code "UberGleeman."