August 6, 2014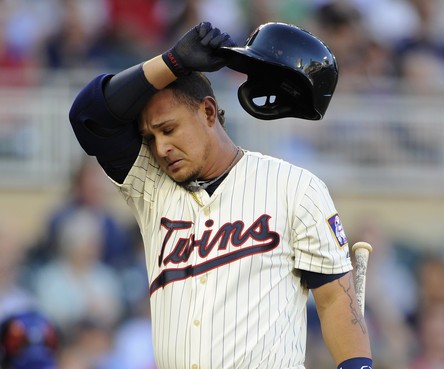 After a promising rookie campaign last year Oswaldo Arcia has been a mess for most of this season, hitting .199 with 56 strikeouts in 44 games since homering in back-to-back games in early June. He's been particularly helpless versus left-handed pitching, hitting .180 with 24 strikeouts in 68 plate appearances for the season, and Ron Gardenhire recently got Arcia's struggles against southpaws some media coverage by discussing them with reporters:
Not good. Hasn't been good. He missed some fastballs [Friday] night. He had two to hit. He's just got to put the barrel on them. He's got to hit them. The first one was right there, and he just fouled it off. He's just trying to hit the ball 8,000 miles right now. Every swing he takes, he swings so frickin' hard that I don't know any way possible that your head can be on the ball. ... He's got to get away from that. He's not going to hit at this level if he continues to swing as hard as he possibly can, trying to hit the ball 8,000 miles.
I'm certainly in no position to say whether those criticisms are legitimate and/or helpful, but I will note that the Twins had similar and similarly public "swings too hard" criticisms of Carlos Gomez and, before him, David Ortiz. I'll also note that Arcia is hardly the first young left-handed hitter to flail away against left-handed pitching. Through age 23 he's hit .229 with a .625 OPS versus lefties. Here's how that compares to some other left-handed Twins hitters at the same age:
vs. LHP                PA      AVG      OPS
OSWALDO ARCIA         185     .229     .625
Justin Morneau        110     .218     .630
Joe Mauer             398     .275     .671
Rod Carew             178     .286     .704
David Ortiz            78     .234     .734
Arcia is a rarity in Twins history simply by being in the majors and accumulating regular playing time versus left-handed pitching at age 23. In fact, only 11 left-handed hitters in franchise history have at least 50 plate appearances versus lefties through age 23. I've included four of the most prominent names on that list in the above comparison with Arcia. He has the worst production of the bunch, but Justin Morneau was almost exactly as unproductive and no one was very good.
Joe Mauer and Rod Carew hit for solid batting averages off lefties, because that's just what they were born to do, but they both had modest overall production and extreme platoon splits. And that's simply how it goes with left-handed hitters. Most of them struggle against lefties initially and many of them never really learn to hold their own against them. For instance, Jacque Jones hit .227 with a .616 OPS off lefties for his entire Twins career, totaling 848 plate appearances.
In other words, for his seven Twins seasons Jones was as terrible against lefties as Arcia has been through age 23. Gardenhire used Jones as an everyday player nearly that entire time, refusing to platoon him and often starting him in the leadoff spot versus lefties. Perhaps he didn't "swing too hard," but Jones was helpless versus lefties too and Gardenhire stubbornly never let that change his strategy and the Twins' coaching staff never helped him get any better.
Want more examples? No left-handed hitter in the history of the Twins with more than 200 plate appearances against left-handed pitching has ever topped an .800 OPS off them. And among that group only Carew, Ortiz, Doug Mientkiewicz, Denard Span, Kent Hrbek, and Matt Lawton topped .750. Here are some of the bigger names who struggled against left-handed pitching while in a Twins uniform:
vs. LHP              OPS
Jimmie Hall         .564
Jacque Jones        .616
A.J. Pierzynski     .647
Jason Kubel         .673
Tony Oliva          .690
Justin Morneau      .711
Corey Koskie        .725
Morneau won an MVP award and is one of the best half-dozen hitters in Twins history, but he hit just .251 with a .298 on-base percentage and .414 slugging percentage off lefties. Tony Oliva is a borderline Hall of Famer, but he had a lower OPS against lefties than thoroughly mediocre right-handed hitters like Brendan Harris, Steve Lombardozzi, and Dustan Mohr. Going beyond the Twins, across all of MLB this season lefty hitters have a .649 OPS off lefty pitchers.
My point isn't that Arcia ought to stick with his approach versus lefties. It also didn't work in the minors, where he hit .265 off lefties compared to .330 off righties. He absolutely needs to improve against them in order to fulfill his potential and hopefully Twins coaches can help him. However, the fact that he's struggling with lefties so far isn't necessarily some sort of character flaw and it may not mean anything at all other than he happens to be a left-handed hitter.
---
For a lot more about Arcia's struggles, plus a review of the Twins' trade deadline moves and non-moves, check out this week's "Gleeman and The Geek" episode.