September 30, 2014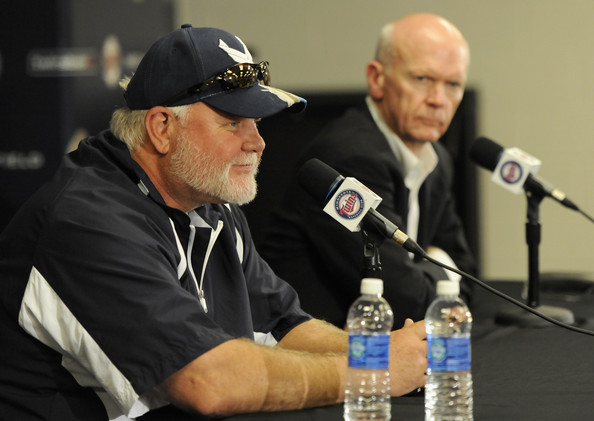 Ron Gardenhire will not join Connie Mack and Tom Kelly as just the third manager in baseball history to keep his job following four consecutive 90-loss seasons, as the Twins fired him Monday after 13 seasons on the job and nearly three decades in the organization. In a rarity for a fired manager Gardenhire attended the press conference announcing his dismissal and was in relatively good spirits while answering questions, even cracking a few smiles.
Gardenhire and general manager Terry Ryan seemed to be in agreement that it was time for a change, although last month Ryan said publicly that Gardenhire would return. Yesterday the GM hinted that ownership pushed him to make the move, which apparently may or may not include firing Gardenhire's entire coaching staff depending on whether the new manager wants to keep anyone around.
Gardenhire took over for Kelly in 2002 and had immediate success, winning 94 games and taking the Twins to the playoffs for the first time in more than a decade. They went on to win six division titles in his first nine seasons at the helm, but the competition in the AL Central was more often than not underwhelming during that time and the Twins went just 6-21 in the playoffs with five straight first-round exits.
His early teams were good but not great in a window of time when that was enough to capture a weak division, but then that window closed and later the team fell apart. They have a grand total of one 90-win season since 2007 and combined over the seven-year span of 2007-2014 the Twins went 613-685 for a .472 winning percentage that ranks 23rd in baseball. Only the Astros have a worse record than the Twins since 2011.
I started writing about the Twins in August of Gardenhire's rookie season as manager in 2002 and to say I've never been a fan would be an understatement, so I certainly don't think he's performed well in recent years. However, for better or worse his impact was hardly enough to be responsible for four straight 90-loss seasons just as it wasn't enough to be responsible for six division titles in nine years.
Because they're the day-to-day face of the team managers receive too much praise when things go well and too much criticism when things go poorly. Collective front office decision-making is far more important to the overall well-being of an organization. Ultimately talent trumps all and while a good manager can certainly help develop that talent and utilize that talent properly, squeezing a few more wins out of a team pales in comparison to building the team in the first place.
To believe differently is to think managers have more value to a team than the very best players even while they're consistently paid less than mediocre middle relievers. Gardenhire's firing was justified, but it has little to do with whether another manager could have avoided four consecutive 90-loss seasons with sub par talent and a lot to do with whether Gardenhire is the manager the Twins want leading them for the next 5-10 years when the talent improves.
And it will improve. This team will be better in 2015 than it was in 2014 and better in 2016 than it was in 2015. They have too much high-end talent in the minor leagues--and some high-end talent already faring well in the major leagues--for that not to happen, so even though the next manager may have to deal with low payrolls and shaky front office decision-making the combination of an impending influx of young talent and minimal expectations should make it an appealing gig.
Basically, there's nowhere to go but up. And after 13 seasons of a .507 winning percentage with almost zero postseason success and historic ineptitude for the past four years it would be hard for even his biggest supporters to argue Gardenhire is the best manager to maximize that ascent. He wasn't the biggest problem, but he was too often part of the problem and is not the best possible option for the solution. Of course, the Twins' ability to identify that best option is another issue.
Ryan has been the Twins' general manager for two stints and 17 total seasons, during which time their combined record is 1,278-1,406 for a .476 winning percentage and one playoff series win. With a GM originally hired in 1994 and numerous long-tenured assistants still at his side--including Bill Smith filling a different role after flopping as GM--the front office responsible for getting the Twins into this mess remains largely intact.
Like the difference between a fresh coat of paint on a car versus overhauling the engine, the front office's performance always outweighs anything a manager does. Now their duties include finding a better manager in addition to putting all the roster pieces together well enough to re-emerge as contenders. Gardenhire's firing was about the future, but there's every bit as much reason to be skeptical that Ryan and his assistants are the best option to lead the Twins there.
---
For a lengthy discussion and debate about everything related to the Gardenhire firing, check out our emergency "Gleeman and The Geek" episode recorded after the news broke.