December 3, 2014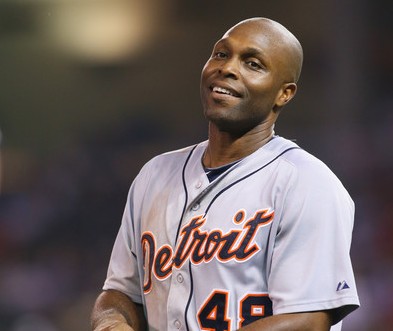 Torii Hunter took a "re-sign with the Tigers or retire" stance shortly after the season ended, but once it became clear that Detroit wasn't interested having him back a reunion with the Twins was all but inevitable. Hunter talked about wanting to finish his career with a contender and reportedly had interest from 2014 playoff teams and potential 2015 playoff teams, but in the end he chose a one-year, $10.5 million deal with a full no-trade clause to return to Minnesota.
Hunter was the Twins' first-round draft pick in 1993, debuted in 1997, and spent 1999-2007 as a power-hitting, quote-giving, Gold Glove-winning center fielder who frequently turned home runs into spectacular outs at the Metrodome. He left as a free agent following the 2007 season, signing a five-year, $90 million deal with the Angels that doubled the Twins' half-hearted attempt to retain him for three years and $45 million.
Hunter was 32 years old at the time and his defense had already shown major signs of decline, so the worry was that further slippage combined with good but not great offense would make him overpaid. Sure enough his defense slipped dramatically, to the point that he was not a center fielder by 2010, but his offense actually got better after leaving. With the Twins his OPS was 23 points above the league average, but after leaving the Twins it was 73 points above average.
He returns now at age 39 and as a completely different player. Hunter hit well this past season, batting .286/.319/.446 with 17 homers in 142 games for the Tigers, producing an adjusted OPS+ of 111 that would have ranked as his fourth-best mark for the Twins. But not only did he play a grand total of nine innings in center field during the past four seasons, Hunter's defense in right field has been horrendous according to nearly every prominent defensive metric.
Combined between 2013 and 2014 he graded out 22 runs below average in Ultimate Zone Rating, 25 runs below average in Plus/Minus, and 28 runs below average in Defensive Runs Saved. And in 2014 alone he rated as poorly as any outfielder to receive regular playing time. Surely the Twins will insist their scouts disagree with the numbers and perhaps they're right to an extent, but he's a bad defensive corner outfielder and that's one area that screamed out for them to improve.
Instead, with Hunter in right field, Oswaldo Arcia sliding over to left field to accommodate him, and a center fielder to be determined later the Twins have almost no chance of avoiding being a well below average outfield defensively and could easily rank among the very worst in baseball. For a low-strikeout pitching staff in a spacious ballpark that's a recipe for runs-allowing disaster, as we've unfortunately already seen for the past few seasons.
Make no mistake, the Twins are paying for nostalgia here. Even if Hunter exactly duplicates his 2014 performance--which is always unlikely at age 39--he'd be average offensively for a corner outfielder and well below average defensively. Any further decline on either side of the ball would make him a liability and as with most 39-year-olds there isn't a whole lot of upside to balance out the potential for a major dropoff.
The good news is that it's a straight up one-year deal, which makes it easier to cut bait on Hunter if necessary and doesn't lock the Twins into anything beyond 2015. And while $10.5 million is way too much money to spend it's not as if the Twins were going to spend money elsewhere anyway. In each of the past two seasons they've left massive amounts of payroll unspent and there's zero indication they planned to make a real effort to sign any front-line free agents this offseason.
In the best-case scenario Hunter hits .275 with 15 homers and merely bad defense, allowing the Twins to keep a corner spot warm for Eddie Rosario or Miguel Sano or another prospect. In the worst-case scenario Hunter struggles offensively, proves totally washed up defensively, and takes playing time from better, younger players while the haze of nostalgia keeps media fawning. For an organization stuck in the past a reunion with Hunter almost seemed too obvious, but here we are.
---
This week's blog content is sponsored by Uber, which is offering a free ride to first-time users who sign up with the promo code "UberGleeman."