December 19, 2014
I'm not and will never be a "foodie," but I like to eat (a little too much of late, unfortunately) and since moving to Minneapolis last winter I've gone to a lot of restaurants for the first time, so when one stands out as an especially good dining experience I thought it would be worthwhile to write a review. This might become a regular feature and it might be my last review ever, so apologies in advance to anyone not interested.

Gavin Kaysen grew up in Bloomington, Minnesota and went on to travel the globe becoming a Michelin starred, James Beard Award-winning chef, making a substantial name for himself in New York working under world renowned chef Daniel Boulud at Café Boulud. So when news broke in June that Kaysen was moving back to Minnesota and opening his own restaurant in Minneapolis there was a ton of excitement in the "people who like to eat cool food" community.
Spoon and Stable was booked up so fast that my December 16 reservation was made a month in advance and required taking the not-so-coveted 5:00 p.m. slot. Yet at 4:50 p.m. there were early birds waiting outside with their noses pressed against the window watching as the bartenders and servers finished their last-minute prep. They kept the doors locked until five o'clock on the dot, but a hostess did come outside and offer a free shot of hot chocolate to combat the cold.
Once inside we walked past a nice bar area to the main dining room, where we were seated at a cozy two-person table next to the clear-windowed wine room and just a few yards from the open kitchen where Kaysen was running things all night. It was fun to watch him manage the chaos, tasting various spoonfuls and expediting dishes at the pass. There was no Gordon Ramsey-style screaming and he projected a sense of calm, frequently re-arranging his station to keep it tidy.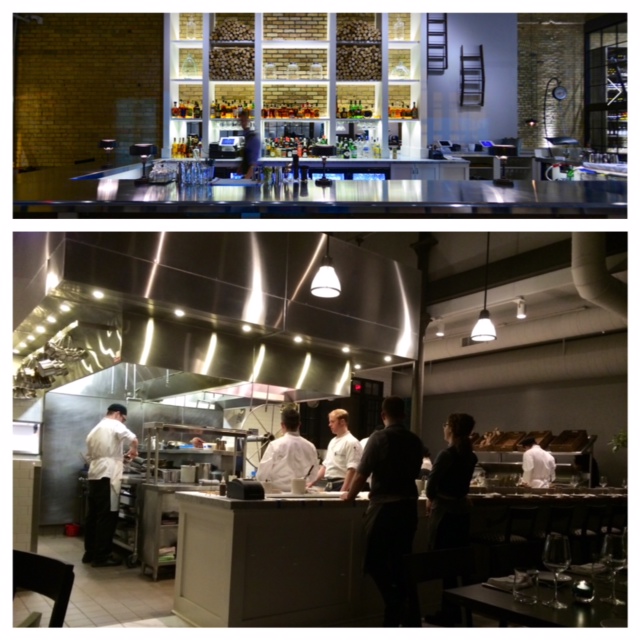 Oh, and the food was amazing.
Spoon and Stable has a small menu consisting of six sections with three dishes apiece: Garden, Chilled, Pasta, Sea, Land, and Sides. There's also an extensive wine list, a good selection of beer including local "Gleeman and The Geek" friends Summit and Sociable Cider Werks, and custom cocktails priced at $13. I ordered my usual Jack and Coke, but switched to Buffalo Trace when the server realized they don't have Jack Daniels. That's basically the only strike against the place.
I chose Cider Glazed Chicken ($25), my girlfriend chose Slow Cooked Atlantic Cod ($25), and we split a small Pappardelle ($12) and Crispy Potatoes ($8). I wasn't sure what to expect for portion sizes given the relatively high prices and Kaysen's sterling rep, but each dish had plenty of food and was presented beautifully. In retrospect we probably didn't need to eat the complimentary bread and butter served on slabs of unused marble from the construction, but we did.
The crispy potatoes were like souped-up potato wedges with a great, subtle garlic seasoning and perfectly crisp skin. For only $8 it was an outstanding side-turned-appetizer and something I could definitely see myself ordering from the bar menu another night. The pasta was handmade and rustic, with big pappardelle noodles covered in a not-too-rich goat ragu. Even a half-order split two ways was lots of food.
My dish was the juiciest, most tender chicken I've ever eaten. I made that proclamation after one bite, forced my girlfriend to try it herself to see if I was lying, and got a "wow" response. And then later she snagged another bite because the chicken (and the thyme jus) was so damn good. The fennel sausage and roasted carrots were also very tasty and in perhaps the highest compliment I can give a chef even the brussels sprout were good.
She also said it was "the best couscous I've ever had" and on top was perfectly cooked cod, with Mediterranean spices that meshed extremely well together. A tight presentation hid what was a very solid amount of food. For dessert we split a Chocolate Chiboust ($10) that brought together ice cream, sliced bananas, a mousse-like rich chocolate, and a hazelnut praline sprinkled on top. I'm not usually much of a dessert eater, but it was a nice final note to the meal.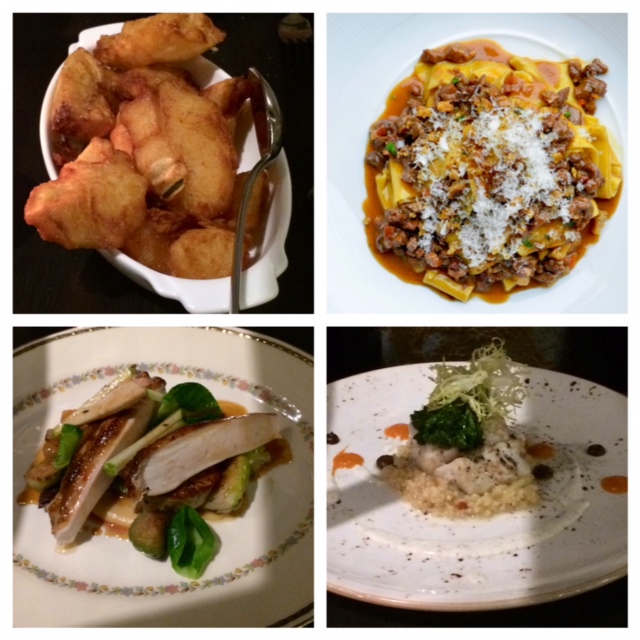 Our server, Marcus, was fantastic. He was chatty without being annoying, knew a month-old menu like the back of his hand, actually gave some helpful tips on what to order, and even established a few running jokes with us. He got plenty of help from other servers and every person we came in contact with was extraordinarily friendly while giving off a vibe that they were happy to be there and confident you were happy to be there too.
After waiting a month to get a table and hearing other positive reviews from people who got in there before me it's possible I was so hyped up to eat at Spoon and Stable that any sort of decent experience would thrill me, but I genuinely had an amazing meal and it's right up there with any first-time dining experience I've ever had. The food was high level without being pretentious, the service was flawless, and the atmosphere was sleek, intimate, and welcoming.