March 11, 2015
Also in this series: 1-5, 6-10 11-15, 16-20, 21-25, 26-30, 31-35, 36-40.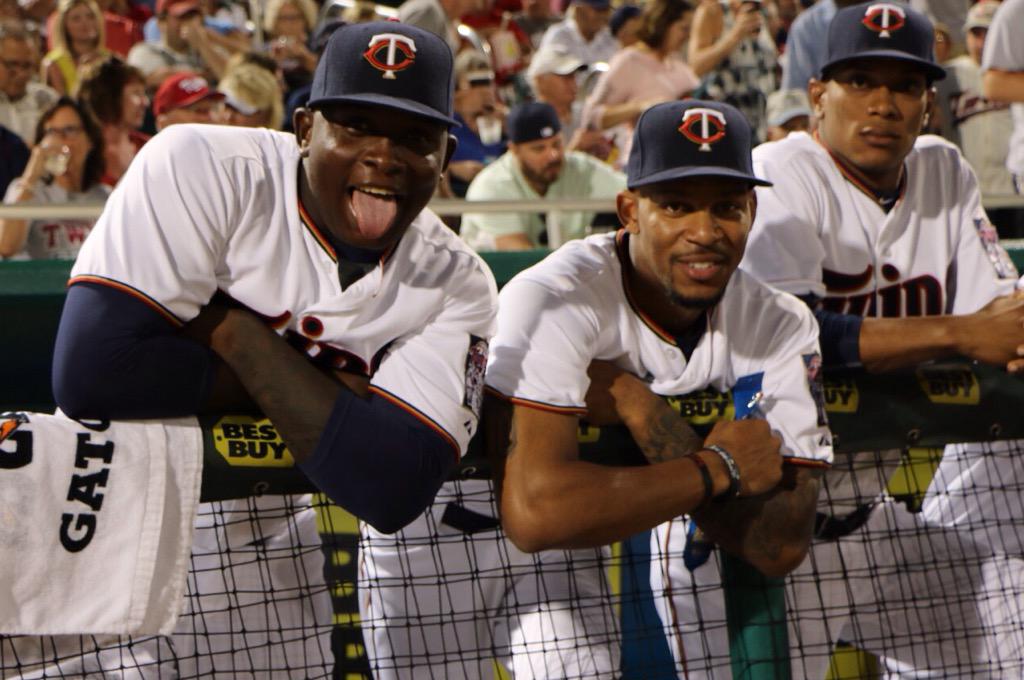 My annual series ranking and profiling the Twins' top prospects concluded last week, so here's the complete list of 40 players along with links to each individual write-up and an overview of the farm system as a whole:
 1. Byron Buxton, CF               21. Jake Reed, RP
 2. Miguel Sano, 3B                22. Travis Harrison, LF
 3. Jose Berrios, SP               23. Zack Jones, RP
 4. Alex Meyer, SP                 24. Mitch Garver, C
 5. Kohl Stewart, SP               25. Aaron Slegers, SP
 6. Nick Gordon, SS                26. Max Murphy, CF
 7. Jorge Polanco, SS              27. Brandon Peterson, RP
 8. Lewis Thorpe, SP               28. Stuart Turner, C
 9. Nick Burdi, RP                 29. Tyler Jones, RP
10. Eddie Rosario, CF              30. Jason Wheeler, SP
11. Trevor May, SP                 31. Tyler Duffey, SP
12. Stephen Gonsalves, SP          32. Sam Clay, RP
13. Amaurys Minier, LF             33. Tanner English, CF
14. Michael Cederoth, SP           34. Ryan Eades, SP
15. Max Kepler, CF                 35. J.R. Graham, RP
16. Michael Tonkin, RP             36. Lester Oliveros, RP
17. Adam Walker, RF                37. Stephen Pryor, RP
18. Taylor Rogers, SP              38. Levi Michael, 2B
19. Chih-Wei Hu, SP                39. Logan Darnell, SP
20. Lewin Diaz, 1B                 40. A.J. Achter, RP
This time last year the Twins' farm system was widely regarded as baseball's best. And then the injuries struck. Elbow surgery knocked out Miguel Sano for the entire season and wrist problems followed by a concussion cost Byron Buxton most of the year. Four of the system's top pitching prospects--Alex Meyer, Jose Berrios, Kohl Stewart, and Lewis Thorpe--all experienced some arm issues. And while not an injury, Eddie Rosario missed 50 games on a suspension.
All the injuries put a dent in the system's overall standing, but it remains one of the two or three best in baseball thanks largely to Buxton and Sano retaining their elite-prospect status. Adding a third consecutive top-five draft pick in high school shortstop Nick Gordon also helped prop up the group and second-round pick Nick Burdi's impressive pro debut combined with perceived MLB readiness put him squarely on the prospect map right away.
In most years several of the Twins' top prospects graduate to the majors--Oswaldo Arcia, Aaron Hicks, and Kyle Gibson all did so in 2013, for instance--but Josmil Pinto was the only member of the 2014 top 10 to spend enough time in Minnesota to lose his prospect eligibility. Retaining or losing "prospect" status doesn't change a player's long-term value, but it does greatly impact how a farm system is perceived and the lack of 2014 graduates gives the system a boost for 2015.
Last season also showed the importance of depth beyond the big names and top-100 list regulars, as Danny Santana and Kennys Vargas emerged as potential building blocks for the Twins after being relative afterthoughts coming into 2014. Jorge Polanco also took a sizable step forward, which combined with Santana's shockingly impressive debut and the addition of Gordon gives the Twins some young middle infield talent to get excited about for the first time in a long time.
Buxton and Sano remain the crown jewels of the farm system, but pitching dominates the rest of the top 40 and that makes sense given the Twins' multi-year focus on adding arms via trades and high-round draft picks after the cupboard was left alarmingly bare. In years past the Twins were typically overflowing with back-of-the-rotation starters, but now even after the high-upside quartet of Berrios, Meyer, Stewart, and Thorpe they have several intriguing mid-rotation types.
They also have an assortment of hard-throwing, bat-missing relievers approaching MLB readiness in Burdi, Michael Tonkin, Jake Reed, Zack Jones, Brandon Peterson, and Tyler Jones. It may not fully come together in 2015, but there are finally power arms on the way to Minnesota and in general the farm system looks nearly ready to start making a significant MLB impact after years of stockpiling talent in the minors.
Of the top 11 prospects all but Stewart, Gordon, and Thorpe have a realistic shot of playing in the majors this season, led by Buxton, Sano, and Meyer potentially playing big roles. That means next year's farm system may plummet in the MLB-wide rankings, but far more importantly it means this could be the year fans stop hearing about the trade pickups, high draft picks, and big-money international signings rising through the minors and start actually seeing them at Target Field.
---
This week's blog content is sponsored by the Minnesota Corn Growers Association, which is hosting a Twins season ticket giveaway contest on their website, MNFarmTeam.com.