March 25, 2015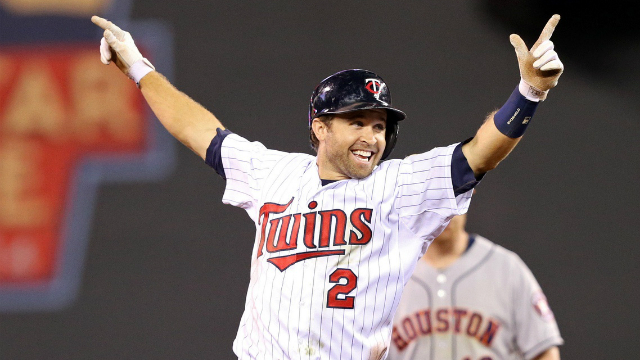 Second baseman Brian Dozier and the Twins have agreed to a four-year, $20 million contract, which begins immediately by bumping his 2015 salary from the MLB minimum to $2 million and then covers his three arbitration seasons at a cost of $3 million in 2016, $6 million in 2017, and $9 million in 2018. Dozier was already under team control through 2018 and this deal does not include any option years, so he remains eligible for free agency after 2018.
Typically with these types of contracts there's a tradeoff between guaranteed money and team control. In other words, the player is able to lock in multiple years of salaries rather than going year-to-year with the risk of being released at some point and the team is able to secure option years that enable them to push back free agency if desired. Dozier's contract fits only half of that description: He gets the guaranteed money, but the Twins get no added team control.
Instead of going year-to-year with Dozier through his three arbitration seasons at a salary to be determined based on his performance, the Twins have pre-paid for all three seasons. In doing so they gain cost certainty, in case MLB-wide salaries and/or Dozier's production rise dramatically, but they have also committed $20 million more in guaranteed money than was required without gaining any additional team control of Dozier.
Dozier and his agent, Damon Lapa, acknowledged the atypical, seemingly one-sided nature of the deal at the press conference announcing the contract. Lapa was quick to point out that they avoided giving up any additional years of team control to the Twins and Dozier called "this type of contract ... very rare" because it contained "no options, no free agent years." Dozier got what he wanted, which was life-changing money, and he didn't even have to pay the usual toll.
Cost certainty has some value, of course, and the budget-conscious Twins likely feel particularly relieved to avoid the possibility of paying Dozier bigger money in 2017 or 2018, but cost certainty can also turn into a bad thing and the Twins have seen that happen in the past after unnecessarily locking themselves into good but not great players. Dozier isn't Nick Blackburn or Joe Mays, but then again most people wrongly assumed those deals carried little downside at the time too.
Dozier was a very good player last season, making up for a poor batting average with power (21 homers) and plate discipline (89 walks) to produce a .245/.345/.416 line that ranked well above average for second basemen. Toss in solid defense and Dozier ranked among the half-dozen best players at his position. Repeating that performance for the next four seasons would make this contract a bargain for the Twins.
Of course, that can basically be said of any long-term contract because they tend to be handed out to players coming off strong seasons and, in Dozier's case, a season that stands out from the rest of his career. Prior to last year Dozier hit just .240/.297/.384 in 231 games for the Twins and .232/.286/.337 in 48 games at Triple-A. His numbers at Single-A and Double-A were much better, but even those were driven by high batting averages and featured minimal power.
Dozier is a much different hitter now than he was in the minors and because of that it's especially tough to project his future. Right now he looks like a building block-caliber player by combining power and patience at an up-the-middle defensive position. But going back just a couple years shows Dozier as a mediocre prospect who was in the minors until age 25 and that late arrival also meant he was under the Twins' control through age 31.
It's easy to see why Dozier jumped at this deal, but the Twins' motivation isn't as obvious. They could keep him around through 2018 then and they can keep him around through 2018 now, with the only differences being that they've guaranteed him $20 million and no longer have the ability to change their mind if things go poorly for Dozier or a prospect like Jorge Polanco emerges as a younger, cheaper alternative. Hopefully they'll at least save a little money.
---
This week's blog content is sponsored by the Minnesota Corn Growers Association, which is hosting a Twins season ticket giveaway contest on their website, MNFarmTeam.com.