May 5, 2015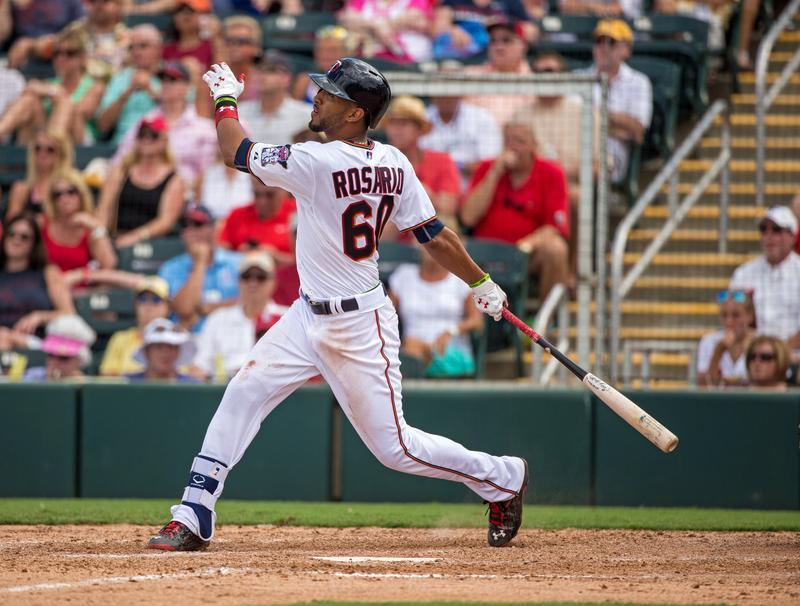 It's common for the Twins to cite a prospect's lack of "consistency" in the minors as an excuse for why they haven't been called up. Most recently they did so with Triple-A reliever Lester Oliveros, who has a 1.65 ERA and 109 strikeouts in 76 innings since last season. Sustained dominance like that makes the notion of Oliveros lacking "consistency" seem absurd, particularly compared to the low standards for "consistency" the Twins so often seem to have for mediocre veterans.
Another problem with the Twins citing a lack of "consistency" whenever it suits them is that when it doesn't suit them they're quick to ignore the concept. Right now, for instance. Needing outfield help with Oswaldo Arcia headed to the disabled list with a hip injury, the Twins called up Eddie Rosario from Triple-A to make his MLB debut at age 23. Rosario was hitting .242/.280/.379 with a 17/5 K/BB ratio in 23 games for Rochester, which is terrible.
And that's nearly identical to his terrible performance last year, when Rosario was suspended for the first 50 games following a positive drug test and returned to hit .237/.277/.396 with a 68/17 K/BB ratio in 79 games at Double-A. In between he was talked up by the Twins throughout spring training only to hit .233 with zero walks in 17 games. In retrospect the spring disconnect between the praise he received and his performance was foreshadowing.
Rosario was suspended 50 games for drug use and hit terribly at two levels of the minors and in spring training since returning, but "consistency" apparently isn't always a must for a call-up. For whatever reason the Twins and especially manager Paul Molitor are infatuated with Rosario and it's also clear they've totally soured on Aaron Hicks, himself a former top prospect who struggled in the majors after being handed an Opening Day job too soon and is still just 25 years old.
Hicks is hitting .289/.375/.494 with a 15/12 K/BB ratio in the same Rochester lineup as Rosario, topping him in every way except being on the Twins' good side. Hicks also hit .291/.387/.441 with a 40/37 K/BB ratio in 67 games between AA/AAA last season, easily out-performing Rosario again. And while Hicks has struggled for the Twins, he posted a .341 on-base percentage over 69 games in the majors last year while Rosario has failed to crack a .300 OBP in the minors since last year.
For the sake of simplicity, here's how their career Double-A and Triple-A numbers compare:
TRIPLE-A      AVG      OBP      SLG      OPS     K/BB
Hicks        .264     .349     .410     .759     1.58
Rosario      .242     .280     .379     .659     3.40

DOUBLE-A      AVG      OBP      SLG      OPS     K/BB
Hicks        .289     .389     .461     .850     1.31
Rosario      .260     .302     .403     .705     3.55
Hicks is also considered as good or better defensively than Rosario, who attempted to transition from center field to second base before going back to the outfield full time this season and has always been projected more as a corner outfielder due to limited range. It's hard to blame the Twins too much if they've indeed given up on Hicks, but there's no indication Rosario is ready for the majors and this move makes any "consistency" talk look even sillier than usual.
As for Arcia, this is another setback on his quest to gain the Twins' trust and establish himself as an everyday, middle-of-the-order bat. Molitor's willingness to platoon has put Arcia on the bench frequently versus lefties and both his plate discipline and defense remain huge weaknesses. He's hitting reasonably well at .276/.338/.379 in 19 games, but all four of Arcia's walks have been intentional and he's swung at the second-most pitches outside the strike zone in the league.
---
For a lot more about the Twins' recent roster moves and call-up timetables, check out this week's "Gleeman and The Geek" episode.