July 2, 2015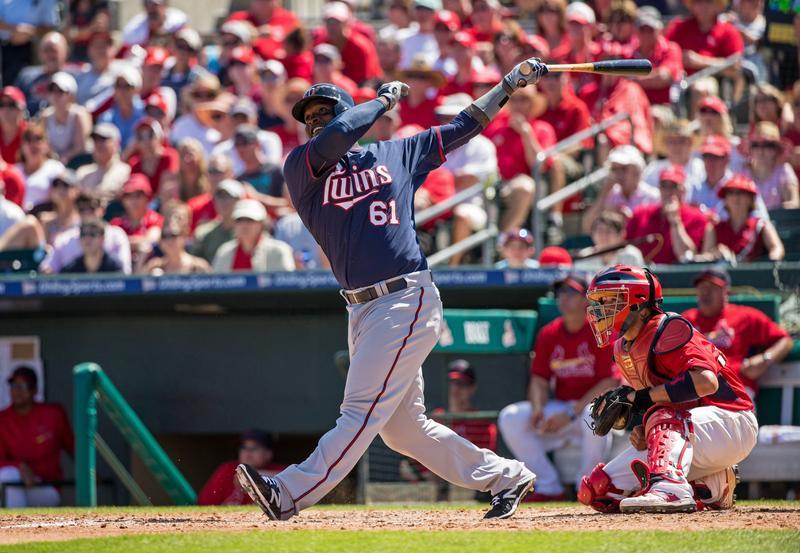 Miguel Sano is on his way to the majors and the 22-year-old top prospect will make his MLB debut at designated hitter rather than third base, stepping into a position that has been horribly unproductive for the Twins this season. Six players have started at least one game at DH for the Twins--led by Kennys Vargas with 29 and Torii Hunter and Eduardo Nunez with 11 each--and they've combined to hit .250/.305/.357 with five homers to rank second-worst in the league.
Vargas was the Opening Day starter following a strong rookie showing, but hit just .245/.277/.365 with five homers and an ugly 48/7 K/BB ratio in 47 games and has been sent to Double-A after previously being demoted to Triple-A. Oswaldo Arcia hasn't hit enough in Rochester to convince the Twins he's worth letting out of the doghouse and Josmil Pinto has been sidelined by with a concussion, so Sano is getting the call three weeks after fellow elite prospect Byron Buxton.
Signed out of the Dominican Republic as a 16-year-old in 2009 for a record $3.15 million, Sano's immense power potential was evident from Day 1. He's topped an .850 OPS in all five seasons as a pro despite being very young for each level of competition, including hitting .274/.374/.544 with 15 homers and 18 doubles in 66 games at Double-A this year after missing all of 2014 following Tommy John elbow surgery.
And those extremely impressive Double-A numbers include a terrible April, as Sano struggled to get back on track offensively and defensively. However, since May 1 he's hit .315/.400/.601 with 11 homers, 16 doubles, and 28 walks in 48 games. That's incredible production for a 22-year-old coming off a lost season and why, despite questions about his long-term ability to remain at third base defensively, the Twins feel Sano is ready to make an impact with his bat alone.
Even focusing strictly on his bat Sano is far from flawless. He strikes out a ton, whiffing 149 times in 133 games at Double-A, and as a result his career batting average is a modest .278. Of course, struggling to make consistent contact often comes with the territory for big-time power hitters and Sano balances the strikeouts with lots of walks. That's an important distinction, because it means Sano has shown patience and the ability to work deep counts rather than being a free-swinger.
Cutting down at least somewhat on the strikeouts to keep his batting average closer to .300 than .200 and maintaining a good walk rate are keys to his development, but make no mistake about it: Power is the one tool around which his career will revolve. Sano is a massive human being at 6-foot-4 and 260 pounds, looking the part of a prototypical middle-of-the-order slugger, and he's averaged 35 homers per 150 games in the minors.
Three years ago as a teenager at low Single-A he led the Midwest League with 28 homers. Two years ago as a 20-year-old playing at high Single-A and Double-A his 34 homers were the most by any Twins minor leaguer in three decades. This season, as a 22-year-old at Double-A coming back from elbow surgery and a year of lost development, his 15 homers in 58 games ranked second in the Southern League.
Sano has 40-homer potential, which is saying something considering Harmon Killebrew is the only player in Twins history to hit more than 35 homers. That type of power combined with lots of walks would be enough to make Sano an outstanding overall player even with a batting average in the .250 range and little defensive value. Getting into the .280 range and contributing positively defensively--at third base or elsewhere--could make him an MVP-caliber monster.
For now the Twins simply need Sano to be better offensively than a group of DHs that combined for a .662 OPS and are willing to put him into a role that takes defense out of the equation save for what figures to be spot starts in the field. Trevor Plouffe will remain the Twins' starting third baseman, Sano will try to establish himself as an impact bat at age 22, and they'll worry about where he winds up defensively and how well he plays there later.
---
This week's blog content is sponsored by Uber, which is offering a free ride to first-time users who sign up with the promo code "UberGleeman."