July 7, 2015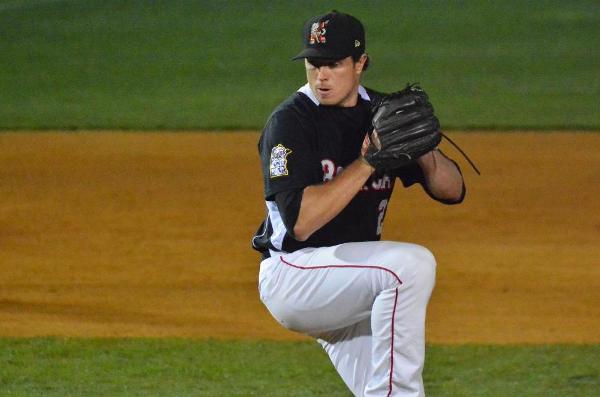 Aaron Thompson was among the Twins' final cuts in spring training, officially being optioned to Triple-A on March 31, but he was recalled and added to the bullpen four days later following Ervin Santana's suspension. Thompson almost immediately worked his way past Brian Duensing to become the primary left-handed setup man and manager Paul Molitor quickly began trusting the 28-year-old journeyman enough to get key late-inning outs against lefties and righties.
For a while it worked, as Molitor used Thompson in 17 of the first 34 games and he posted a 2.11 ERA while holding opponents to a .181 batting average. And then things began to unravel. He had a rough outing on May 17, at which point Molitor ceased relying on Thompson as a setup man and started using him as a situational left-hander. After facing an average of 4.8 batters in his first 18 appearances Thompson faced an average of 2.2 batters in his next 23 appearances.
Despite the altered usage designed to shield him from good right-handed hitters Thompson fell apart. Starting with that May 17 outing and ending with his demotion to Triple-A after Monday's game, he allowed 14 runs in 11 innings with more walks than strikeouts and a .388 opponents' batting average. Thompson heads to Rochester with a 5.01 ERA and 17/11 K/BB ratio in 32 innings, which is more or less what you'd expect based on his underwhelming track record.
However, it's worth noting that while Thompson was exposed in a prominent role and struggled overall he fared well against left-handed hitters by holding them to a .189 batting average, zero home runs, and a .526 OPS in 62 plate appearances. I'm not a big fan of using a roster spot on a situational left-hander unless they're absolutely unhittable in that role, but Thompson did just fine when asked to get lefties out.
In demoting Thompson back to Triple-A the Twins replaced him with Rochester left-hander Ryan O'Rourke, a 27-year-old former 13th-round draft pick with a 4.15 ERA in six seasons as a minor leaguer. O'Rourke has never appeared on my annual list of the Twins' top-40 prospects, went unpicked in the Rule 5 draft despite being left unprotected, hasn't logged 50 innings in a season since 2012, and brings with him an ugly 5.93 ERA in 20 appearances for Rochester.
So why is he now in the big leagues, replacing Thompson in the bullpen? Because the Twins are convinced that having a situational left-hander makes sense and O'Rourke is death to lefties. This year at Triple-A he faced 36 left-handed hitters and struck out 20 of them while allowing five hits. Last season at Double-A he faced 74 left-handed hitters and struck out 42 of them while allowing eight hits. And during that two-year span righties hit .340 off O'Rourke.
Thompson did a perfectly good job getting lefties out, but struggled so much when also asked to consistently get righties out that the team lost faith in him overall. O'Rourke will probably be even worse if asked to face righties on a regular basis given that he couldn't get them out at Double-A and Triple-A, but clearly Molitor has plans to use him in a strict situational left-hander role and if that happens he has a chance to thrive for one or two batters per appearance.
O'Rourke shifted to the bullpen full time in 2012 and since then he's faced left-handed hitters in 247 plate appearances spread across four levels of the minors. He's held them to a .151 batting average and .199 slugging percentage with 115 strikeouts and 19 walks. Or, to put those crazy numbers another way: O'Rourke's matchups with lefties from 2012-2015 resulted in a strikeout 47 percent of the time and a hitter reaching base safely 21 percent of the time.
This season Thompson has held lefties to .189/.262/.264, which is excellent and will be hard for O'Rourke to top. However, that came attached to an unimpressive 11/6 K/BB ratio versus lefties and clearly the Twins don't think Thompson's success will continue to the point that he'll be worth keeping on the roster in a very limited role. O'Rourke has the potential to thrive in that same role, but Molitor playing the correct matchups to put him in a position to succeed will be crucial.
---
For a lot more about the Twins' recent roster moves and call-ups, including Miguel Sano's arrival, check out this week's "Gleeman and The Geek" episode.