July 31, 2015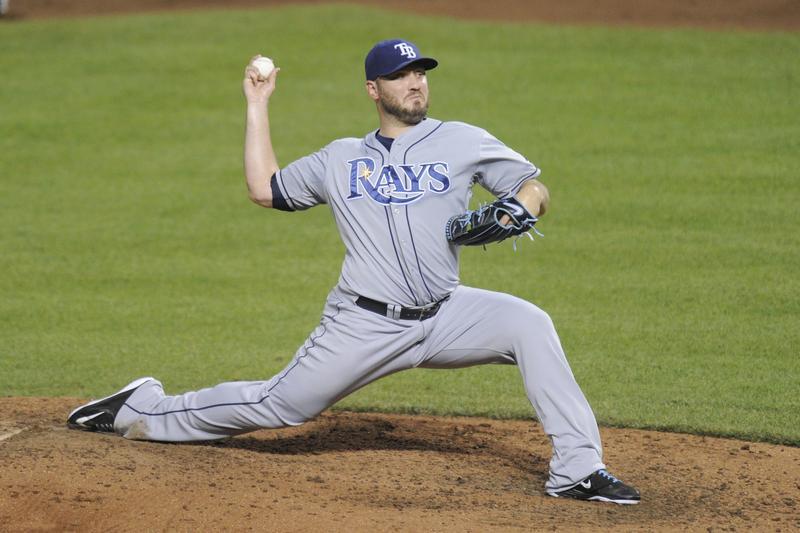 Faced with clear weaknesses at shortstop, catcher, and reliever heading into Friday afternoon's trade deadline the Twins addressed only the bullpen, acquiring right-hander Kevin Jepsen from the Rays in exchange for pitching prospects Chih-Wei Hu and Alexis Tapia. Their lack of activity should come as no surprise, in part because the Twins are typically fairly conservative and in part because meaningful midseason upgrades at shortstop and catcher are hard to find.
On the other hand contending teams adding veteran bullpen reinforcements at the trade deadline is an annual tradition and this year was no different, with nearly a dozen quality relievers on the move. That list includes Jepsen, who has a 3.80 ERA in eight seasons with the Rays and Angels, but beyond clearing the low bar of representing an upgrade over Casey Fien and Blaine Boyer he's an underwhelming pickup.
Jensen throws hard, averaging 95 miles per hour with his fastball, but his career strikeout rate of 8.5 per nine innings is merely average for an MLB reliever and has dipped to a career-low 7.3 per nine innings this year. Jepsen also has terrible control, walking 3.6 per nine innings for his career and 4.3 per nine innings this year. Jepsen's nice-looking 2.81 ERA in 46 appearances for the Rays this season comes attached to a poor 34/20 K/BB ratio in 42 innings.
He's essentially an average reliever. There are 152 different pitchers with at least 100 innings out of the bullpen since 2013 and among them Jepsen ranks 60th in strikeout rate, 111th in walk rate, and 64th in ground-ball rate, which adds up to an 80th-ranked 3.15 ERA and a 73rd-ranked 3.54 xFIP. By comparison Fien has logged more innings than Jepsen with an identical 3.54 xFIP since 2013, albeit with a higher ERA.
Jepsen throws hard, strikes out a decent number of batters, and does a good job limiting homers, but he also struggles to consistently throw strikes and has a lopsided platoon split that makes him a poor matchup against good left-handed hitters in the late innings. He's not especially good, he's not especially bad, and there's certainly a very realistic chance that he provides the Twins with 20 useful innings down the stretch.
In question is whether Jepsen was the correct veteran reliever for the Twins to target as their lone trade deadline addition when plenty of bullpen arms were on the move and, beyond that, whether an average 31-year-old middle reliever with declining secondary numbers was worth parting ways with a decent 21-year-old starting pitching prospect in Hu (along with a 19-year-old rookie-baller in Tapia) rather than simply giving a chance to an in-house option like Michael Tonkin.
Hu ranked 19th on my list of the Twins' top prospects coming into the season and has improved his stock since then, posting a 2.44 ERA and 73/19 K/BB ratio in 85 innings at high Single-A and tossing six innings of one-run ball in a spot start at Triple-A. Signed out of Taiwan for $220,000 in 2012, he lacks dominant raw stuff but is hardly a soft-tosser and has shown good control against older, more experienced hitters.
There's no chance of Hu turning into a top-of-the-rotation starter and non-elite Single-A pitching prospects have a very high attrition rate, but he's a young pitcher who currently ranked among the Twins' top 12-15 prospects and would probably crack the top 10 in a lot of farm systems. You can view Hu as a solid prospect or as a lottery ticket with good but not great payoff potential, but either way swapping him for a mediocre middle reliever is questionable.
Jepsen is under team control via arbitration for next season, which could be spun as a positive compared to the various impending free agents changing teams as two-month rentals. However, given his $3.03 million salary this season Jepsen would likely get $5 million or more through the arbitration process next season and if the ability to retain an average 31-year-old reliever for that salary carries value it isn't much.
---
This week's blog content is sponsored by Uber, which is offering a free ride to first-time users who sign up with the promo code "UberGleeman."