August 25, 2015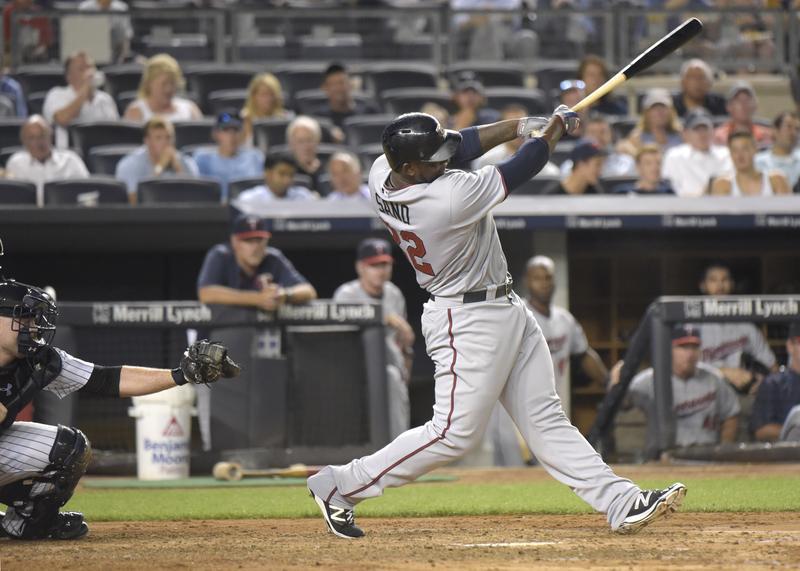 Monday's off day provides an opportunity to stop and marvel at Miguel Sano's start with the Twins. Called up on July 2, he's hit .288/.397/.582 with 11 homers, 12 doubles, and 29 walks in 44 games as a 22-year-old rookie. Sano being a great hitter isn't a surprise--it's exactly what the Twins had in mind when they signed him for $3.15 million at age 16--but for him to be this good this soon after missing all of 2014 following elbow surgery and skipping Triple-A is incredible.
Among all hitters to debut with the Twins through their first 44 career games Sano has the most home runs (11), most walks (29), second-most RBIs (34), and third-highest OPS (.979). Sano's current numbers prorated to a full 162-game season would include a .288 batting average, .397 on-base percentage, .582 slugging percentage, 41 homers, 44 doubles, 107 walks, and 125 RBIs. Those are numbers Twins fans simply haven't seen much.
Harmon Killebrew is the only hitter in Twins history with more than 35 homers in a season and no hitter in Twins history has totaled as many as 85 extra-base hits. Killebrew and Bob Allison are the only Twins hitters to draw 100 or more walks and Killebrew and Justin Morneau are the only Twins hitters with 125 or more RBIs. Prorated numbers after 44 games should be taken with large grains of salt, but you get the idea. Sano is a power-hitting, walk-drawing monster.
Sano has a hard-hit rate of 48.9 percent, which would lead the entire American League if he had enough playing time to qualify. He's swung at 24.5 percent of pitches outside of the strike zone, which would rank as the seventh-lowest rate in the league. His isolated power of .294 and walk rate of 15.8 percent would both rank second in the league. He's waiting for good pitches and then crushing them.
Sano blows away the competition in terms of the best OPS by 22-year-old Twins hitters:
                    YEAR      OPS
MIGUEL SANO         2015     .979
Kent Hrbek          1982     .849
David Ortiz         1998     .817
Joe Mauer           2005     .783
Tom Brunansky       1983     .753
Even setting aside age, here are the best OPS totals by right-handed Twins hitters, period:
                    YEAR      OPS
Harmon Killebrew    1961    1.012
Harmon Killebrew    1969    1.011
MIGUEL SANO         2015     .979
Shane Mack          1994     .966
Harmon Killebrew    1967     .965
Of course, limiting things to Twins history short-changes what Sano is doing. Here are the top OPS totals by all 22-year-old right-handed hitters in MLB history:
                    YEAR      OPS
Joe DiMaggio        1937    1.085
Jimmie Foxx         1930    1.066
Frank Thomas        1990     .983
MIGUEL SANO         2015     .979
Giancarlo Stanton   2012     .969
Albert Pujols       2002     .955
Miguel Cabrera      2005     .947
Mike Trout          2014     .939
Sano has the fourth-best OPS by a 22-year-old right-handed hitter and that entire list is crazy.
Sano will almost surely come back down to earth at some point--pitchers will adjust to him, he'll have to adjust back, and in particular his sky-high strikeout rate will make maintaining a batting average above .280 difficult--but Twins fans should be beyond thrilled with what they've seen of him through 44 games. He's living up to the considerable hype and then some, and it's easy to envision the Twins' lineup revolving around him for the next decade.
---
For a lot more on Sano's greatness, plus plenty of talk about Byron Buxton's return to the Twins, check out this week's "Gleeman and The Geek" episode.