October 28, 2015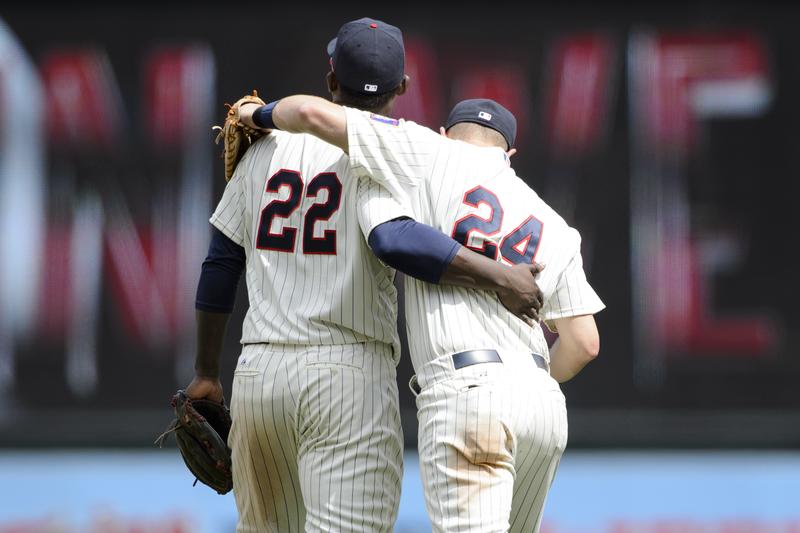 Trevor Plouffe was a high school shortstop from California when the Twins drafted him with the 20th overall pick in 2004. At the time some teams preferred Plouffe's upside as a pitcher, but the Twins viewed him as a shortstop and that's where he played year after year in the minors. In all Plouffe logged 5,400 innings and played 680 games as a minor-league shortstop, including 250 at Triple-A. And then the Twins called him up and it looked like he'd never played the position.
Plouffe played 54 total games at shortstop for the Twins in 2010 and 2011--exactly one third of a full season--and committed 12 errors. Most of them were of the throwing variety, including several routine plays air-mailed into the seats behind first base. In those 54 games Ultimate Zone Rating said he was 10 runs below average and Defensive Runs Saved said he was 15 runs below average. Perhaps at some point he would've improved, but Plouffe simply wasn't a big-league shortstop.
And there's no shame in that. Playing shortstop in the big leagues is incredibly difficult and most shortstop prospects end up shifting to less demanding positions before even reaching the majors. Plouffe's situation stood out only because he'd played so much shortstop in the minors and at the time of his call-up the idea of him playing shortstop for the Twins wasn't viewed as far-fetched. It was, though, and by mid-2011 he was being tried at other positions.
First he got some action at second base, which is where shortstops who lack arm strength often wind up. Brian Dozier is an example of the shortstop-to-second base shift working out well, but Plouffe didn't lack arm strength and was too big/not quick enough to make the transition. Next he got some action in right field and left field, which is where shortstops who out-grow the position often wind up. Plouffe looked fine there, but his bat seemed light for a corner outfielder.
In fact, at the time his bat seemed light in general. In addition to playing shortstop in the minors Plouffe also hit like a shortstop in the minors, which is to say not well. Overall as a minor leaguer he batted .258 with a .405 slugging percentage, failing to crack a .750 OPS in 2004, 2005, 2006, 2007, 2008, 2009, or 2010. Everything changed for Plouffe offensively at Triple-A in 2011, as he broke out with a monster 51-game stretch in which he hit .313/.384/.635 with 15 homers.
Plouffe shedding his "light-hitting shortstop" label offensively right around the time he shed his "shortstop" label defensively was likely tied together as part of his physical maturation and was definitely good timing, as it allowed the Twins to give him a long look at third base in 2012. It wasn't a smooth transition, as he struggled to make routine plays and graded out poorly overall, but Plouffe's arm strength, vast shortstop experience, and hard work eventually paid off.
By mid-2013 he no longer looked like a fish out of water at third base and the sudden power he'd shown at Triple-A in 2012 stuck around for good. After a decade as a light-hitting shortstop with shaky defensive chops Plouffe was a strong-armed, power-hitting third baseman. He produced 21 homers per 150 games from 2012-2015 and his defensive stats improved from bad to mediocre to good, making him a solidly above average all-around third baseman.
And that's where Plouffe sits now, at age 30 and with his Twins future in question. To make the transition from light-hitting, poor-fielding shortstop to power-hitting, good-fielding third baseman is remarkable in itself, as evidenced by Plouffe being one of the Twins' best players for the past four seasons. However, his subsequent inability to take the next step offensively by adding other skills to his 20-homer power has caused Plouffe to stagnate.
YEAR      AVG      OBP      SLG      OPS
2012     .235     .301     .455     .756
2013     .254     .309     .392     .701
2014     .258     .328     .423     .751
2015     .244     .307     .435     .742
He hit .244/.307/.435 this season, which is nearly identical to his combined .249/.314/.422 line from 2012-2014. His walk and strikeout rates have remained remarkably stable and the biggest change in his performance since 2012 was grounding into a league-high 28 double plays this year. Plouffe is established a .250 hitter with 20-homer power, sub par plate discipline, and poor speed, which adds up to a .725-.750 OPS at a position where the MLB average was a .755 OPS in 2015.
Stagnating as an above-average player is far from the worst thing, but there are other factors at play. For one thing, Plouffe's salary is rising. He made $4.8 million this season and is in line for $8 million or so in 2016 via arbitration. Beyond that, the Twins control him for just two more years. After making, say, $8 million in 2016 and $11 million in 2017, he'll be able to hit the open market as a free agent and potentially leave for nothing. And then there's Miguel Sano.
Sano was a shortstop when he signed with the Twins as a 16-year-old in 2009 and played a few hundred rookie-ball innings there around the time Plouffe was showing he couldn't play shortstop in the majors. Sano quickly shifted to third base, where his massive size led to constant doubts about his ability to remain there long term. Missing all of 2014 following elbow surgery cast even more doubt, but the Twins have consistently insisted that Sano can play third base.
Sano made his long-awaited MLB debut in July and was a revelation, hitting .269/.385/.530 with 18 homers, 17 doubles, and 53 walks in 80 games. He transformed the Twins lineup in one of the best rookie seasons in team history, but he also did so as a designated hitter because of Plouffe's presence at third base. Sano played nine games and logged 77 innings at third base and looked decent, but the sample size is far too small to be worth evaluating.
It seems safe to assume Sano will never be a standout defensive third baseman and based on his size and level of athleticism at age 22 it also seems safe to assume he won't be playing third base, period, by the time he's 30. However, what position he's playing at age 30 is a question for 2020 rather than 2016 and if Sano can play a reasonably competent third base in the short term trading Plouffe becomes a viable option for the Twins.
By trading Plouffe the Twins would accomplish several things. Trade interest is always difficult to gauge, but presumably several teams would pursue Plouffe as a multi-year answer at third base and would be willing to surrender something of short- and/or long-term value. Parting with him would also create $8 million in spending money for 2016 and another $10-12 million for 2017, which could certainly come in handy in the Twins' never-ending search for pitching help.
Going from Plouffe to Sano at third base would hurt defensively, but Plouffe isn't exactly Brooks Robinson and it could also lead to an upgrade offensively. Not only is Sano a better hitter than Plouffe, moving him to third base would open up the DH spot for another big bat. Plouffe's usual .725-750 OPS is solid for a third baseman, but for lineup purposes the Twins would essentially be replacing him with a DH and finding a DH capable of topping a .750 OPS shouldn't be difficult.
In fact, the Twins currently have a logjam of young first basemen, designated hitters, and corner outfielders. Sano falls into that category or perhaps more accurately that category has the honor of including Sano, which is why his being able to play third base could create opportunities that wouldn't otherwise exist for log-jammed hitters like Oswaldo Arcia, Kennys Vargas, Josmil Pinto, Max Kepler, and Adam Walker.
To frame a potential Plouffe trade as the Twins getting rid of him would be misleading, because if there are no appealing offers on the table they should absolutely keep him and feel just fine about doing so. But thanks to Plouffe's growing salary and nearing free agency, Sano's (large) presence, and the abundance of young bats in need of opportunities in Minnesota or elsewhere a trade is a very viable option. It's exactly the type of move a smart team should explore.
---
For more on the Twins' possible offseason plans, including a potential reunion with A.J. Pierzynski, check out this week's "Gleeman and The Geek" episode.