March 3, 2016
Also in this series: 1-5, 6-10, 11-15, 16-20, 21-25, 26-30, 31-35, 36-40.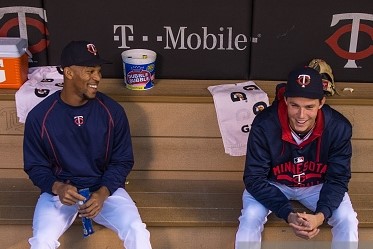 My annual series ranking and profiling the Twins' top prospects concluded this week, so here's the complete list of 40 players along with links to each individual write-up and an overview of the farm system as a whole:
 1. Byron Buxton, CF               21. Aaron Slegers, SP
 2. Jose Berrios, SP               22. Taylor Rogers, SP
 3. Max Kepler, RF                 23. Travis Blankenhorn, 3B
 4. Byung Ho Park, 1B              24. Jake Reed, RP
 5. Nick Gordon, SS                25. Trevor Hildenberger, RP
 6. Jorge Polanco, SS              26. Luke Bard, RP
 7. Tyler Jay, SP                  27. Lewin Diaz, 1B
 8. Stephen Gonsalves, SP          28. Felix Jorge, SP
 9. Nick Burdi, RP                 29. LaMonte Wade, CF
10. Wander Javier, SS              30. Ryan Eades, SP
11. Lewis Thorpe, SP               31. Mitch Garver, C
12. Kohl Stewart, SP               32. Mason Melotakis, RP
13. Adam Walker, LF                33. Stuart Turner, C
14. Alex Meyer, RP                 34. Yorman Landa, RP
15. Brandon Peterson, RP           35. Travis Harrison, RF
16. Jermaine Palacios, SS          36. Lachlan Wells, SP
17. J.T. Chargois, RP              37. Daniel Palka, RF
18. Engelb Vielma, SS              38. Ryan O'Rourke, RP
19. Michael Cederoth, SP           39. Chris Paul, LF
20. Tanner English, CF             40. Pat Dean, SP
Miguel Sano, Eddie Rosario, Trevor May, and Tyler Duffey graduating to the majors takes a huge dent out of the Twins' farm system, but their prospect stockpile remains one of the best in baseball thanks to Byron Buxton retaining his rookie eligibility by exactly one at-bat and Max Kepler breaking through with an MVP season at Double-A. Toss in Jose Berrios cementing his status as one of the game's best pitching prospects and the headlining trio is second-to-none.
In addition to the four key graduations last year Alex Meyer saw his stock plummet, Lewis Thorpe missed the entire season following elbow surgery, and recent top-10 picks Nick Gordon and Kohl Stewart had up-and-down years, but the Twins added significant new talent in top-10 pick Tyler Jay and international signings Byung Ho Park and Wander Javier. Even beyond the three potential stars the Twins' farm system is deep with quality hitting and pitching prospects.
Offensively they're particularly deep in shortstops, although only light-hitting defensive wizard Engelb Vielma is a lock to remain at the position long term, only Jorge Polanco is close to the majors, and Gordon, Javier, and Jermaine Palacios are all very raw. They're also fairly deep in outfielders, but lacking in catchers and power potential past Park and Adam Walker. Of course, the 23-year-old Sano and 24-year-old Rosario are also part of the organization's young power.
On the pitching side Berrios stands out as the rotation's long-term anchor, but beyond that there are no starters close to the majors with top-of-the-rotation upside and the best low-minors arms like Jay, Thorpe, Stewart, and Stephen Gonsalves all have question marks. There's no shortage of hard-throwing relievers in the system and most of them could be a couple good months away from Minnesota, which no doubt motivated the Twins' lack of bullpen acquisitions this offseason.
Each of the Twins' top four prospects (Buxton, Berrios, Kepler, Park) figure to graduate this year, which is atypical and speaks to the next wave of upside set to join Sano and Rosario in Minnesota. However, the rest of the Twins' top 20 skews pretty young and no one else is a lock to stick in the majors for good this season. This time next year the Twins' farm system will likely be rated middle of the pack or worse, but fans will be too distracted by the young talent at Target Field to care.