December 13, 2013
• I'm co-hosting an event during TwinsFest next month with John Bonnes, Parker Hageman, Nick Nelson, Seth Stohs, and the whole Twins Daily crew. Saturday night, January 25, we'll be getting together for beer and baseball at Mason's Restaurant downtown, which is one block from Target Field where TwinsFest is taking place this year for the first time. We're calling it "Winter Meltdown" and we'll be joined by special guests, including Twins president Dave St. Peter.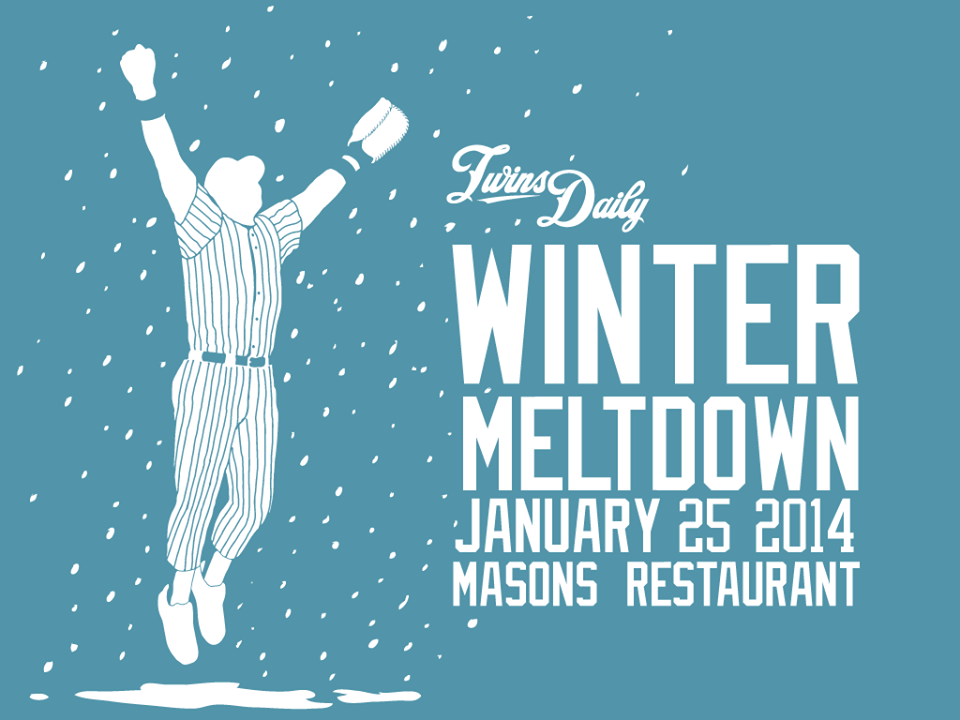 Space is limited and we expect the event to sell out, so reserve your spot as soon as possible.
UPDATE: Wow. We sold out all 125 tickets to the event in three hours this morning.
• Jason Kubel is coming back to the Twins.
• We live in a world where the best-looking baseball manager is a Jew who went to Dartmouth.
• On a related note, Ron Gardenhire took the news of his 28th-place handsomeness finish well.
• Being chosen for the Best of Minneapolis Beards is arguably the greatest honor of my life, even if I had to guilt world-renowned beard curator Megan Weisenberger into including me.
• On a related note, Robinson Cano broke up with the Yankees and the very first thing he did was grow a beard.
• Scott Boras threw some shade at Jay Z and even dragged Rihanna into it.
• Geoff Baker of the Seattle Times wrote an absolutely fascinating investigative piece shining a light on the Mariners' dysfunctional front office, with tons of damning quotes.
• I've never been prouder of something in my entire life. Journalism school was worth the money.
• Ben Revere was the cutest kid of all time.
• On this week's "Gleeman and The Geek" episode our waitress says she loves me and I waste no time reciprocating, showing once and for all that I have zero commitment issues. We also talked about lots of baseball stuff, if you're into that for some weird reason.
• "Gleeman and The Geek" is available on Stitcher now, giving you another way to consume us.
• Amy Poehler is the best, so I really liked Alex Scordelis' feature (and accompanying photo shoot) on her in Paper magazine. My favorite part:
Poehler laughs loudly at the thought of her tipsy Bostonian parents celebrating a Red Sox win. I ask if she thinks she's a generous laugher. "I don't break in scenes, but I do laugh too much," she says. "I was just directing Broad City, and the sound guy asked me, 'Can you laugh less during the takes?' And I was like, 'I can't promise you anything.' I like to laugh a lot. I have a crazy maniacal laugh that I try to maintain through diet and exercise."
And thankfully, the internet being the internet, there's a video compilation of Poehler's laugh:
For me, that's second only to the sound of rain falling in terms of soothing noises.
• NL MVP Andrew McCutchen proposed to his girlfriend on "Ellen."
• Sad news about snuggle-for-pay not making it in Wisconsin, because I was looking into buying a franchise in Minnesota. And it seems like my favorite baseball player of all time would have been interested in opening a Chicago-area franchise.
• OK, who wants to get me this for Christmas?
• Ann Friedman of Esquire wrote an interesting article about how men and women view dating someone taller or shorter than them and why everyone should be more open-minded.
• There was a discussion on Twitter about the blogs people had as teenagers and eventually quit, which I didn't realize was an option. It got me digging through my archives and I stumbled across this post from March of 2003--when I was a 20-year-old college student--and it's amazing how little has changed since then.
• "Why I'll Never Ask A Guy Out" by Malina Bickford made me sad, because think of how many potential love connections never happen due to men being clueless. We need help sometimes.
• 18.6 million people watched "The Sound Of Music Live" on NBC, including one man with Pizza Luce and a crappy attitude.
• One of the original baseball bloggers, Jon Weisman of Dodger Thoughts, has a new job working for the Dodgers.
• The latest from my future wife.
• Ron Coomer is leaving FOX Sports North and K-TWIN to be the Cubs' new radio analyst.
• You know you've established a reputation when six different people send the same link.
• I enjoyed Chelsea Fagan's list of "24 rules for being a gentleman in 2014" even though No. 2 basically ruled me out and I failed about 10 of them.
• My crush on Lizzy Caplan knows no bounds:
She's such a f-ing delight.
• We're recording a new "Gleeman and The Geek" episode Saturday afternoon at HammerHeart Brewing Company in Lino Lakes. We'll get started around 2:00 p.m. and much more importantly we'll be done podcasting and ready to have some beers around 3:30 p.m. Come hang out.
• I've never been to see "Wits" at the Fitzgerald Theater before, but their Valentine's Day show guests are basically hand-picked for me: Marc Maron, Jason Isbell, and Amanda Shires.
• Speaking of which: Step 1 to becoming a guest?
• I'm using this as my excuse for everything now.
• In preparation for this week's chosen song, here's a complete list of things Tom Waits misses about the woman in "Hold On":
- Charcoal eyes
- Monroe hips
- Hair like wind
- Crooked little heart
- Broken-China voice
I've been on a real Waits kick lately, which believe it or not means I've been in a good mood.
• AG.com favorite and Twitter must-follow Alison Agosti has a new gig writing for "Late Night With Seth Meyers."
• I really enjoyed "Drinking Buddies" starring Olivia Wilde, Anna Kendrick, Jake Johnson, and Ron Livingston. B-plus movie with A-plus work from Wilde in the role of Holly Manthei.
• Nothing to do with anything, but I randomly think of this scene every few months.
• Some of this week's weird and random search engine queries that brought people here:
- "Jon Taffer hair transplant"
- "Twins baseball rumors"
- "Husband got fat and lazy drinking beer"
- "Did Meatsauce Paul Lambert go to college?"
- "Marney Gellner favorite country songs"
- "Ron Coomer net worth"
- "Tevin Campbell big boner"
- "Tom Colicchio wearing glasses"
• Finally, this week's AG.com-approved music video is the aforementioned "Hold On" by Waits:
---
This week's blog content is sponsored by 6300 Steakhouse at the Embassy Suites, an American steakhouse with a Cajun flair that features hand-cut steaks, seafood, sandwiches, burgers, and homemade Jambalaya. Please support them for supporting AG.com.