December 5, 2013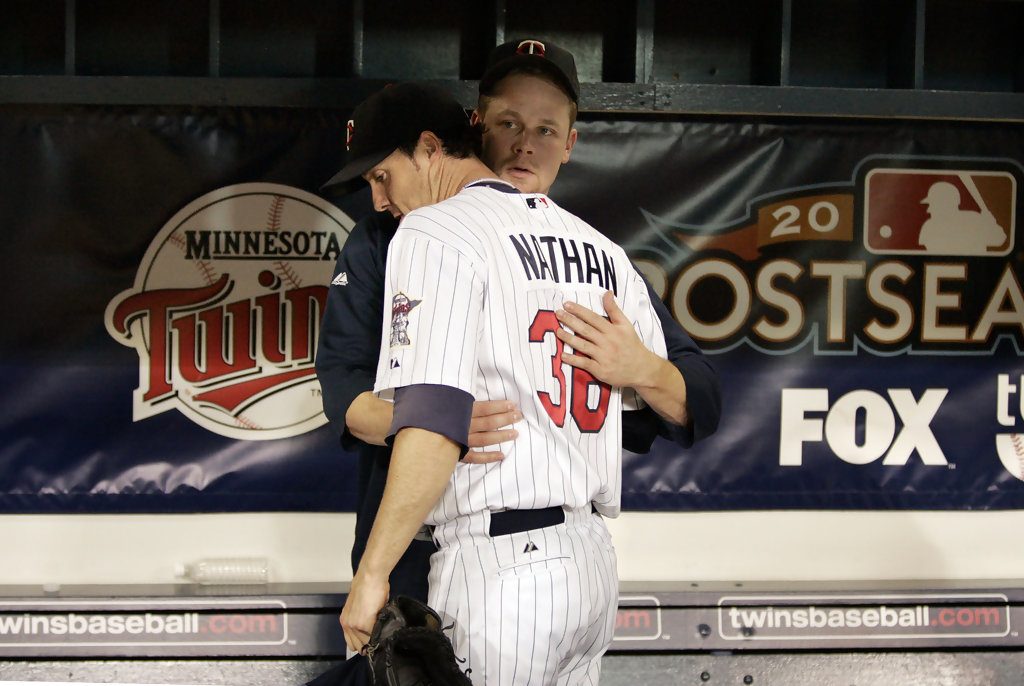 • Justin Morneau is joining Michael Cuddyer and LaTroy Hawkins in Colorado, agreeing to a two-year, $13 million deal with the Rockies. Morneau is smart to try to resurrect his career in the majors' most hitter-friendly ballpark and calling Coors Field home for half his games should lead to decent-looking raw numbers even if he doesn't actually improve any, but that's a whole lot more money than I'd feel comfortable investing in him at this point.
• Joe Nathan is coming back to the AL Central, signing a two-year, $20 million contract with the Tigers that also includes a team option for 2016, when he'll be 41 years old. Nathan was brilliant in two years with the Rangers, saving 80 games with a 2.09 ERA, 10.5 strikeouts per nine innings, and a .198 opponents' batting average, and then shrewdly declined his $9 million player option for 2014 knowing that he could get a multi-year deal for similar annual money on the open market.
• Scott Kazmir signed a two-year, $22 million contract with the A's, which is interesting within the context of Phil Hughes' three-year, $24 million contract with the Twins. Both signings seem reasonable to me, but as noted last month in my breakdown of free agent starters I think Kazmir has more upside than Hughes. Kazmir is perhaps also at considerably higher risk to provide zero value at some point, but there's only so much that can go wrong during a two-year commitment.
• There was quite a bit of buzz linking the Twins to free agents Jarrod Saltalamacchia and A.J. Pierzynski, but now both catchers are off the board. Pierzynski signed a one-year, $8 million deal with the Red Sox and it sounds like he passed up multi-year offers to join the defending champs. Saltalamacchia got a three-year, $21 million deal from the Marlins, which is pretty reasonable and suggests he really wanted to play in Miami and/or the Twins' reported interest was overstated.
• As expected the Twins tendered contracts to all of their arbitration-eligible players: Anthony Swarzak, Trevor Plouffe, and Brian Duensing. All three are due for raises to around $1.5 million, so there were no monetary reasons to let any of them go. Last month the Twins parted ways with another arbitration-eligible player, Josh Roenicke, because they didn't think he was worth that type of money for a low-leverage middle relief role.
• Caleb Thielbar, Andrew Albers, and Chris Colabello worked out well, so the Twins dipped back into independent ball to sign right-hander Jon Velasquez. He spent a couple seasons in the Phillies' farm system before moving on to the Canadian-American Association (where Colabello was MVP) and Atlantic League. Velasquez's track record was nothing special as a starter, but in shifting to the bullpen this year at age 27 he threw 74 innings with a 1.95 ERA and 82 strikeouts.
• They also signed career minor leaguers Brandon Waring, Chris Rahl, and Matt Hoffman to minor-league deals. Waring is a 27-year-old corner infielder with lots of power and strikeouts who hit .214/.317/.449 with 25 homers and 148 strikeouts in 109 games this year. Hoffman is a lefty reliever with just 117 strikeouts in 148 innings at Triple-A. Rahl is a 30-year-old outfielder who's hit .292/.328/.445 at Triple-A. Depth for Rochester, mostly.
• Ron Coomer, who does television work for FOX Sports North during Twins games and co-hosts a daily radio show on K-TWIN, is one of two finalists for the Cubs' radio analyst gig.
• Adam Platt interviewed Twins owner Jim Pohlad for Twin Cities Business magazine.
• This week's "Gleeman and The Geek" episode might be the most baseball-focused show we've ever done, with an hour of non-stop talk about the Hughes and Ricky Nolasco signings.
---
Interested in sponsoring a week of AG.com and advertising your product, service, local business, or website directly to thousands of readers each day? Click here for details.