July 25, 2014
• Last year's "Grand Drunk Railroad" pub crawl was a huge success and incredibly fun, so we've decided to do it again (well, mostly Twins Daily, but I tag along). Tickets to the August 23 event are available for purchase beginning today and we expect it to sell out fairly quickly.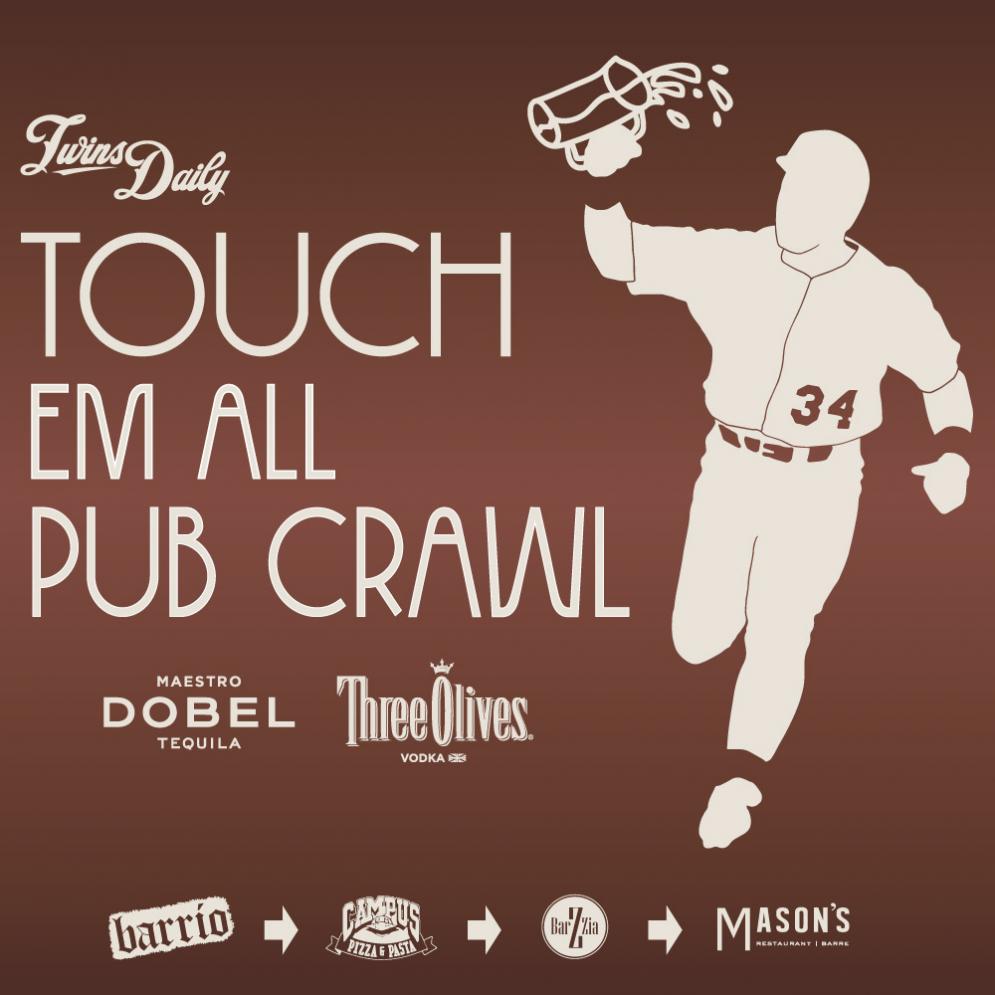 Details can be found here. (Last year we recorded a very slurry podcast episode during the pub crawl and then Glen Perkins bought everyone a round of beer from the bullpen.)
• More on this later, probably, but here's my quick write-up of the Twins cutting bait on Kendrys Morales and actually getting something potentially useful in return.
• Caity Weaver recapping her 14 hours spent at TGI Fridays eating "Endless Appetizers" is one of the funniest things I've ever read.
• One of my favorite writers, Joe Posnanski, followed Glen Perkins around during the closer's incredible All-Star experience and wrote a must-read article about the whole thing.
• Posnanski also wrote a really good, touching piece about old friend Pat Neshek, who made his first All-Star team at age 33.
• My cousin, Josh Gallop, and my uncle, Jon Gallop, were featured in a very nice Minnetonka Sun Sailor article about growing up with baseball that makes me proud of them both.
• Yet again The Onion speaks to me: "Mom Starting To Fear Son's Web Series Closest Thing She Will Have To Grandchild."
• On this week's "Gleeman and The Geek" episode I recapped feeling like death for an entire week and my trip to the emergency room, and then Kate Butler and John Bonnes made fun of me.
• Phillies ace Cliff Lee ended his postgame media session by loudly farting and then asked the assembled reporters "did y'all get that on tape?"
 I love how serious he was right up until the questions officially stopped.
• Reminder: All jeans are skinny jeans if you eat enough.
• Chuck Knoblauch's induction into the Twins' team Hall of Fame has been canceled after he was arrested this week and charged with assaulting his ex-wife.
• This week in 1988: Twins teammates Dan Gladden and Steve Lombardozzi got into a fist fight on Gladden's lawn and manager Tom Kelly was like "whatever."
• Twins television ratings are down 24 percent compared to last season and have declined each year since 2010. I've been watching their games with the TV muted since 2008 or so.
• Tracy McGrady was the starting pitcher for a minor-league All-Star game and then immediately retired from baseball.
• LeBron James' new coach, David Blatt, dropped an "as we say in Hebrew" in an interview.
• As a Jewish kid who loved basketball I was a big fan of UCONN guard Doron Sheffer, so it was fascinating to read about what he's up to now in Sports Illustrated.
• Any man who catcalls women is human garbage and there should be zero leeway given.
• The Tangential named AG.com one of its nine favorite Twin Cities blogs, although I'd argue that the writing here is both "glib" and "grouchy."
• Christina Walkinshaw finished going on 50 first dates via Tinder and recapped the experience.
• Joe Mande wants $1 million to start a podcast and his explanation is hilariously reasonable.
• Denny Green makes fortune cookies now.
• Heyday has been serving great dinners for a few months and now they've started serving brunch on weekends. I went Saturday and you won't find a better combo of food and old-school rap, and the Minneapolis Star Tribune agrees with me.
• Libertine just opened in the old Uptown Cafeteria space and lived up to the hype surrounding James Beard award-winning chef Tim McKee. I'm not even a huge steak eater, but I loved it.
• Best hamburger I've ever eaten: "Jiffy Burger" at Blue Door Pub in Minneapolis. Good tots, too.
• Some of this week's weird and random search engine queries that brought people here:
- "Why don't the Twins fire Rick Anderson?"
- "Bike for 400-pound man"
- "Scott Erickson socks"
- "Metrodome hot dogs at Cub Foods"
- "Is 100 pounds of chicken enough for 150 people?"
- "Why so many head-first slides in MLB?"
- "Photo of naked Chris Parmelee"
• Finally, this week's AG.com-approved music video is "Stay With Me" by Sam Smith:
---
This week's blog content is sponsored by Uber, which is offering a free ride to first-time users who sign up with the promo code "UberGleeman."