October 16, 2013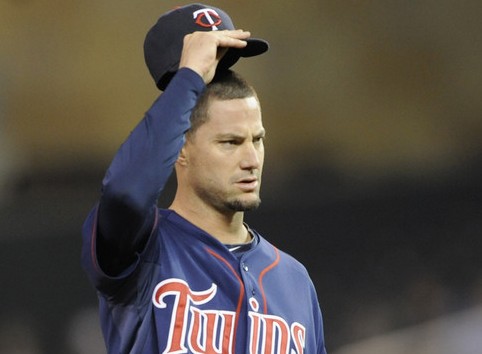 • Three weeks ago I listed 16 players in danger of being removed from the 40-man roster and so far the Twins have dropped five of them: Josh Roenicke, Clete Thomas, Doug Bernier, Cole De Vries, Shairon Martis. I'd expect at least another 3-4 cuts by the end of the World Series, but in the meantime the Twins already re-signed Bernier to a minor-league contract that keeps the 33-year-old journeyman in the organization without a 40-man roster spot.
Roenicke being cut might have surprised some people simply because he spent the entire season in the Twins' bullpen and logged the same number of innings as Glen Perkins, but he posted a 4.35 ERA compared to the league average of 3.69 for relievers and his secondary numbers were actually even worse with a 45-to-36 strikeout-to-walk ratio. His stats for the Rockies last season were similarly underwhelming and at age 31 he was due for a raise via arbitration.
Thomas started 79 games for the Twins, including 48 in center field, but hit .214/.290/.307 with 92 strikeouts in 322 plate appearances to finish with the same exact .597 OPS as Aaron Hicks. He was a bit better defensively than I expected, but Thomas is hardly a great center fielder and doesn't hit enough to be more than a backup. That player type is always available on waivers or minor-league deals, and Alex Presley's arrival made Thomas especially superfluous.
Bernier, De Vries, and Martis are exactly who baseball analysts are talking about when they refer to "replacement-level players" being readily available. It's important to have them stockpiled at Triple-A heading into every season, but it's also important to bring in a fresh batch every winter without clogging up the 40-man roster and as the Twins have shown recently things get ugly in a hurry when more than a few of them are pressed into extended action.
• Making official what was reported at the time of the trade, the Twins acquired Duke Welker from the Pirates as the player to be named later in the Justin Morneau deal. I wrote quite a bit about Welker as part of my overall analysis of the trade on August 31, but the quick version is that he's a big right-handed reliever with a mid-90s fastball, good strikeout totals, and terrible control. Not a bad flier to get along with Presley, but Welker is already 27 years old.
Including the postseason Morneau ended up hitting .267 with zero homers and a .317 slugging percentage in 31 games for the Pirates. Overall this season between Minnesota and Pittsburgh he hit .260/.325/.413 in 158 games and combined for the past three seasons he hit .256/.329/.406 in 361 games. There are still local media members stumping for Morneau's return to the Twins as a 33-year-old free agent, but it's awfully hard to understand why.
• David Ortiz's dramatic grand slam for the Red Sox led to all the usual grousing about why the Twins let him go back in 2003 and it's important to note that it wasn't for a lack of hitting. Ortiz has the fifth-highest OPS in Twins history among all hitters with at least 1,500 plate appearances through age 26, which is when he left. The only Twins with a higher OPS through 26?  Joe Mauer, Kent Hrbek, Morneau, and Lyman Bostock. Ortiz could always hit. And look at that punim.
Speaking of Ortiz's time in Minnesota, here's an interesting Associated Press story from 2001:
Minnesota Twins designated hitter David Ortiz was placed on the disabled list Saturday, a day after breaking his right wrist diving into home plate.

Ortiz was injured Friday night in the fourth inning of Minnesota's 6-2 victory over Kansas City. One inning later, he homered into the right-field bullpen, but rounding the bases he knew the pain was more than discomfort. He then went to a hospital for X-rays. Ortiz is expected to miss six to eight weeks. ...

Twins' trainers at first thought Ortiz hurt a thumb. "We asked David maybe 90 times or 100, I'm not sure, I lost track: Are you all right?" manager Tom Kelly said. "He said he was, so we let him hit. After he hit, the trainers said his wrist was starting to swell, so we got him out of there."

Kelly seemed to take the injury in stride. "We don't cry about injuries," he said. "We never have and we're not going to start now. I had a man go blind one day, a Hall of Fame player. We just move along. Injuries are part of the game."
Ortiz might be out of place in the Twins' lineup these days, but the injury stuff sounds familiar.
• Twins attendance fell by 3,688 fans per game this season, which was the fifth-largest drop in baseball. In their first two seasons at Target Field the Twins averaged 39,000 fans per game, but that dropped to 34,000 last year and 31,000 this year. And those are tickets sold figures rather than actual fans in the seats. In their final season at the Metrodome the Twins averaged 29,446 fans per game, which seems fairly likely to top next year's totals at Target Field.
• Over the years I've criticized Ron Gardenhire and the Twins for their unwillingness to platoon hitters, which is something Gardenhire and general manager Terry Ryan talked openly about last month in a series of somewhat maddening quotes. Jack Moore of Sports On Earth wrote a very interesting article about how the A's among the teams to take the opposite approach to platooning with lots of success.
• In addition to Bernier the Twins also re-signed Triple-A players James Beresford, Jermaine Mitchell, Lester Oliveros, and Virgil Vasquez to minor-league contracts. Beresford could get a look as a potential utility infielder next season and Oliveros was in the majors before missing this season following Tommy John elbow surgery.
• Steve Adams of MLB Trade Rumors took a lengthy look at some of the key roster issues facing the Twins heading into the offseason.
• MLB Productions released some old video this week that involved a bit of Twins history.
• For more on Morneau's post-trade performance, plus Twins payroll projections and reviewing over/under picks, check out this week's "Gleeman and The Geek" episode.
---
Interested in sponsoring a week of AG.com and advertising your product, service, local business, or website directly to thousands of readers each day? Click here for details.