December 20, 2011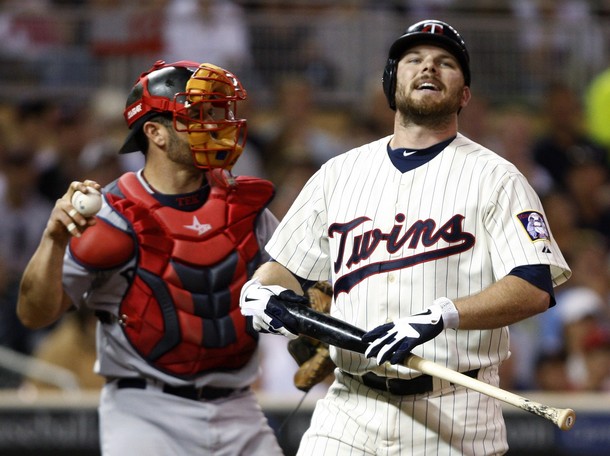 Jason Kubel's expected departure became official yesterday, as he agreed to a two-year, $15 million deal with the Diamondbacks. Kubel has been a solid player and should thrive moving to the NL and Arizona's hitter-friendly ballpark, but he's also a 30-year-old should-be designated hitter with a modest .259/.327/.430 line during the past two seasons and the Diamondbacks already had a younger, cheaper, and arguably better all-around left fielder in Gerardo Parra.
Kubel had a standout 2009 season, hitting .300/.369/.539 with 28 homers at age 27, but was otherwise a pretty ordinary corner outfielder/designated hitter. He hit .271/.335/.459 overall in 753 games for the Twins, who refused to platoon Kubel and gave him more than 25 percent of his career plate appearances versus left-handed pitching despite a measly .239/.313/.365 line against southpaws.
Kubel's production (.271/.335/.459) is nearly identical to Jacque Jones, who hit .279/.327/.455 in 976 games for the Twins and also should have been platooned, with the difference being that Jones was an outstanding defensive corner outfielder who would've played center field if not for Torii Hunter's presence. Kubel was far from a butcher in the outfield and had a strong arm, but lacked the range to be anything but below average.
Of course, that wasn't always the case. Kubel was a very promising prospect, hitting .352 with 22 homers, 42 doubles, and nearly as many walks (53) as strikeouts (59) in 127 games split between Double-A and Triple-A as a 22-year-old in 2004. He even stole 16 bases, played some center field, and ranked 17th on Baseball America's annual list of MLB's top prospects. And then a brutal outfield collision while playing in the Arizona Fall League wrecked his left knee.
Kubel tore three ligaments, missed the entire 2005 season, and came back as a shell of his old self in 2006, hitting .241/.279/.386 in 73 games for the Twins while displaying below average speed. To his credit Kubel transitioned successfully from toolsy prospect with a blown out knee to lumbering designated hitter, batting .273/.339/.466 from 2007-2011, but much of his upside vanished that day in Arizona and sadly the Twins never got to see his full capabilities.
We'll never know what he would've done with a healthy knee and uninterrupted development, but the player Kubel became following the injury was much closer to average than a star. He certainly had plenty of value, but poor defensive corner outfielders who hit .275 with 20 home runs and an .775 OPS shouldn't be terribly difficult or expensive to find for teams willing to use a platoon or at least go year-to-year with the role.
And the Twins have basically done just that by replacing Kubel with Ryan Doumit, who'll make $3 million in 2012 and has a Kubel-like .271/.334/.442 career line with similar struggles versus lefties. Kubel perhaps has more upside than Doumit, but he also has less defensive versatility and would've required a multi-year commitment for more than twice as much money per year. Plus, by swapping Kubel for Doumit the Twins gain a supplemental first-round draft pick.
Much like with Michael Cuddyer it would've been nice to see Kubel start and finish his career in Minnesota, but also like Cuddyer the Twins were able to replace him with a similar, arguably superior player for a fraction of the price while adding value in a draft pick. Smart decisions are often tough decisions and while a segment of the fan base is no doubt upset about Cuddyer and Kubel leaving the Twins made the right move in both cases.