June 9, 2015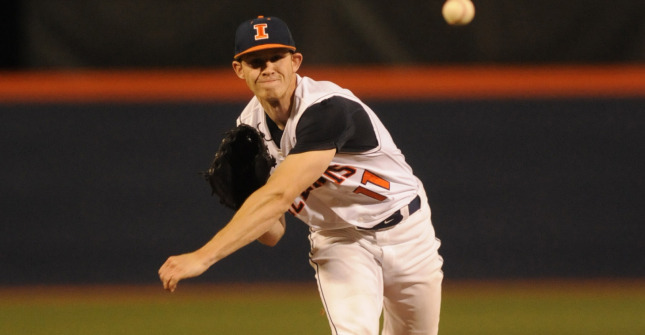 In selecting University of Illinois reliever Tyler Jay with the No. 6 pick the Twins made it clear they think he can develop into a starter and according to Baseball America that's an opinion shared by some, but not all, teams. Jay saved 14 games with a 0.60 ERA and 70/7 K/BB ratio in 60 innings for Illinois during the regular season and actually started a College World Series game against Vanderbilt hours before the draft, allowing a homer to No. 1 overall pick Dansby Swanson.
Jay is a left-hander with good control who throws in the mid-90s as a reliever, but the question is whether his secondary pitches and durability will hold up as a starter and how much of his electric raw stuff will be lost when trying to throw six or seven innings instead of one or two innings. Very few teams invest top-10 picks in college relievers and when they have done so the results are a mixed bag at best, suggesting the "sure thing" aspect is somewhat misleading.
Here's a list of every college reliever drafted with a top-10 pick in the past 20 years:
RELIEVER         PICK     YEAR
TYLER JAY          #6     2015
Drew Storen       #10     2009
Daniel Moskos      #4     2007
Casey Weathers     #8     2007
Matt Anderson      #1     1997
Braden Looper      #3     1997
Prior to Jay there had been just five college relievers drafted with top-10 picks since 1995 and of those five only Drew Storen, the 10th pick in 2009, panned out as hoped. Braden Looper, the third pick in 1997, had a solid career as a setup man and sometimes closer, but finished with a 4.15 ERA. And the other three were busts. That has little to do with Jay, specifically, but it does show that using a top-10 pick on a college reliever has been anything but a sure thing.
In recent years the Twins have used several high-round picks on college relievers with plans to turn them into pro starters and it hasn't worked out well at all, with a combination of injuries and poor performances derailing most of them long before the majors were in sight. Mediocre, injured, and/or failed starters become great relievers far more often than great relievers become even mediocre starters, which is why teams almost always go for more upside with top-10 picks.
Baseball America ranked Jay as the 13th-best prospect in the draft, noting that he "was trending toward the top half of the first round and could be the first player from the draft class to reach the majors if he stays in a relief role." However, their pre-draft scouting report also noted that "scouts were mixed on whether or not Jay could start" and despite a mid-90s fastball and "wipeout" slider. Terry Ryan indicated that Jay will continue to be used as a reliever for the rest of 2015.
MLB.com ranked Jay as the ninth-best prospect in the draft, noting that he's "not very physical at 6-foot-1 and 175 pounds" but "generates that heat with athleticism and a quick arm rather than an excessive amount of effort in his delivery." Their pre-draft scouting report also noted that Jay "has a deeper repertoire than most relievers" and "has enough pitches and control to lead a pro team to consider trying him as a starter."
Jay is the Twins' fourth consecutive top-10 pick, following high school outfielder Byron Buxton at No. 2 in 2012, high school pitcher Kohl Stewart at No. 4 in 2013, and high school shortstop Nick Gordon at No. 5 in 2014. And he'll be the Twins' only draft pick in the top 70 this year, because they forfeited their second-round pick for the right to sign the since-suspended Ervin Santana to a four-year, $55 million contract this offseason.
---
For more draft talk, plus a discussion of the Twins demoting Danny Santana and promoting Kennys Vargas, check out this week's "Gleeman and The Geek" episode.