October 17, 2011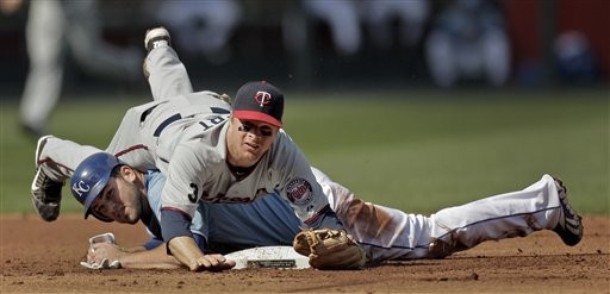 • Most teams prepare for the offseason by trimming at least a handful of lesser players from the margins of their 40-man roster and the Twins' initial purge included Anthony Slama, Matt Tolbert, Jason Repko, and Rene Rivera. All four players were outrighted off the 40-man roster and went unclaimed on waivers before being assigned to Triple-A. In order to call any of them up to the majors next season the Twins would first have to re-add them to the 40-man roster.
Slama is the one questionable cut, as his minor-league track record has long screamed out for an opportunity that the Twins simply never seemed interested in giving him. He likely would've finally gotten an extended shot in the majors during the second half because of all the Twins' injuries, but Slama missed the final two months of the season with an elbow injury of his own. If healthy he's capable of being a solid middle reliever, but at age 28 time is just about up.
Tolbert is the epitome of a replacement-level infielder and the Twins realizing that's not worth 40-man roster space is encouraging considering they gave him at least 100 plate appearances in each of the past four seasons. I've called Tolbert a poor man's Nick Punto, but that actually might short-change Punto. Tolbert is 29 years old, doesn't offer anything special defensively, and has hit just .230/.288/.319 in 680 plate appearances as a big leaguer.
Rivera entered this season as a 27-year-old with 159 plate appearances in the majors, but the Twins gave him 35 starts and 114 plate appearances because Joe Mauer wasn't healthy and they had embarrassingly little catching depth behind him. Just as Tolbert is the definition of a replacement-level infielder, Rivera is a prime example of a replacement-level catcher. He's solid defensively, but Rivera has hit .193 in the majors and .254/.297/.421 in 186 games at Triple-A.
Repko's best fit is as a fifth outfielder who starts against left-handed pitching, but that role is pretty limited to begin with and Ron Gardenhire never utilizes a platoon anyway. When put in a more traditional fourth outfielder role Repko doesn't hit enough to be a reasonable fill-in and mostly just wastes a bench spot, which the Twins can't afford when combined with the 12-man pitching staff Gardenhire prefers. He'll likely be in another organization next season.
• Old friends Pat Neshek and Jose Morales were also dropped from 40-man rosters in similar house cleanings by the Padres and Rockies. Neshek split this year between Triple-A and San Diego, but struggled in both places as his fastball topped out in the high-80s following elbow surgery in November of 2008. Morales missed most of the season with a broken thumb, hitting .267/.352/.317 in 22 games as the Rockies' backup catcher. They'll both likely be free agents.
• Rochester is plenty frustrated with the Triple-A team after back-to-back 90-loss seasons, so the Twins re-signed minor-league free agents Aaron Bates, Ray Chang, and Mike Hollimon to begin stockpiling some depth. All three guys are closing in on 30 years old with basically zero chance of being called up to Minnesota, but Bates is a first baseman who hit .316/.408/.439 in 106 games for Rochester this season and Chang and Hollimon are useful infielders at Triple-A.
• Brian Dozier was named the Twins' minor league player of the year, which is both a tribute to how well he played this season and an indictment of how poorly the rest of the farm system fared. Dozier was an afterthought coming into this season, as the Twins assigned him to high Single-A as a 24-year-old and only promoted him to Double-A after the 2009 eighth-round pick hit .322/.423/.472 in 49 games at Fort Myers.
Dozier was just as productive at Double-A, hitting .318/.384/.502 in 73 games, but he currently projects as more of a utility man than a strong everyday player and won't be anywhere close to cracking any top prospect lists for 2012. Depending on how the Twins address their woeful middle infield depth this winter Dozier may get a chance to force his way onto the Opening Day roster, but more likely he'll begin next season in Rochester at age 25.
• Liam Hendriks got the nod as the Twins' minor league pitcher of the year after throwing 139 innings with a 3.36 ERA and 111-to-21 strikeout-to-walk ratio between Double-A and Triple-A. Hendriks is two years younger than Dozier and a step or two above him as a prospect, looking like a future middle-of-the-rotation starter. He ranked No. 8 on my list of the Twins' prospects coming into this season and got his feet wet in the majors with four September starts.
Here are the Twins' recent minor-league award winners:
YEAR     PLAYER              PITCHER
2011     Brian Dozier        Liam Hendriks
2010     Joe Benson          Kyle Gibson
2009     Ben Revere          David Bromberg
2008     Ben Revere          Anthony Slama
2007     Brian Buscher       Kevin Slowey
2006     Alexi Casilla       Matt Garza
2005     David Winfree       Francisco Liriano
2004     Jason Kubel         Scott Baker
2003     Joe Mauer           Jesse Crain
2002     Lew Ford            J.D. Durbin
Certainly a mixed bag, to say the least.
• How far has Aaron Hicks' prospect stock fallen? According to Baseball America at least, a ton. On their annual preseason prospect list they ranked him No. 19 for 2010 and No. 45 for 2011, but on their recently released postseason list of top prospects by league Hicks ranked No. 18 ... in the Florida State League. Seems like a safe bet that he won't crack Baseball America's top 100 for 2012. In fact, Miguel Sano may be the only Twins prospect who does.
• Speaking of Hicks, this out of context quote amused me: "I was pretty much going down the same road as Tiger Woods."
• John Ourand of Sports Business Journal crunched the numbers on local television audiences across baseball and the Twins' viewership declined 28 percent compared to last year, dropping from 152,000 to 109,000 viewers per game. That decline of 43,000 viewers per game was the largest drop of any MLB team, although based on percentage of viewers lost the Twins' drop was only the fifth-highest. Whatever the case, FSN had an ugly season along with the Twins.
• How long has it been since the Twins won a playoff game? Their last postseason win came on October 5, 2004 against the Yankees, as Johan Santana tossed seven shutout innings and Jacque Jones homered off Mike Mussina in a 2-0 victory. New York's lineup that day included Gary Sheffield, Bernie Williams, John Olerud, and Ruben Sierra, all of whom are retired. And here was the Twins' lineup:
1. Shannon Stewart, LF
2. Jacque Jones, RF
3. Torii Hunter, CF
4. Justin Morneau, 1B
5. Corey Koskie, 3B
6. Lew Ford, DH
7. Cristian Guzman, SS
8. Michael Cuddyer, 2B
9. Henry Blanco, C
Wow. Lew Ford at designated hitter, Corey Koskie at third base, Henry Blanco at catcher, and Justin Morneau in the cleanup spot as a 24-year-old rookie, not to mention a double-play duo of Cristian Guzman at shortstop and Michael Cuddyer at second base ... with Cuddyer batting after Guzman. I was still in college at the time, Sano was 11 years old, and on that same day Dick Cheney and John Edwards had their vice presidential debate.
• I wrote an article for MinnPost attempting to make sense of Delmon Young's playoff power.