September 5, 2014
• As part of a "brand survey" sent out by the Twins' marketing department fans were asked the following question via e-mail: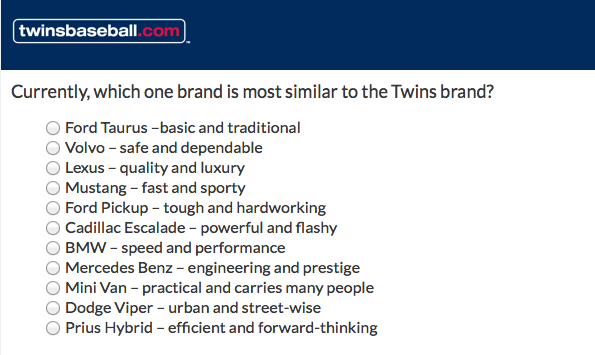 Those options are wildly optimistic for a team headed for a fourth consecutive 90-loss season and to ask fans if their brand is more "quality and luxury" or "efficient and forward-thinking" struck me as silly and tone deaf. I tweeted about the survey a few times and then wrote a brief post about it on HardballTalk. And then Keith Olbermann picked up the story for his ESPN show, giving the Twins' marketing department an award and giving me a shoutout:
In the wake of the Olbermann attention and criticism Twins president Dave St. Peter responded to the situation by saying, among other things: "We're not tone deaf. We get it."
(I was previously mentioned on Olbermann's show in May regarding MLB shutting down "Gleeman and The Geek" and other baseball podcasts.)
• My first question after reading this story: How did his owners not miss 43.5 socks?
• Joan Rivers died at age 81. She was a powerhouse and a pioneer who had an amazing career with a huge influence on multiple generations of comedians. Watch her documentary "A Piece Of Work" on Netflix.
• This is why I've never worked in an office or had a sip of coffee in my life.
• Two years ago a minor leaguer anonymously called Chelsea Peretti's podcast and told his sad story of being a bust and blowing through his signing bonus. Tuesday he pitched in the majors.
• Switched at birth: Ricky Rubio and Ringo Starr.
• Wanna join my "Hardball Dynasty" league? New season is starting and we need a few owners.
• This week's "Gleeman and The Geek" episode was recorded live in front of an audience at the State Fair. It was also our final KFAN/radio show of the season, so starting next week we'll be back to podcast-only episodes recorded at bars and restaurants around the Twin Cities.
• What happens when you give a little baby with hearing problems his first hearing aid?
What a smile.
• September roster expansion means a bunch of Twins call-ups and I profiled all of them.
• Mariners minor leaguer Jesus Montero took a bat into the stands after a Mariners scout heckled him with an ice cream sandwich.
• I'm feeling much less embarrassed about recently warming up to cats now that I know Howard Stern is in the same boat.
• The best baseball player of all time joined Twitter this week and his first non-introductory tweet gave condolences over Joan Rivers' death.
• Mike Trout and Clayton Kershaw got me thinking about the best MVP "pairings" of all time, so I tried to answer that question.
• Bar Abilene in Uptown closed. It had $5 bottomless mimosas and was feet from my front door, but I actively avoided going there.
• It sounds like Uptown is getting an upscale hotel soon, possibly right next to Calhoun Square.
• Some of this week's weird and random search engine queries that brought people here:
- "How to lose 100 pounds when you are lazy"
- "Nick Punto mom"
- "Alone at the bar"
- "Chris Pratt pitches baseball"
- "Waitress jokes"
- "Analysis of Minnesota Twins baseball team"
- "Had Joe Mauer ever met Kirby Puckett?"
- "Where is the best macaroni and cheese?"
• Finally, in honor of the Twins' brand survey this week's AG.com-approved music video is "Fast Car" by Tracy Chapman:
---
This week's blog content is sponsored by Uber, which is offering a free ride to first-time users who sign up with the promo code "UberGleeman."