May 12, 2015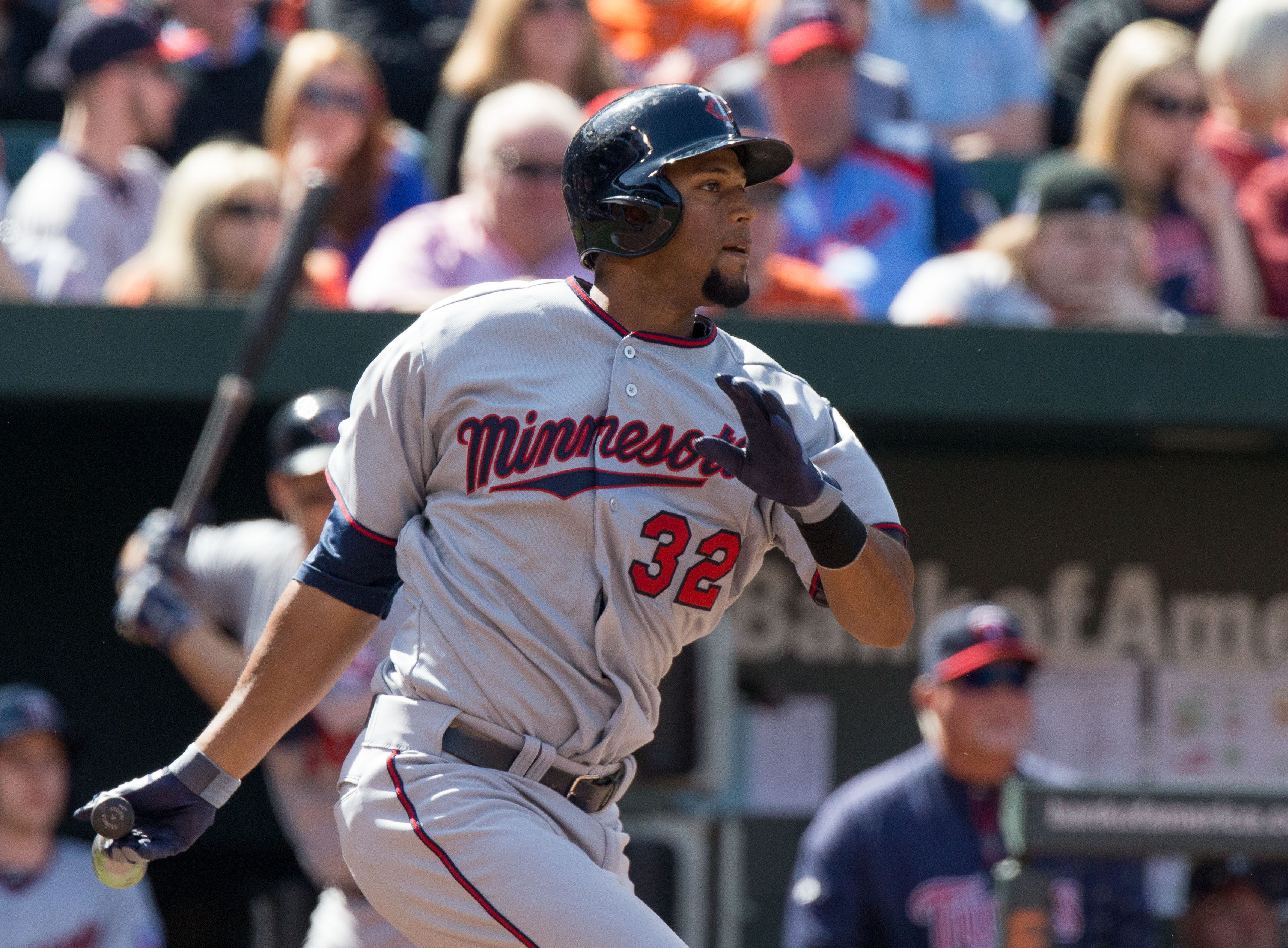 Last week, when the Twins needed a fill-in for the injured Oswaldo Arcia, they bypassed Aaron Hicks in favor of Eddie Rosario despite the latter's struggles dating back to last year and vastly inferior Triple-A production in the same Rochester outfield. Now with Shane Robinson having a family emergency the Twins have called up Hicks, who hit .336 with a .415 on-base percentage and .561 slugging percentage in 27 games at Triple-A to lead the International League in OPS.
In both 2013 and 2014 the Twins handed Hicks the Opening Day center field job and he flopped. This time around the deck was stacked against him getting a third crack at the gig. During spring training the prospect getting all the hype was Rosario, not Hicks, and the Twins eventually settled on splitting center field duties between the journeyman duo of Jordan Schafer, a 28-year-old waiver wire claim, and Robinson, a 30-year-old minor-league signing.
It hasn't worked out well, predictably. Robinson has done a quality job in a limited role, playing good defense and hitting some singles while facing mostly left-handed pitching. Schafer has come back down to earth after a good 46-game showing with the Twins last season that stood out from the rest of his sub par track record. Combined the Twins' center fielders have hit .257 with a .284 on-base percentage and .289 slugging percentage in 32 games.
As bad as Hicks has been in the majors his career on-base percentage and slugging percentage for the Twins are both higher than the Schafer/Robinson duo has produced in center field this season. He also has significantly more upside than Schafer or Robinson, although certainly far less so than the Twins hoped when they had him jump from Double-A to the majors as a 23-year-old in 2013. However, at age 25 and after crushing Triple-A pitching he deserves another opportunity.
Hicks is only one year older than the Twins' "young" trio of Arcia, Danny Santana, and Kennys Vargas. He's already shown the ability to be an asset against left-handed pitchers, posting a solid .750 OPS off them for the Twins in 2013/2014. Within his overall struggles last season Hicks drew lots of walks on the way to a .341 on-base percentage in 69 games. And in addition to thriving at Triple-A this season he hit .291/.387/.441 in 67 games at Double-A and Triple-A last season.
It's not a mystery why the Twins were hesitant to give Hicks another chance. He hasn't hit right-handed pitchers, his defense in center field has been very shaky, and the team publicly called into question his work ethic and instincts. Those are facts and I'm not writing this from the perspective of a huge Hicks believer. Even when he was a top prospect I was never particularly high on him, although obviously I expected him to perform a lot better than he has so far.
However, when a 25-year-old former top prospect two seasons removed from being rushed into an Opening Day job shows signs of progress giving him another--and perhaps a final--shot makes sense. At his worst, which is what we've seen so far, Hicks is still as good as the Schafer/Robinson duo. At his best, which is mostly hypothetical, Hicks still has the potential to be a useful regular. Of course, it may be a moot point if Hicks' stay only lasts until Robinson returns in a few days.
---
For a lot more about the Twins' roster decisions and surprising, emphatic climb above .500 check out this week's "Gleeman and The Geek" episode.