August 13, 2014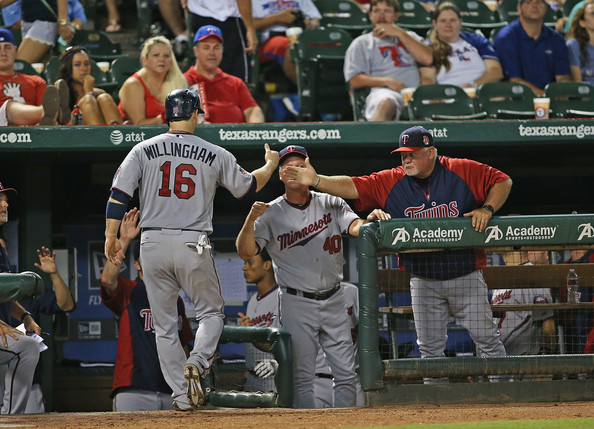 Any realistic potential for the Twins to make a major move at the trade deadline likely revolved around dealing away All-Star catcher Kurt Suzuki, but instead they signed the impending free agent to a two-year, $12 million contract extension and chose only to make a handful of minor deals to remove veterans from the margins of the roster. And it's possible they may still make another minor deal or two before the end of the August waiver trading period.
Prior to deadline day they sent massively disappointing 31-year-old midseason signing Kendrys Morales to the Mariners for 25-year-old rehabbing reliever Stephen Pryor. On deadline day they shipped 32-year-old outfielder Sam Fuld back to the A's team from which they recently claimed him off waivers for nothing in exchange for 27-year-old starter Tommy Milone. And after the deadline they parted ways with 35-year-old Josh Willingham and 33-year-old Kevin Correia.
Correia was traded to the Dodgers for a player to be named later or cash considerations, and how many innings he logs for them as a spot starter/long reliever will probably determine whether the Twins receive a non-prospect minor leaguer or the equivalent of a bucket of baseballs. Correia had $1.5 million remaining on a two-year, $10 million deal, so the Twins save some money and more importantly clear a rotation spot for a starter who might actually have a future in Minnesota.
Similarly, by trading Willingham to the Royals for right-hander Jason Adam the Twins shed the $1.8 million remaining on his three-year, $21 million deal and open up at-bats for younger corner outfielders. As an added bonus Adam isn't totally devoid of potential. Drafted in the fifth round out of high school in 2010, he struggled as a starter at Double-A last season and this season before being shifted to the bullpen at Triple-A recently.
Apparently the Twins plan to send Adam back to Double-A and make him a starter again despite his 5.18 ERA and poor secondary numbers in 45 career starts there. At age 22 he's certainly still young enough to develop further and perhaps they simply want to get a first-hand look at what he's capable of as a starter, but based on Baseball America's scouting report of decent velocity and iffy off-speed stuff if Adam makes it to the big leagues it'll likely be as a reliever.
Ultimately, though, Adams and whatever the Twins get in return for Correia are merely icing on the cake of removing two mediocre veterans from a non-contending roster that didn't need them. At this point Willingham's spot in left field and Correia's spot in the rotation carried more value to the team than they did, although to actually benefit from that value the Twins need to fill those spots with players who possess upside and help those players develop with the playing time.
Correia had a 4.50 ERA in 54 starts for the Twins compared to a 4.10 ERA for the average AL starter. Among the 138 starters with at least 150 innings since 2013 he ranked 131st in xFIP and dead last in strikeout rate with 4.7 per nine innings when no one else was below 5.0. His only real value came from being not-disastrous and not-injured, and if the Twins ever truly needed to pay $5 million per season for that at any point it certainly ceased being the case now.
Willingham looked like a spectacular investment one season into his three-year contract, having a career-year at age 33 by hitting .260/.366/.524 with 35 homers. Rather than trading him then the Twins hung onto Willingham and he's been injured and ineffective since, hitting .209 with a .380 slugging percentage dating back to last season while sitting out 35 percent of the team's games. Toss in terrible defense and he was among MLB's least valuable players.
Correia was an example of a signing that carried only downside, because he pitched as well as the Twins could realistically have hoped for based on his track record and was still barely better than a replacement-level starter while earning 10 times the minimum salary. Willingham was an example of why signing mid-30s players to multi-year deals carries so much risk, as well as an example of why selling high is sometimes the right decision even if it's also a tough decision.
Of the four 30-somethings traded away only Fuld had a chance to be part of a future team and that wouldn't have been as more than a backup outfielder for a season or two, so to shed about $8 million in salaries, clear playing time for younger players, and receive the potentially useful trio of Milone, Pryor, and Adam in return is a job well done for the front office even if the moves came about in part because the Willingham, Correia, and Morales signings were all less than successful.
---
For a lot more about the Twins' deadline and post-deadline deals, plus Trevor May's ugly debut, check out this week's "Gleeman and The Geek" episode.