April 25, 2012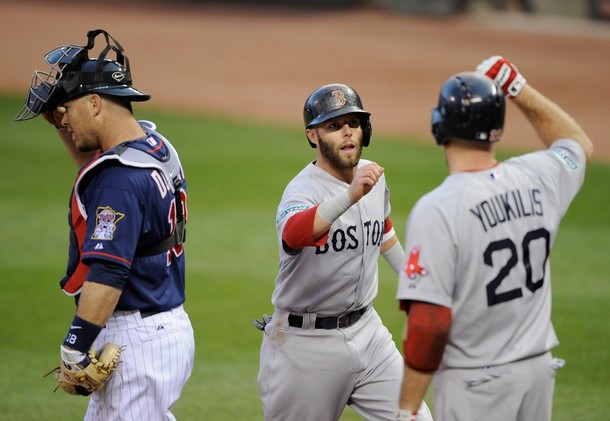 • Last year after 18 games the Twins were 6-12 and had been outscored 88-54. This year they're 5-13 and have been outscored 102-65 for MLB's worst run differential. And dating back to the final 10 games of the 2010 regular season the Twins are now 70-123 (.363).
• Designated for assignment by the Twins last week, Luke Hughes was claimed off waivers by the A's and is getting an opportunity for regular playing time at third base. Hughes manned third base in just 14 of his 74 total starts for the Twins, but actually played there more than any other position in the minors. That didn't stop him from committing three errors in his first 10 innings at third base for the A's and his bat remains iffy for the position.
• On this week's Gleeman and The Geek episode we wondered what the Twins would do with Francisco Liriano following his latest ugly outing and their answer, for now at least, is to use an off day on the schedule to skip his turn in the rotation. Liriano will basically take a week off from game action, with bullpen sessions scheduled for Thursday and Saturday, and then will start May 1 versus the Angels. And if that goes poorly, things could get interesting in a hurry.
• Since the beginning of last year the Twins are 12-16 (.429) when Liriano starts and 56-96 (.368) when anyone else starts. He's clearly a problem, but he's not exactly the problem. In fact, Twins starters not named Liriano have a 5.83 ERA and just 4.9 strikeouts per nine innings while allowing 17 homers and a .307 opponents' batting average in 78.2 innings. Is it against the rules for a team to skip every member of the rotation for the entire season?
• Josh Willingham is taking a paternity leave for a few days and to fill his roster spot the Twins have recalled Ben Revere from Triple-A, where he went 6-for-27 (.222) with zero extra-base hits and zero walks in six games. His initial replacement, Clete Thomas, is 4-for-21 (.182) with 13 strikeouts while oddly seeing far more playing time than Revere was getting before the demotion.
• David Ortiz launching a massive homer off a Twins pitcher last night while Tom Kelly looked on from the broadcast booth brought back memories of this 2006 article by Joe Christensen of the Minneapolis Star Tribune:
David Ortiz has his own theories about the Twins' struggle for home run power. Mostly, he blames Tom Kelly. And when Ortiz speaks, he packs the punch of a one-time Twins discard who blossomed into a home run-hitting star with the Boston Red Sox. So, why haven't the Twins had a player hit 30 home runs since 1987?

"Because they're stupid," Ortiz said. "You take a hard swing, and the manager [Kelly] was screaming at you from the dugout, 'Hey! Hey!' Then you finish the season with 10 homers. They ask you what happened, why you don't hit for power?"
There's a lot more to it than that, of course, but six years later Ortiz is hitting .444/.486/.714 and "the Twins' struggle for home run power" is still a thing.
• Friend of AG.com and former Gleeman and The Geek guest Lindsay Guentzel won a spot in the MLB Fan Cave and recently wrote an MLB.com article about her experience there, including a visit from Joe Mauer, Matt Capps, Brian Duensing, and Liam Hendriks when the Twins were in New York last week.
• Ben Goessling of the St. Paul Pioneer Press used to cover the Nationals when Capps was their closer and wrote a good article about how things have changed for the worse. Capps has now served up 12 homers in his last 66 innings dating back to last season.
• Liriano, Hughes, Nick Blackburn, Matt Maloney, Chris Parmelee, and Danny Valencia had the Twins' most impressive spring training performances. Something to remember next March.
• Justin Morneau is 0-for-16 against lefties and 13-for-42 (.310) with four homers and a 1.100 OPS against righties.
• Mauer started the season 1-for-10. Since then he's hitting .351 with a .440 on-base percentage and has yet to sit out a game.
• Jared Burton has been one of the few bright spots for the Twins' pitching staff and Mike Axisa of Fan Graphs took an interesting look at his changeup-splitter hybrid pitch.
• No. 9 prospect Alex Wimmers battled back from extreme control problems to finish last season on a high note, but now he's on the disabled list at Double-A with a strained elbow.
• No. 1 prospect Miguel Sano, two weeks shy of his 19th birthday, has hit .292/.432/.662 with six homers, four doubles, and 15 walks through 19 games at low Single-A, where he's the sixth-youngest player in the entire Midwest League.
This week's blog content is sponsored by Snap Fitness in Uptown, which offers convenient and affordable workouts with industry best equipment. Please support them for supporting AG.com.