May 2, 2012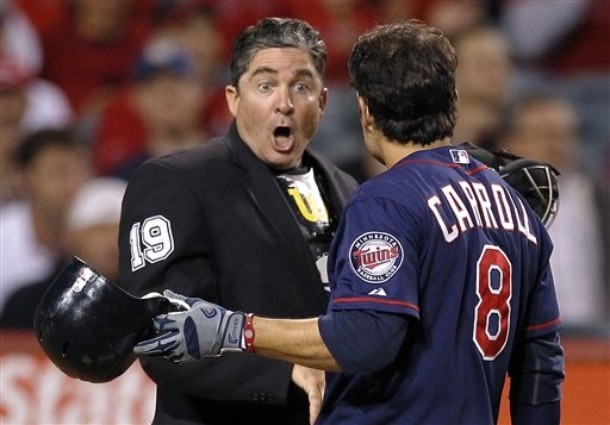 • I was on KFAN this morning, sitting in for a couple segments on Paul Allen's show to talk Twins and blogging and all sorts of other stuff. You can listen to my full appearance here.
• After playing every inning of the first 21 games Joe Mauer took a foul ball off his knee and sat out Monday. He returned last night as designated hitter, but the Twins felt the need to add Drew Butera as a third catcher while designating Sean Burroughs for assignment to make room on the roster. Butera was hitting .279/.319/.419 in 15 games for Rochester, which is simultaneously terrible for a 28-year-old at Triple-A and the best numbers of his career.
Burroughs was signed to a minor-league deal in December and the 30-year-old former top prospect impressed the Twins during spring training, winning an Opening Day bench spot. In theory he was a nice fit, offering a left-handed bat and solid glove at third base to complement and perhaps even push Danny Valencia, but in practice he got three starts and 17 at-bats in a month. He's barely played since 2005, let alone had any success, so he may clear waivers.
• Justin Morneau gave everyone a scare when he exited Monday's game with soreness in his surgically repaired left wrist and immediately flew from California to Minnesota to be examined by team doctors. Now he's on the way back to the West Coast after an MRI exam showed no structural damage, but Morneau revealed that the wrist was bothering him before Monday and the Twins have said that Friday is the best-case scenario for being back in the lineup.
Thursday is a scheduled off day, so that absence isn't quite as long as it sounds, but giving him 15 days to heal up on the disabled list would seemingly be worthwhile. Instead the Twins will keep Morneau on the active roster, which is something they've done too often with injured players in recent years and becomes particularly problematic when combined with a 13-man pitching staff and Butera. Last night's bench was literally only Butera and Trevor Plouffe.
• Carl Pavano managed zero strikeouts Friday for the third time in his last 33 starts and his average fastball has clocked in at just 86.6 miles per hour this season, down from 89.0 mph in 2011 and 90.1 mph in 2010. Pavano signed a two-year, $16.5 million contract with the Twins after throwing 221 innings with a 3.75 ERA in 2010, but since then he's logged 255 innings with a 4.38 ERA and just 4.2 strikeouts per nine innings. At age 36 he's running on fumes.
• Deolis Guerra's overall numbers at Double-A last year were ugly, but his success shifting to the bullpen in the second half earned him the No. 27 spot in my Twins prospect rankings. He picked up where he left off at New Britain with a 0.71 ERA and 15-to-1 strikeout-to-walk ratio in 13 innings, at which point the Twins promoted the last remaining piece of the Johan Santana trade to Rochester and he debuted there with three scoreless innings Saturday.
• Another potential bullpen option, Kyle Waldrop, is on the comeback trail after an elbow injury cost him a spot on the Opening Day roster. I'm skeptical of Waldrop's ability to be more than a decent middle reliever because he's already 26 years old and his strong ground-ball rate comes along with underwhelming velocity and few strikeouts, but he certainly warrants more of an extended opportunity than Jeff Gray.
• As has too often been the case recently Twins management subtlety cast some doubt on the legitimacy of Scott Baker's elbow injury before a second opinion from outside the organization led to Tommy John surgery. In speaking to the local media following surgery Baker addressed what Jon Krawcynski of the Associated Press described as "whispers both inside and outside Target Field":
I knew I wasn't crazy. I knew there was some speculation that maybe I was babying it or taking it easy, but good grief. I did everything I possibly could to get better and to try to pitch with it. But that just wasn't going to happen.
When an injured player has to defend himself amid speculation that his injury isn't as serious as he claims and that speculation is fueled at least in part by the team that's obviously not a good situation. Toss in the ongoing questions about the competency of the Twins' medical staff and it gets even worse. On the other hand, Baker also admitted injured pitchers "are not always completely forthright with the staff" and made it clear that he doesn't hold a grudge.
• As expected Ben Revere's return to Minnesota was brief, with the end of Josh Willingham's paternity leave sending him back to Triple-A. Revere is still better off playing in Rochester than mostly sitting in Minnesota, although Sunday being "Ben Revere bat day" at Target Field perhaps wasn't the best timing (or planning) by the Twins.
• In an effort to beef up the Double-A and Triple-A teams the Twins signed a bunch of veteran minor leaguers during the offseason, yet some reinforcements were still needed a month into the season. Joe Thurston is the latest veteran to join Rochester, although once upon a time he was a promising prospect in the Dodgers' system. Now he's 32 years old with 184 games in the majors and 1,485 games in the minors, including 5,000 plate appearances at Triple-A.
• Ron Gardenhire will be away from the team for this weekend's Mariners series, missing all three games to attend his daughter's college graduation from Southwest Minnesota State. Bench coach Scott Ullger will fill in as manager, as he's done on a few other occasions.
• Luke Hughes' time as Oakland's starting third baseman was short-lived, as he went 1-for-13 with three errors in four games and the A's signed a washed-up, recently released Brandon Inge to replace him. Hughes was designated for assignment, so he's back on the waiver wire.
• Congratulations to Delmon Young for making the front page of the New York Post. MLB suspended Young for seven days following his arrest on assault and hate crime charges, presumably because an eight-day suspension would have made Hanukkah jokes too easy.
• Willingham was a smart free agent signing and has been amazing at the plate so far, but his defense in left field has been just short of Delmon-esque.
• Interesting note from Twins media communications manager Dustin Morse: Saturday was the ninth time weather caused a delay or postponement in 174 total games at Target Field.
• Compared to this same time last year MLB-wide attendance is up 1,700 fans per game overall, but the Twins' attendance is down an MLB-worst 5,000 fans per game.
• For his career Valencia has hit .328/.378/.491 versus left-handers and .243/.282/.369 versus right-handers, which is one of the more extreme platoon splits you'll see and along with iffy defense makes him a poor fit in an everyday role. By the way, that play was ruled a "double."
• After last night Denard Span has 76 career steals and has been picked off 26 times.
• No. 11 prospect Adrian Salcedo was hit in the face by a comebacker while pitching Monday at high Single-A and suffered a broken nose.
This week's blog content is sponsored by One Stop Insurance, which helps Minnesotans find the best value and protection in an insurance company. Please support them for supporting AG.com.